Muffins
Lemon-filled Strawberry Muffins & I love my mom. I love the month of May (and not just because it ends with my birthday).
It's the month that I start truly believing that summer does exist and winter did not in fact kill it. It's the month that flowers and foliage decorate the great outdoors. It's the month that strawberries tiptoe into market and surprise us all over again with their sweet, juicy goodness. And of course, it's the month where we devote a day to honoring mothers – those remarkable women who had the strength to bring us into the world, the patience to raise us and the love to carry us forward. Almond Raspberry Jam Muffins (Low Carb and Gluten-Free) Whole Wheat Banana Spice Muffins with Brown Butter Glaze. Do you know the muffin man?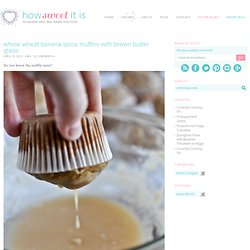 I do I do I do. Probably a little too well… especially after he delivered these muffins. Gluten-Free + Vegan Carrot Cake Muffins. These delicious little treats were the second batch of muffins I made after the first batch ended up too soggy.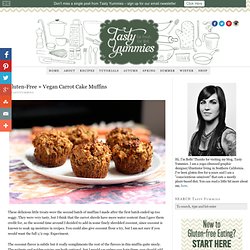 They were very tasty, but I think that the carrot shreds have more water content than I gave them credit for, so the second time around I decided to add in some finely shredded coconut, since coconut is known to soak up moisture in recipes. You could also give coconut flour a try, but I am not sure if you would want the full 1/2 cup. Whole-Wheat Apple Ginger Muffins. The skies have been pretty grey around here lately and I don't know about you, but if it's cloudy for too long I tend to fall into a slump.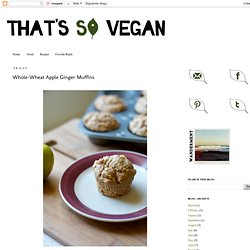 This month, though, I have vowed to keep myself out of those rainy day blues by doing little things to cheer myself up once in a while! Here's what I've come up with: Sweet potato muffins. Sometimes the stuff you see on here is a result of creativity on my part, inspiration from other amazing resources or just intense cravings.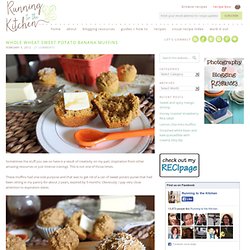 This is not one of those times. These muffins had one sole purpose and that was to get rid of a can of sweet potato puree that had been sitting in my pantry for about 2 years, expired by 5 months. Obviously, I pay very close attention to expiration dates. I actually find muffins kind of difficult to get right on the first shot, so I was pretty surprised when these ended up turning out exactly how I had envisioned them. Mostly savory, no intense banana flavor (I just wanted to use it for natural sweetness rather than sugar), perfect with butter, but just as good with soup or chili.
Oatmeal muffins with dried cranberries. Pierwszy raz wypróbowałam takie zestawienie w muffinach, ma ono jakiś taki zimowy klimat.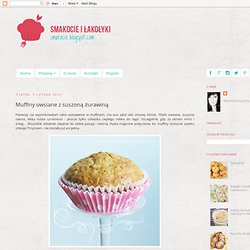 Płatki owsiane, suszone owoce, lekka nutka cynamonu - jeszcze tylko szklanka ciepłego mleka do tego. Szczególnie, gdy za oknem mróz i śnieg... Wszystkie składniki idealnie do siebie pasują i tworzą chyba magiczne połączenie, bo muffiny strasznie szybko znikają! Przyznam - nie została już ani jedna. Four-Ingredient Cranberry Pumpkin Muffins. Baking from scratch, I love it; I do.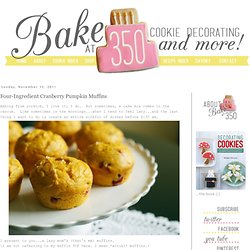 But sometimes, a cake mix comes to the rescue. Like sometimes in the mornings...when I tend to feel lazy...and the last thing I want to do is create an entire sinkful of dishes before 6:30 am.
---