Holidays
Happy Canada Day!!! | Superchick Studios
Mar 31 2012 i 1 Vote April 1 offers the chance to summon your inner prankster and catch family off guard. What's your April Fools MO?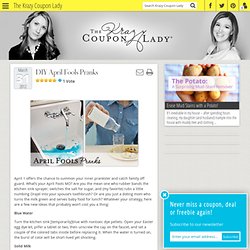 DIY April Fools Pranks
April Fools Day Pranks
KFC Fried Chicken Bucket and Sides...APRIL FOOLS!
We always have a blast making April Fools food! I guess most of the food that we make could be considered a April Fools kind of thing to begin with since we make fun things out of our food. However, this is what we consider April Fools to be when making something with food.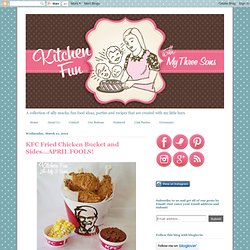 Signs of Suess
Oh turnaround day, once every four years men all over the land have a massive case of the Hershey squirts as they wait with bated; and slightly terrified breath for the women in their lives to attack them with some bling and ask for their hand in matrimony. We believe reversal is fair play, so we salute all you ladies trying to cuff your men with the tiniest handcuffs in the world, go on with your baddass, man getting selves. However, we thought we'd be nice and help proceedings with a bit of wallpaper . You know that we are always good for a bit of pretty wallpaper . So, you can hack the phone and leave this wallpaper as a proposal, save a tree, and your duckets – no jewellery purchase is required. You just need to let them know that they make your heart leap on Leap years day.
You Make My Heart Leap // Get Down (loading) - Beyond Beyond | Beyond Beyond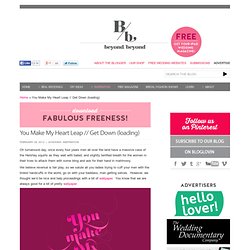 16 Fun Things To Make To Celebrate Leap Year!
Same Plate, Different Season - Interchangeable Plates Using Contact Paper
Do you remember the Halloween plates I made? These dinner plates went perfect with our spooky Halloween meal. I made these with the intention of changing them up every season. I finally made my second decals for Valentines Day. I made what I wanted on my plate with my favorite computer program - then I FLIPPED the picture - and printed it on clear contact paper that is used to cover shelves. Go to the tutorial HERE to get all the details.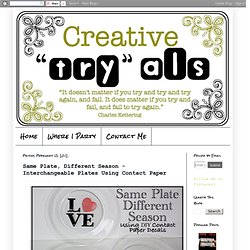 chinese new year
Gourmet Mom on-the-Go: Love in Hand Cookies for MLK Day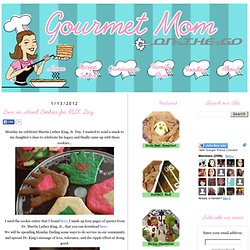 Monday we celebrate Martin Luther King, Jr. Day. I wanted to send a snack to my daughter's class to celebrate his legacy and finally came up with these cookies... I used the cookie cutter that I found here , I made up four pages of quotes from Dr. Martin Luther King, Jr., that you can download here . We will be spending Monday finding some ways to do service in our community and spread Dr.