Dips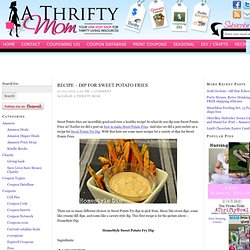 Sweet Potato fries are incredibly good and even a healthy recipe! So what do you dip your Sweet Potato Fries in? Earlier we did a post on how to make Sweet Potato Fries .
Recipe – Dip for Sweet Potato Fries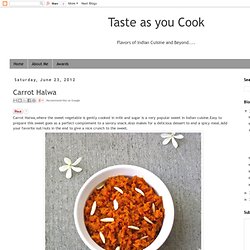 Taste as you Cook: Carrot Halwa
Carrot Halwa,where the sweet vegetable is gently cooked in milk and sugar is a very popular sweet in Indian cuisine.Easy to prepare this sweet goes as a perfect complement to a savory snack.Also makes for a delicious dessert to end a spicy meal.Add your favorite nut/nuts in the end to give a nice crunch to the sweet. Ingredients - Serves 3 5 cups shredded carrots 2 cups whole milk 1 cup sugar 1/2 cup oil 7-8 whole green cardamoms Nuts Method Heat oil in a wide open pan and add the carrots and saute them for about 5 mins on medium low flame.Add 2 cups milk and the powdered cardamom seeds.Cook till all the milk is absorbed.Add sugar and stir cook on low flame till oil slightly begins to seperate.At this point you can add 2-3 tbsp of ghee or more oil if preferred and continue to stir till well blended.Enjoy hot or cold.
Salsa Frijoles de Olla | Sweet Life
Salsa Frijoles de Olla Super Bowl is approaching fast. Have you finalized your menu? When I spotted this on my friend Drick's blog I knew it would be a perfect addition to our menu. And was I ever right.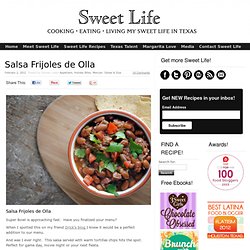 Thai Sweet Chili Sauce
Bigbad has a theory that if ambrosia is a food of the gods, hummus is a food of the grad student. Apparently, in grad school night classes it's customary to bring snacks (I would have thought that adults had grown out of the snack sharing at school phase in their life, but I am mistaken apparently). And apparently, more times than not, someone brings hummus.
Smallgood Hearth: On the Plate: Black Bean Hummus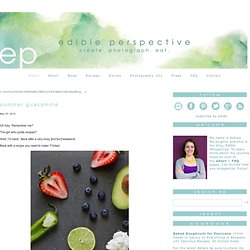 summer guacamole
Oh hey. Remember me? The girl who posts recipes? Well, I'm back.
hat does one do when one is in the middle of a very interesting book and has this sudden urge of having something to munch on. No its not that I got distracted, its more like the way popcorn makes a movie better. For me that urge more specifically translates to some spicy dip with some chips? These cravings often show up uninvited especially when it is still not dinner time and its been a little bit since you had lunch, say around 5'ish in the evening. Ring a bell anyone? Now dip'n chip!
Jalepeño Popper Dip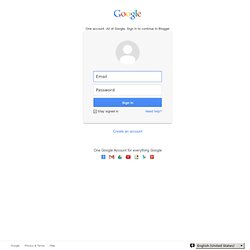 Green Hummus « Lost Garden
This is the best hummus I've made. Even though I added too much salt. Whoops.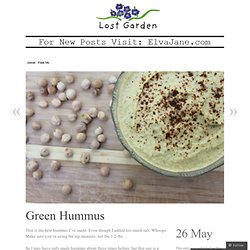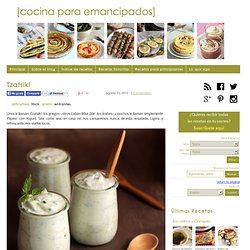 Unos le llaman Tzatsiki -los griegos-, otros Laban Maa Ijiar -los árabes- y muchos le llaman simplemente Pepino con Yogurt . Sea como sea, en casa no nos cansaremos nunca de esta ensalada. Ligera y refrescante, nos vuelve locos.
Receta tradicional de tzatziki (pepino con yogur) | Cocina Para Emancipados
Cafe Rio's Creamy Tomatillo Dressing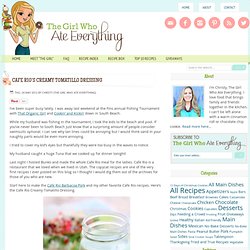 I've been super busy lately. I was away last weekend at the Fins annual Fishing Tournament with That Organic Girl and Cookin' and Kickin' down in South Beach. While my husband was fishing in the tournament, I took the kids to the beach and pool.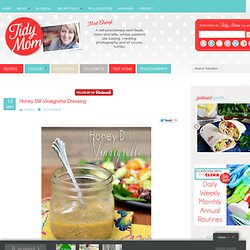 As swimsuit and shorts season are upon us, I'm quickly reminded that I need to be eating a little more healthy . Increasing my greens and eating more salads is a cinch in the summer with all the lush produce readily available. Making my own dressing lets me control what I drizzle over my salad, as well as, and saves me money. I don't know about you, but I hate having a refrigerator full of dressing bottles that have only been used a time or two drives me insane! Not only are the store bought dressings expensive, they are often filled with additives and chemicals. Tomorrow is the Salad Social and I'll be sharing the salad I made for this Honey Dill Vinaigrette dressing , but it would also be amazing drizzled over roasted asparagus.
honey dill vinaigrette recipe
Wow. Honestly…that's all I can say. They say a person's true character is revealed by what he does when no one is watching… I guess I'm a self-indulgent, ravenous Monster. A Monster Cookie Dough Dip eating fool…
Monster Cookie Dough Dip
I have been contemplating something for the past few years, and now I am quite certain of two things: I DO need to plant more rhubarb. I really AM turning into my mother!! It's an impossibility for me to cut rhubarb from the yard without thinking of Mom.
Ruby Rhubarb Syrup
Coconut Milk + Citrus White Bean Spread
Let's call this… lunch in a hurry. Because if you could see the state of my house right now you'd probably cry. I've been playing single lady for two days and when this happens… I don't clean up after myself. Ever. I make fast and furious meals, if they can even be called such, so I can hurry back to my Felicity marathon.
Puerto Rican Sofrito
About the author: Joshua Bousel brings you new, tasty condiment each Wednesday and a recipe for weekend grilling every Friday. He also writes about grilling and barbecue on his blog The Meatwave whenever he can be pulled away from his grill. Notes: While culantro and ajices dulces are easy to pick up in my neighborhood, Daisy says don't sweat it if you can't find them. The ajices dulces can be omitted, and just substitute another handful of cilantro if you can't find culantro. Adapted from Daisy Martinez
I've had a hankering for enchiladas lately. Normally I go with the creamy chicken enchilada recipe that I love so dearly, but this week I felt like a more traditional enchilada. And I wanted to try something I've never done before…make the sauce from scratch. I've always either bought a sauce packet or enchilada sauce in a can, but I got to thinking yesterday…homemade enchilada sauce would probably be pretty easy to throw together.
Homemade Enchilada Sauce {Red}
Homemade Kansas Style BBQ Sauce
Peach Freezer Jam-In Less Than 2 Hours! {Picture Tutorial}
Black Bean & Caramelized Onion Dip
Roasted Tomatillo Salsa Verde - Shrinking Kitchen : Shrinking Kitchen
Mandarin Orange & Lime Poppy Seed Dressing ~ Money Saving Recipe
Appetizer in 5 Min Veggie Dip in Baguette Rounds - Easy Recipes - ediva.info
Generation Y Foodie: Raspberry Mango Salsa
Apple Spice Fruit Dip
50+ Homemade Salad Dressing Recipes
Conference recipes
Buffalo Hummus
Kids Love to Dip? 5 Healthy Dips that Qualify as Lunch
Fire Roasted Tomato Lime Salsa « Fabtastic Eats
Recipe for Roasted Red Pepper Dip with Feta and Mint
Mixed Vegetable Chutney (Dip) | Ambika's Kitchen
caramelized onion black bean dip
Homemade Harissa and a Pepper Blog Hop | www.KatherineMartinelli.com
thefauxmartha
Dip into this! | Taste of Healthy Goodness
Melty Pizza Hummus
Hot Pizza Dip
Slide Show | 12+ Ways to Amp Your Guac
Roasted Red Pepper Dressing » Living Lou
Cook this: Roasted eggplant and caramelized onion dip | Verbalized
Roasted Corn Dip
Calling All Cholula Lovers
Black Beans Dip | Naturelita
Pumpkin Bars \ Cake
Nutmegs, seven: Mango and avocado salsa - my entry for the Ryvita Challenge