Cookies
Ooey Gooey Peanut Butter S'mores Bars. I"m home!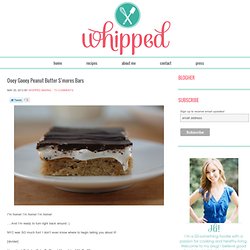 I'm home! I'm home! ….And I'm ready to turn right back around :) Furnkies (Peanut Butter Bars) - most delicious EVER. I can't believe I haven't posted about these yet.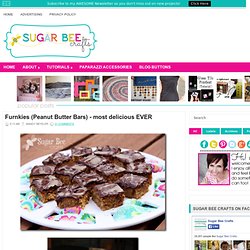 If I have to take a treat somewhere, this is it. It's easier than cookies because it's a bar (so you don't have to drop individual cookies) and EVERYONE loves it. I personally don't like peanut butter - but yet I love these. Raspberry Almond Shortbread Thumbprint Cookies | Dulce Dough Recipes. Happy Mother's Day!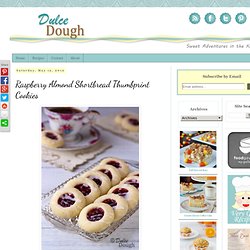 I hope all mothers are enjoying the weekend and their special day. These easy-to-make Raspberry Shortbread Thumbprint Cookies are a nice dessert for Mother's Day or any day. Chocolate Covered Strawberry Cookies | Ring Finger Tan Line. Amidst getting 20+ hours of sleep and taking pictures of my dogs, I somehow found time to make cookies this weekend.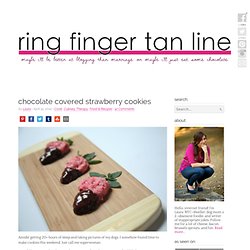 Just call me superwoman. I would love to say that these cookies were made with a purpose and gobbled up at a very important event. But that would just be a disguise for the fact that I definitely ate ten by myself, while sitting alone in my apartment. Try to contain your jealousy for my super exciting lifestyle. Creamy Mixed Berry White Chocolate Crumble Bars. Berry season is right around the corner.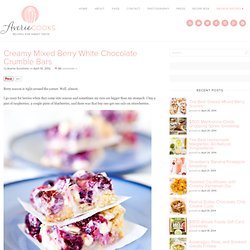 Well, almost. I go crazy for berries when they come into season and sometimes my eyes are bigger than my stomach. I buy a pint of raspberries, a couple pints of blueberries, and there was that buy one-get one sale on strawberries. Before I know it I'm up to my eyeballs in fresh berries and need to start finding creative uses for them including baking with them. Inside-Out Carrot Cake Cookies.
This post brought to you by The Walmart Foundation.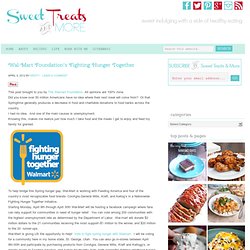 All opinions are 100% mine.Did you know over 50 million Americans have no idea where their next meal will come from? Or that Springtime generally produces a decrease in food and charitable donations to food banks across the country. I had no idea. And one of the main causes is unemployment.Knowing this, makes me realize just how much I take food and the meals I get to enjoy and feed my family for granted. To help bridge this Spring hunger gap, Wal-Mart is working with Feeding America and four of the country's most recognizable food brands- ConAgra,General Mills, Kraft, and Kellog's in a Nationwide Fighting Hunger Together Initiative. Lemon Poppy Seed No-Bake Cookies. Mother thyme: Whole Wheat Blueberry Oatmeal Applesauce Cookies.
Grains/oatmeal
Spices. Chocolate/ chips. Cashew and Poppy Seed Cookies » Wonderland Kitchen. Even though it's easy for me to ask for the check and skip the dessert menu, I do have a twinge of nostalgia when it comes to the cookie jar.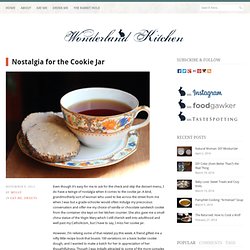 A kind, grandmotherly sort of woman who used to live across the street from me when I was but a grade-schooler would often indulge my precocious conversation and offer me my choice of vanilla or chocolate sandwich cookie from the container she kept on her kitchen counter. She also gave me a small china statue of the Virgin Mary which I still cherish well into adulthood and well past my Catholicism, but I have to say, I miss her cookie jar. However, I'm reliving some of that related joy this week. » Lemon Poppy Sugar Cookies for Remembrance Day The Endless Meal. Seeing red poppies pop up over the hearts of men and women around town always means one thing: it's time to remember.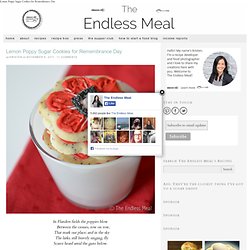 It's time to remember the sacrifices made by our fellow citizens. It is time to remember the soldiers that fell and the lives that would never be the same. It's time to remember how lucky we are to have the freedom and the peace we all enjoy, and often take for granted, today. Having grown up in a family where my grandparents have lived through the war, both as soldiers and civilians, this time of year has always been very special to me. Hearing their stories, only a few as most are still too painful to recall and share, makes me incredibly thankful to live in a peaceful country.
Lemon Cookies…it's a small thing. | Fork vs. Spoon. It's the little things in life … Little things, simple things… that occur every day.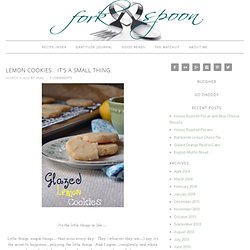 They (whoever they are…) say it's the secret to happiness…enjoying the little things. And I agree…completely and whole heartedly. Oh, ladycakes: Peanut butter breakfast cookies. I don't think many people know this about me – and you certainly cannot tell while I'm fully clothed – but I'm kind of (and by kind of I mean really) into weight lifting.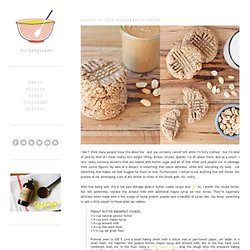 Biceps, triceps, 6packs; I'm all about them. And as a result, I very rarely consume desserts that are loaded with butter, sugar and all of that other junk people use to sabotage their svelte figures. My idea of a dessert is something that tastes delicious, while still nourishing my body – not something that makes me feel sluggish for hours on end. Furthermore, I refuse to eat anything that will hinder the process of me developing a set of abs similar to those of the Greek gods. No, really. Orange-Almond Drops. Whole Wheat Orange Pecan Cookies. I tend to get in a cookie rut during the holidays. I make sugar cookies and thumbprints but never really venture out of my cooking making box. Yet when I saw the orange-pecan cookies in the most recent edition of vegetarian times, I knew I want to make them. I also knew I wanted to update the to be more like those chocolate covered oranges that make an appearance around the holidays. Sour Cream Sugar Twists | Fabulessly Frugal: Extreme Couponing Blog: Coupon Classes - Learn how Extreme Couponing Works.
My mom would make these during the holidays for me because I love them! Now that I don't live nearby, I have to make them for myself. Anyway, they are not too sweet, but just sweet enough that I want to eat them all day long…which is basically what I've been doing the last few days. 1 Tbsp yeast¼ c warm water3 ½ c flour1 ½ tsp salt½ c butter½ c shortening2 eggs½ c sour cream1 tsp vanilla Sugar filling: 1 ½ c sugar2 tsp vanilla.
---