Chicken
Maybe some Thai? I think "exotic" foods are the one I crave the most.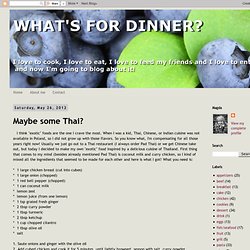 When I was a kid, Thai, Chinese, or Indian cuisine was not available in Poland, so I did not grow up with those flavors. So you know what, I'm compensating for all those years right now! Usually we just go out to a Thai restaurant (I always order Pad Thai) or we get Chinese take out, but today I decided to make my own "exotic" food inspired by a delicious cuisine of Thailand.
First thing that comes to my mind (besides already mentioned Pad Thai) is coconut milk and curry chicken, so I kind of mixed all the ingredients that seemed to be made for each other and here is what I got! Robust Bell Pepper Salad for a Salad Social Party at TidyMom. My friend Cheryl certainly likes to throw a good party.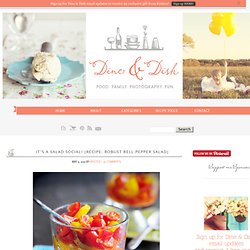 You know Cheryl from her awesome blog, TidyMom, but probably also recognize her as my partner in crime for SoupaPalooza. This spring, Cheryl has traded in her soup bowls for salad tongs and is hosting a one of a kind event – The Salad Social! I love a good salad almost as much as I love a big bowl of soup, so I can't wait to see all the recipes that will be linked up to her salad party. Asparagus and Goat Cheese Risotto. I love when asparagus is in season.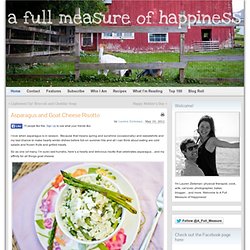 Because that means spring and sunshine (occasionally) and sweatshirts and my last chance to make hearty winter dishes before full-on summer hits and all I can think about eating are cold salads and frozen fruits and grilled meats. So as one (of many, I'm sure) last hurrahs, here's a hearty and delicious risotto that celebrates asparagus…and my affinity for all things goat cheese. Asparagus and Goat Cheese Risotto (serves 6 as a side) 1 T butter (I use unsalted but either would work)1/2 onion, diced2 cloves garlic, minced1 1/2 C arborio rice5-6 C chicken broth (I used 4 C broth and 2 C water to manage the salt a little)2-3 oz goat cheese1 bunch asparagus Start off by roasting the asparagus. Healthy Chicken Pot Stickers with Minted Soy Sauce. Monday night I had dinner all planned out according to my craving.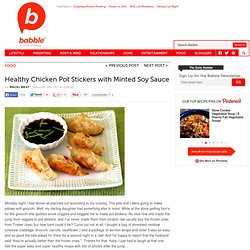 The kids and I were going to make pillowy soft gnocchi. Well, my darling daughter had something else in mind. While at the store getting fixin's for the gnocchi she spotted some veggies and begged me to make pot stickers. No clue how she made the jump from veggies to pot stickers, and I've never made them from scratch (we usually buy the frozen ones from Trader Joes) but how hard could it be? March Madness Day 13: Mushroom Tarragon Chicken. Makes 6 servings 6 boneless, skinless chicken thighs1 1/2 cups chopped fresh mushrooms2 Tbsp canola oil1 small onion, diced1/2 tsp dried thyme (or 1/2 Tbsp fresh)1/4 tsp salt4 garlic cloves, minced1/4 cup flour2 Tbsp white wine vinegar1 1/2 cups chicken broth2 Tbsp soy sauce2 bay leaves1 Tbsp quick cooking tapioca1 1/2 tsp dried tarragon (or 3 1/2 Tbsp fresh tarragon)1/2 cup heavy cream (I used evaporated milk that I had on hand) Trim the chicken of excess fat.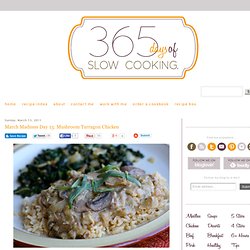 Pat dry and season with salt and pepper. Place in the bottom of the slow cooker. Malaysian Mango Chicken. Growing up in Malaysia, I was very much spoiled by all the exotic tropical fruit varieties.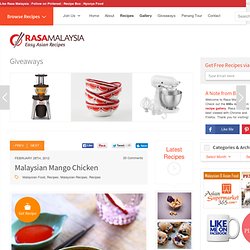 From the seasonal Durian 'King of Fruits' and Mangosteen, the mighty Queen, to mangoes that are amongst the royal fruits you will see everywhere throughout the year. Fruits are abundantly available, so much so that restaurants are always coming up with fresh new ideas to incorporate fruits into the local dishes, eg. Durian with sticky rice and fried fish with Dragon fruit sauce, just to name a few. Ripe mangoes are used to cook dishes like Mango Chicken, whereas fresh, unripened mangoes are used in most fruit salads, eg.
Rojak. Swapna's Cuisine: Butter Chicken / Murgh Makhani Recipe. My mom taught me to make two chicken curries before my wedding; one was this Butter Chicken and another was Kashmiri Chicken….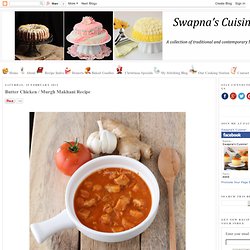 Even after all these years these two curries are my favorite… whenever we have guests I make either one of these if I am serving an Indian course…. This is not the authentic way of making butter chicken, but a version which is a lot easier and healthier… Usually when I make this I only add 2 tbsp butter in total instead of ¼ cup… … This recipe goes really well with Indian breads or rice….
Butter Chicken / Murgh Makhani. Tandoori chicken wraps. 6 pieces of chicken 1/2 cup yogurt 3/4 cup VH tandoori sauce 1/4 cup water 2 tbsp oil or more if needed.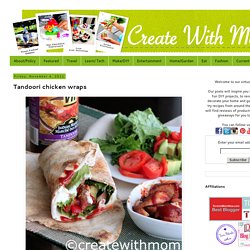 No-Butter Chicken. Do you ever have those days where you just want something with tons of flavor?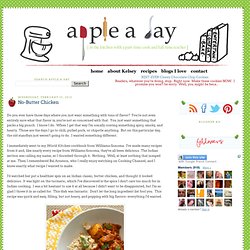 You're not even entirely sure what that flavor is; you're not so concerned with that. You just want something that packs a big punch. I know I do. Chicken and Broccoli Noodle Casserole. Shredded chicken breast and broccoli cooked with noodles in a light creamy sauce topped with toasted breadcrumbs.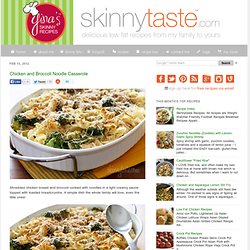 A simple dish the whole family will love, even the little ones! This is an inexpensive dish, you can make this ahead, then top it with the breadcrumbs and put it in the oven 20 minutes before you are ready for dinner. Crock Pot Honey Sesame Chicken — very culinary. My friend Nicole hates to cook; it's a complete chore to her. I think she'd rather pick up poop from her pet sitting business or scrub her bathroom floors than make dinner. But I love Nicole. So I've made it my mission in life to find delicious crock pot meals that she can easily throw together. Are you reading Nicole? Chicken Lettuce Wrap recipe. Hi All! So today we have some pretty chicken lettuce wraps for you.
We're trying to keep things a little lighter this week (okay, so chicken lettuce wraps might not be the most healthy thing, but since its wrapped in cups of lettuce, it's pretty much considered healthy to me). Anyway, back to trying to be healthy…we're doing this for one reason…because next week we're jumping into a deep fry fest of sorts to prep for the big game…and lets be serious, game day is ALL about the food and booze! Asian Chicken Lettuce Wraps. Sautéed ground chicken thighs, shiitake mushrooms and water chestnuts seasoned with Asian spices are served in a crispy cold lettuce leaf with a spicy hoisin dipping sauce.
I can't think of a more playful appetizer to celebrate the Year of The Dragon! Some of you probably know how much I love using lettuce leaves as a wrap for everything from Turkey Taco Lettuce Wraps to BLT Lettuce wraps. They are the perfect low-carb solution and don't interfere with the flavors of the filling. Chicken florentine puffs. Did you catch the crock pot rotisserie-style chicken I posted about Monday? It was truly a game-changer. I'll be using that method over and over. With the leftovers, I decided to try something new. I had some puff pastry in the freezer and decided to cobble together a recipe for a chicken and spinach puff. Honey Dijon Glazed Boneless Wings. Honey Dijon Glazed Boneless Wings Love wings? Find many more great wing recipes, both oven baked or fried by We served these at a little gathering of friends to celebrate my birthday last weekend and they were a bit hit.
These would be an ideal finger food for cocktail parties around the Holiday season. I actually pre-fried these in the afternoon, warmed them up in the oven later and then tossed them on the honey dijon glaze just before serving. Deconstructed Chicken Kiev.
---