Breakfast
Hello world. That's what WordPress recommends I say here for my first post. Personally, I disagree.
Chocolate Chip Oatmeal Pancakes | Vegan Pancakes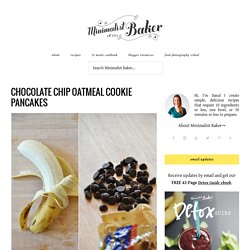 Berry Cream Cheese Pastries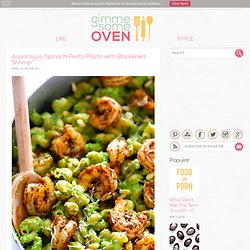 I probably should have poured a nice stiff drink recipe for you all on this loveliest of lovely tax days. Especially for my fellow small business owners who just gave half of their revenue back to the government. Good grief, I won't even go there. Instead though, I thought I'd offer my idea of a more comforting alternative. Pasta.
Banana Bread Pancakes
SRC: Berries & Cherry Walnut Oatmeal Bars «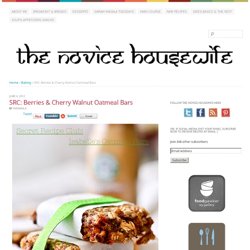 The first week of the month is generally busy for me- what with the Recipe Swap post going up the first Sunday of the month and the SRC post going live the first Monday of the month. As a result, the weekend is always spent working on the posts and since I am a big time procrastinator, I end up baking/cooking, editing photos and blogging two posts in one day. I know, I should plan things better!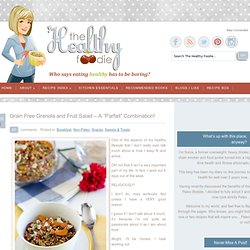 Grain Free Granola and Fruit Salad – A "Parfait" Combination!
One of the aspects of my healthy lifestyle that I don't really ever talk much about is how I keep fit and active. Oh! not that it isn't a very important part of my life. In fact, I work out 6 days out of the week.
The mainland states and capital cities of Australia claim fame to many things. Melbourne, Victoria, calls itself the fashion capital and often jostles with Sydney for the arts and sporting title. South Australia is proud of its wine country and Adelaide in particular claims fame for being the city of churches. Western Australia and Queensland are renowned for their beaches and other natural beauties. But what about Tasmania? Often our southern most neighbours are forgotten, especially with an ocean between.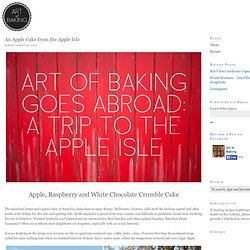 Apple, Raspberry and White Chocolate Crumble Cake | Art of Baking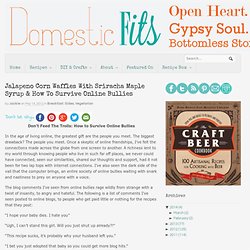 Don't Feed The Trolls: How to Survive Online Bullies In the age of living online, the greatest gift are the people you meet. The biggest drawback? The people you meet. Once a skeptic of online friendships, I've felt the connections made across the globe from one screen to another. A richness lent to my world through knowing people who live in such far off places, we never could have connected, seen our similarities, shared our thoughts and support, had it not been for two lap tops with internet connections.
Jalapeno Corn Waffles With Sriracha Maple Syrup & How To Survive Online Bullies
Creamy Dreamy Spicy [Breakfast] Buckwheat Pudding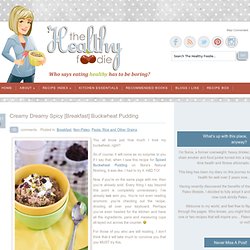 You all know just how much I love my buckwheat, right? So of course, it will come as no surprise to you if I say that, when I saw this recipe for Spiced Buckwheat Pudding on Nora's Natural Noshing, it was like, I had to try it. HAD TO! Now, if you're on the same page with me, then you're already sold. Every thing I say beyond this point is completely unnecessary. I've already lost won you.
this breakfast treat was born out of an impulse rhubarb buy and inspired from this recipe. oh me oh my, i wish you could have seen me strutting around the kitchen like a top chef when i tasted it. that's totally obnoxious normal, right?! it all stems from what a clustercuss i've always been in a kitchen and my newfound prowess. just support me in this, if you will. now, how do you feel about eating something healthy for breakfast that tastes like freaking dessert?! because that's what we have here my friends, strawberry rhubarb apple oatbake. formerly known as healthy-breakfast-that-tastes-so-much-like-dessert-it-seems-i've-reached-the-pinacle-of-my-life. it's the kind of dish you can feed your in-laws and have them worshipping at your feet. and best of all, it's only 6 ingredients and pretty much foolproof. i know, i know, you're waiting for the other shoe to drop. but get this, THERE IS NO OTHER SHOE!
strawberry rhubarb apple oatbake - a house in the hills - interiors, style, food, and dogs
I'd like to be the kind of person who thinks ahead. Reality is, I'm not. Stephen often (very sarcastically, of course) calls me "foresight Ashley" because there are so many instances when I just act before thinking. One classic example: Taking a shower when no towels are in the bathroom (or on the second floor, for that matter).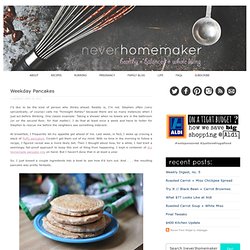 Weekday Pancakes
I'm going to talk to you about something totally for realsies. I'm in an ongoing war with mornings. I don't know what the issue is honestly, because in my mind, I am a morning person. Like, I want more than anything to get up super early every day, immediately take a shower and get dressed, go over my calendar, watch a bit of the news, and be preparing breakfast when my son gets up for school. I want that so very desperately. But dudeitssohard.
Blueberry Cream Cheese Coffeecake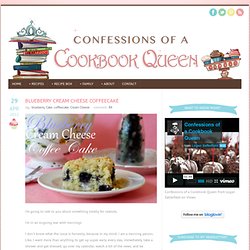 Raspberry and orange sweet rolls
Chocolate Peanut Butter Oatmeal | Alida's Kitchen
In my household, pancakes are a treat even though we eat them almost every Friday morning and sometimes other days during the week, too. My little dearests go bananas over them every time they're served pancakes, as though it was the first time they had ever eaten them. I go a little wild over them, too. I like to make them thin and stack them up, placing thin slices of bananas between each layer and topping it off with honey. It's like having dessert for breakfast, yum!
Pancakes for Breakfast | Dearest Nature
Oatmeal Raisin Cookie Overnight Dessert Oats
Beet Smoothie and Why Beets Are Good For You
I realize that this is a recipe many of you may not be too excited about…but you should be. Because beets are really good for you, and this is a great-tasting way to have them! I'm not super-crazy about beets myself, but I liked this smoothie. Not only does it taste good, but you also reap the many benefits of beets…
You can save a lot of money and feed your family more wholesomely if you ditch breakfast out of a cereal box. However, much of the time, mornings can be busy and there's not a lot of time to spend making breakfast from scratch. What's the solution?
8 Make-Ahead Breakfast Ideas
Having never lived in the tropics, I can't really tell you when mango season is. But I do know that a few times a year, there's suddenly an abundance of champagne mangoes at the grocery store. They'll be strategically positioned at the front of the produce section, boxes stacked precariously on top of each other. And they're always 5 for $5. While I like regular mangoes just fine, I like the champagne ones even more. They're a little bit smaller, but I have yet to get one that wasn't sweet or that was stringy or weird in some other way.
Coconut Mango Overnight Oatmeal Recipe
Homemade breakfast hot pockets
Things we never had in our freezer/refrigerator/pantry growing up: poptarts, bagel bites, dunakroos, that cool cheese dip with the red spatula thing and hot pockets. Things all our friends had:
Whole Wheat Breakfast Pockets | fromscratchtoplate
Strawberry-Peach Pancakes
Strawberry Rhubarb Coffee Cake
Carrot Cake Protein Pancakes | Dashing Dish
"Mmmmm"!: Mini Honey-Raspberry Baked Oatmeal Cups
Spring Brunch – Overnight Slow Cooker Oatmeal
Cherry breakfast bake
Almond Orange Breakfast Muesli
Potato Pancake Waffles
Overnight Fridge Berry Oatmeal
Peanut Butter Cream and Berries Crepes plus a VISA Card and Peanut Butter Giveaway! « Parsley, Sage, Desserts and Line Drives
Creamy & Healthy Steel Cut Oats with Orange Zest and Cranberry Sauce
Pepper Lynn | Overnight Oats, Two Ways
A Recipe Contest — Peanut Butter & Oat Carrot Cake Breakfast Pudding with Candied Oats
Peach Pie Oatmeal | grubography
Vegan Chocolate Cardamom Pancakes. | My Little Celebration
kauai-granola
Healthy Black Forest Baked Oatmeal - Easy Recipes - ediva.info
Reader
the whinery 2.0 » Blog Archive red quinoa in coconut milk & mango puree
Pumpkin Olive Oil Pancakes – Exploring Olive Oil in the Kitchen (WFMW)
Apple Pancakes for Breakfast « PDXfoodlove
things we make, bake and photograph: Baklava apples
Singing With Birds: Top of the Morning
Make ahead Breakfast Enchiladas « A Thrifty Mom – Extreme couponing the right way
Chocolate Banana White Chocolate Chip Muffins » Dinners, Dishes, and Desserts
Vanilla Peach Buttermilk Pancakes | Live. Learn. Love. Eat.
Canadian breakfast pancakes
Peanut Butter Chocolate Chip Granola « Feast Ur Eyes
Wild Rice and Red Apple Griddle Cakes - Living Tastefully
Oatmeal-Blueberry Pancakes
Very Vanilla Vegan Pancakes. | My Little Celebration
Baked oatmeal with mixed berries, banana, maple syrup and walnuts | a splash of vanilla
A Healthier Pop-Tart – Apple Cinnamon with Oat Bran Crust
Banana Peanut Butter Breakfast Muffins | love food eat
The Macy's Culinary Council Thanksgiving and Holiday Cookbook
Cranberry Pancakes Recipe: Turn Leftover Cranberry Sauce into Breakfast!
Powered Up Pumpkin Oats
Farm Breakfast Casserole » The official blog of America's favorite frozen dough