SQL Server 2005
DBCC RESEED Table Identity Value – Reset Table Iden. DBCC CHECKIDENT can reseed (reset) the identity value of the table.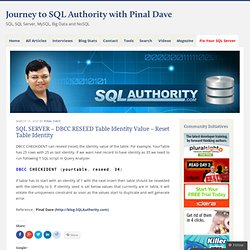 For example, YourTable has 25 rows with 25 as last identity. If we want next record to have identity as 35 we need to run following T SQL script in Query Analyzer. DBCC CHECKIDENT (yourtable, reseed, 34) If table has to start with an identity of 1 with the next insert then table should be reseeded with the identity to 0. Requisitos de Sistema do SQL Server 2005. Parameters and Stored Procedures - Windows Live. Semana passada eu escrevi um post rápido falando sobre um problema de performance que ocorreu em um de nossos clientes.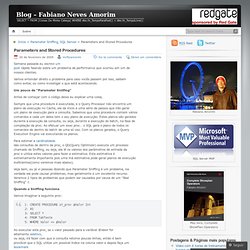 Vamos entender direito o problema para caso vocês passem por isso, saibam como evitar, ou como investigar o que está acontecendo. Sempre que uma procedure é executada, e o Query Processor não encontra um plano de execução no Cache, ele da inicio a uma sério de passos que irão gerar um plano de execução para a consulta. Simulado para a prova 70-228 - Microsoft - Mauro Pichiliani - SQ. Tips, Tricks, and Advice from the SQL Server Query Optimization. Parameters are a useful way to improve overall system performance when there are many common queries with the same shape.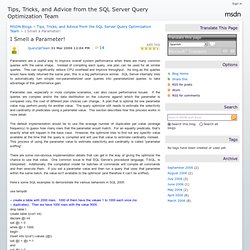 Instead of compiling each query, one plan can be used for all similar queries. This can significantly reduce CPU overhead and improve throughput. As long as the queries would have really returned the same plan, this is a big performance winner. SQL Server internally tries to automatically turn simple non-parameterized user queries into parameterized queries to take advantage of this performance gain. 07 Coisas que você precisa saber em relação "Statistics e Optimi.
1.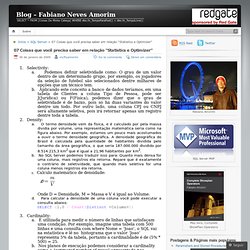 Selectivity: a. Podemos definir seletividade como: O grau de um valor dentro de um determinado grupo, por exemplo, os jogadores da seleção de futebol são selecionados dentre milhares de opções que um técnico tem. b. Query Optimizer VS Foreign Keys - Windows Live. Pessoal, depois da WebCast que fiz falando sobre o Query Optimizer, quero compartilhar um caso onde na minha opinião ele infelizmente não foi tão esperto assim :-( Por sinal o vídeo já esta disponível para download…. é só acessar o link de cadastro para a webcast e baixar… Veja bem, no meu banco de dados tenho 2 tabelas assim… CONCC030 – Tabela de propostas, e CONCC036 tabela que relaciona uma proposta com uma Cota.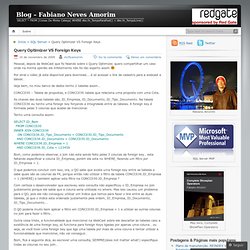 ---