Burlesque
Tramp Lamps
SuicideGirls > SG Pin Up Girls, Tattooed, Goth, Punk, Alt, Em
The New York Burlesque Festival!
Photos tagged with burlesque
THIS OR THAT! = BURLESQUE GAME SHOW: Zany, sexy fun from America
Von Teese - Website Main Page
The Buxoticas
The World's Finest Pop Culture Site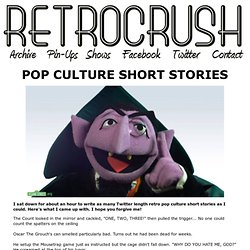 I had a fantastic time at the 48 Hour Comedy Marathon at Brian Crall's Sacramento Comedy Spot the weekend of March 15th. We had a special retroCRUSH show on Friday night and I produced a geek themed standup comedy show Saturday with myself, Austin Abshire, Michael Cella, Stephen Ferris, and Nick Pettigrew called DORK PARTY that was incredibly cool (I'll be posting the audio soon).
www.honiharlow.com
Ministry Of Burlesque