Gastronomie moléculaire
Get flash to fully experience Pearltrees
Mire eljutna hozzánk, talán csöndben véget is ér a molekuláris gasztronómia, az a konyhaművészeti irányzat, amely becsempészte a szakácskönyvekbe a nátrium-alginátot, a cseppfolyós nitrogént és az iPodot. Kár lenne érte - ezt is egy magyar találta ki. Úgy gondolom, civilizációnkra nézve szomorú, hogy míg meg tudjuk mérni, és meg is mérjük a Vénusz légkörének hőmérsékletét, fogalmunk sincs, mi megy végbe a szuflé belsejében." Nicholas Kurti (Kürti Miklós), a molekuláris gasztronómia atyja A Jamie Oliver gránitmozsarán és Nigella Lawson gigantikus muffinjain nevelkedett amatőr szakácsok talán el sem tudják képzelni, de létezik a konyhaművészetnek olyan ága, amely nem olaszos grandezzából, mély anyai érzelmekből és ipari mennyiségű mirelit zöldborsóból építkezik, hanem kőkemény tudományból, kémiából, fizikából, laborkísérletek eredményeiből és patikamérlegen kimért vegyületekből.
Qui sont Hervé This et Nicholas Kurti ? Nicholas Kurti est né le 14 Mai 1908 à Budapest. Physicien anglais d'origine hongroise, il vécut à Oxford (Angleterre) et il est célèbre pour être l'un des pères, avec Hervé This, de la gastronomie moléculaire Quand à Hervé This il est né le 5 juin 1955 à Suresnes (Hauts-de-Seine), est un physico-chimiste français, ancien élève de l'École de Physique et Chimie de Paris. Il travaille à l'Institut national de la recherche agronomique. Il est également directeur scientifique de la Fondation Science & culture alimentaire (Académie des sciences), président du Comité pédagogique de l'Institut des hautes études du goût, de la gastronomie et des arts de la table (qu'il a contribué à créer), membre de l'Académie royale de sciences, des arts et des lettres de Belgique, membre correspondant de l'Académie d'agriculture de France, conseiller scientifique de la revue Pour la Science...
ISBNLib- ISBN Library:Book infomation,Prices,excerpt,ebook download - free ebook resources We Are Sorry, The Book Is Not Available for Preview or Read Online Click links below to Download free ebooks or Read free books(excerpts): » Download daily updated free ebooks and magazines - www.isbnlib.com.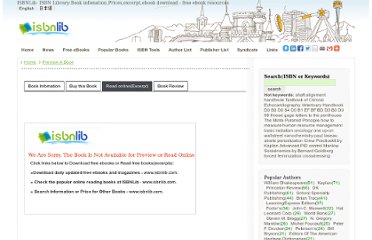 The world of food has changed a great deal in modern times. Change has come especially fast over the last decade. Along with many other developments, a new approach to cooking has emerged in restaurants around the globe, including our own. We feel that this approach has been widely misunderstood, both outside and inside our profession. Certain aspects of it are overemphasized and sensationalized, while others are ignored. We believe that this is an important time in the history of cooking, and wish to clarify the principles and thoughts that actually guide us.
Heston Blumenthal is the man who put snail porridge on the menu. So when he tells Jay Rayner that the next big thing is magic tricks at the table and sweets you preorder online, restaurant lovers need to take notice. Just don't even think of calling it molecular gastronomy