Tutoriales
World Wide Maze is a game in which you use your smartphone to navigate a rolling ball through 3D mazes created from websites in order to try to reach their goal points. The game features abundant use of HTML5 features. For example, the DeviceOrientation event retrieves tilt data from the smartphone, which is then sent to the PC via WebSocket, where players find their way through 3D spaces built by WebGL and Web Workers. In this article, I'll explain precisely how these features are used, the overall development process, and key points for optimization. DeviceOrientation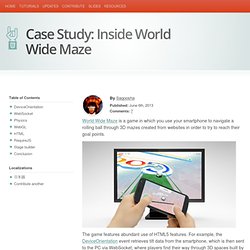 Case Study: Inside World Wide Maze
Lección 1: Definición de HTML5 Objetivos: En esta lección los estudiantes aprenden las funcionalidades y características que forman parte de la especificación HTML5 y las tecnologías que involucran.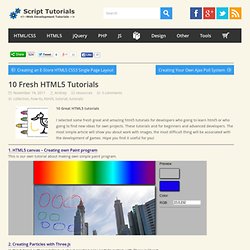 10 Fresh HTML5 Tutorials
10 Great HTML5 tutorials I selected some fresh great and amazing html5 tutorials for developers who going to learn html5 or who going to find new ideas for own projects. These tutorials and for beginners and advanced developers. The most simple article will show you about work with images, the most difficult thing will be associated with the development of games. Hope you find it useful for you!
New Zealand's Homepage | Mark Zeman
It's been an absolute privilege to work on the "face" of New Zealand which has over a million travellers a month stopping by to admire and explore. A reinvention of the traditionally passive big brand TVC into something way more engaging. You're in control of a giant 48 metre real-life scroll bar that lets you scroll a camera through four of New Zealand's most amazing locations. Built using a combination of HTML5 canvas with a Flash fallback for manky old IE 7-8 and oodles of Javascript wizardry. Shot using time-lapse stills on a Canon 5D over 6 hours for Milford and 2 hours for the other locations. The camera traveled 12 metres at each location on a motion controlled dolly producing 750-950 stills that were then time remapped and narrowed down to 50 for each scene.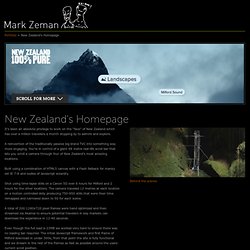 Category: Simplequiz
Carro de la compra Registrarse Internacional Imagen Digital & Fotografía 111 cursos, 337 horas Negocios 99 cursos, 258 horas
Resoluciones de pantallas - Vídeos