Programming
Querido programador, vas a recibir la visita de 3 fantasmas. Seguridad Nula: WHATSAPP EN PELOTAS: FALLO que posibilita la suplantación (spoofing) A DETALLE. Whatsapp la aplicación mas conocida en el momento actual y posiblemente la que mas fallos de seguridad tenga , acaba de ser noticia por un nuevo bug, esta vez permite suplantar a cualquier usuario desde un pc, si tenemos el numero de serie (IMEI) de ese usuario.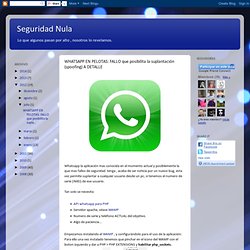 Tan solo se necesita: Empezamos instalando el WAMP , y configurándolo para el uso de la aplicación: Para ello una vez instalado tenemos que pinchar en el icono del WAMP con el boton izquierdo y dar a PHP > PHP EXTENSIONS y habilitar php_sockets. Tratando de entenderlo: Clean Code. Durante los últimos meses he estado leyendo y releyendo el libro "Clean Code: A Handbook of Agile Software Craftmanship" de Robert Martin.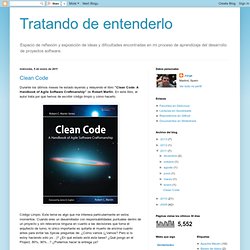 En este libro, el autor trata por qué hemos de escribir código limpio y cómo hacerlo. Código Limpio. Este tema es algo que me interesa particularmente en estos momentos.
GEarth
Using Eclipse Effectively - Architect's Diary. To ensure that the code that you write is always clean and complaint to your project specific coding standards and guidelines, it is important that you configure your eclipse to effectively use its compiler settings, Formatter, CheckStyle and related built in features.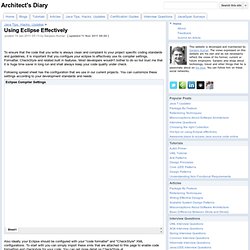 Most developers wouldn't bother to do so but trust me that it is huge time saver in long run and shall always keep your code quality under check. Following spread sheet has the configuration that we use in our current projects. You can customize these settings according to your development standards and needs. Code Snippets.
---