Html5
Case-study: JAM with Chrome - How we made the audio rock. Introduction JAM with Chrome is a web based musical project created by Google.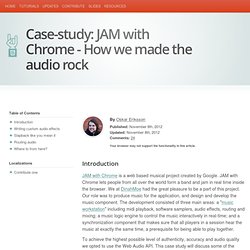 JAM with Chrome lets people from all over the world form a band and jam in real time inside the browser. We at DinahMoe had the great pleasure to be a part of this project. Our role was to produce music for the application, and design and develop the music component. Cut the rope html5. 23 Useful Online HTML5 Tools. Are you aware that HTML5 is captivating the web by leaps and bounds?
This new language is used for displaying the content on net. One can also add in audios, videos, various fonts, web graphics, drag and drop, animations to make your pages more colorful and informative. It is simply a renewed and much better version of the XHML1 or HTML4 and is also compatible to those versions. The online sprite tool box compresses your image and puts your image in a sprite. This compression will definitely increase the speed of your images and the time of loading. HTML5 Advent 2011. Case Study: Building the Stanisław Lem Google doodle. Hello, (strange) world The Google homepage is a fascinating environment to code within.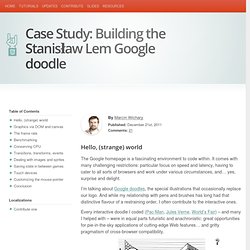 It comes with many challenging restrictions: particular focus on speed and latency, having to cater to all sorts of browsers and work under various circumstances, and… yes, surprise and delight. Move The Web Forward | Guide to getting involved with standards and browser development.
Ejemplos y demos. HTML5 Development Page. How To Build A Site That Looks Great On Every Screen. Tutoriales y muestras de Internet Explorer 9. Propósito Esta documentación proporciona muestras de aplicaciones compiladas con características de Internet Explorer 9, estándares modernos y diseño del mundo real.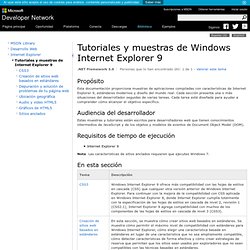 Cada sección presenta una o más situaciones del desarrollador seguidas de varias tareas. Cada tarea está diseñada para ayudar a comprender cómo alcanzar el objetivo específico. Internet Explorer Learning - HTML5. HTML5 es la próxima gran actualización de la especificación W3C HTML proporciona una estructura estándar para la presentación de contenido en la web.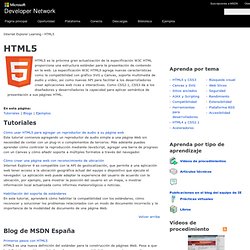 La especificación W3C HTML5 agrega nuevas características como la compatibilidad con gráfico SVG y Canvas, soporte multimedia de audio y vídeo, así como nuevas API para facilitar a los desarrolladores crear aplicaciones web ricas e interactivas. Como CSS2.1, CSS3 da a los diseñadores y desarrolladores la capacidad para aplicar semántica de presentación a sus páginas HTML. Tutoriales. HTML5 Canvas Particle Animation | if then else. UPDATE: yes, I know some people out there will see some flickering when viewing the demo.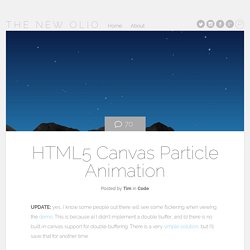 This is because a) I didn't implement a double buffer, and b) there is no built-in canvas support for double buffering. There is a very simple solution, but I'll save that for another time. Having never really been a user of Apple products, I guess it's not all that surprising that I've never been to the MobileMe website. However, after Googling something like the lines of "most popular e-mail providers," I came across its login page and was blown away. Holy moly, that looks amazing. Dive Into HTML5.
Initializr - Start your HTML5 project in 15 seconds! Getting Started Using HTML5 Boilerplate - Dan Wahlin's WebLog. Whether we like it or not, HTML5 is all the rage now days.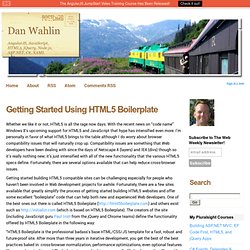 With the recent news on "code name" Windows 8's upcoming support for HTML5 and JavaScript that hype has intensified even more. I'm personally in favor of what HTML5 brings to the table although I do worry about browser compatibility issues that will naturally crop up. Compatibility issues are something that Web developers have been dealing with since the days of Netscape 4 (layers) and IE4 (divs) though so it's really nothing new; it's just intensified with all of the new functionality that the various HTML5 specs define. Fortunately, there are several options available that can help reduce cross-browser issues. 12 Incredible HTML5 Experiments | Dreamincolor. Desarrolladores de Facebook. HTML5 Microzone. Juri Strumpflohner Integrating Node.js with a C# DLL An option that came to mind is to design the DLL as a self-contained process and to invoke it using Node.js's process api.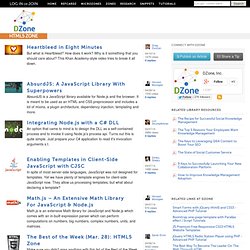 HTML5 Boilerplate - A rock-solid default template for HTML5 awesome. Home | HTML5 Boilerplate - A rock-solid default template for HTML5 awesome. HTML5 Codelab - Google Developer Codelabs. Objective/Description: This code lab demonstrates how to enhance UIs with new HTML5 and CSS 3 features.
It is presented in several sections; the first designed to help you take advantage of progressive upgrades that you may be able to immediately employ on your sites in degradable ways, and the second focused on new features that would require significant effort or tools to backport for use in legacy browsers. A laptopSome knowledge of HTML and CSS HTML5 is as much as description for a new set of browser capabilities as it is.
Techniques. HTML5 Techniques - Ultimate Collection of Tutorials. As my experience we always close to the latest technologies as we have one step ahead on web development techniques as HTML5.
HTML 5 is the advanced version of HTML. HTML 5 is giving new techniques and advanced features/structure in designing. These new features and tags makes designing very easy to create a web page. HTML5 Rocks - A resource for open web HTML5 developers.
---