Cooking
The Cake Bar. Thecakebar: It would really mean a lot to me if you unfollowed the blog.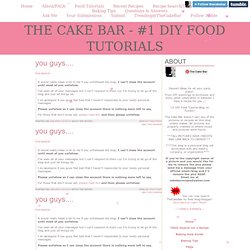 I can't close the account until most of you unfollow.I've seen all of your messages but I can't respond to them cuz I'm trying to let go of the blog and just let things be.I do apologize if you guys feel bad that I haven't responded to your lovely personal messages.Please unfollow so I can close the account there is nothing more left to say. For those that don't know yet, please read this and then please unfollow. thecakebar: Mowielicious. What would Martha do? Raspberri cupcakes. SWEET AS SUGAR COOKIES. A Thought For Food — where ideas are brought to simmer. Bake at 350. Picky Palate. A Cozy Kitchen. Smitten kitchen. RecipeWISE | Recipes From UK & Ireland.
Food Librarian. Foodgawker | feed your eyes. 17 and Baking. Welcome to Eat Live Run. Baked Bree — A recipe,food, and cooking blog. Alexandra's kitchen — recipes, photos, food. I'll Have What She's Having. Our Best Bites | Tips, Tricks, and Tastes from Two Real-Life Kitchens. Sprinkle Bakes. Not Quite Nigella » The cooking, eating and travel blog of a hungry blogger from Sydney, Australia.
The Pioneer Woman | Ree Drummond. Bakerella.com.
---