Openid
For Consumer developers... If you're building... web applications desktop applications mobile applications Javascript or browser-based apps webpage widgets OAuth is a simple way to publish and interact with protected data. It's also a safer and more secure way for people to give you access.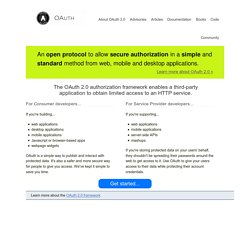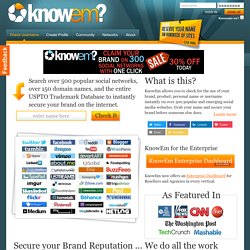 Search over 550 popular social networks, over 150 domain names, and the entire USPTO Trademark Database to instantly secure your brand on the internet. KnowEm allows you to check for the use of your brand, product, personal name or username instantly on over 550 popular and emerging social media websites. Grab your name and secure your brand before someone else does.
Social network portability is one of several user-interface ideas and suggestions for working with microformats in the area of data-portability. The Problem Why is it that every single social network community site makes you: re-enter all your personal profile info (name, email, birthday, URL etc.)?
Microformats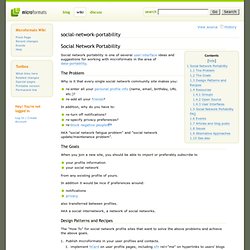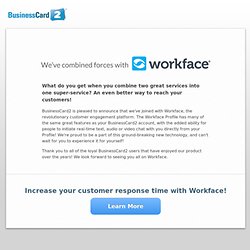 What do you get when you combine two great services into one super-service? An even better way to reach your customers! BusinessCard2 is pleased to announce that we've joined with Workface, the revolutionary customer engagement platform. The Workface Profile has many of the same great features as your BusinessCard2 account, with the added ability for people to initiate real-time text, audio or video chat with you directly from your Profile! We're proud to be a part of this ground-breaking new technology, and can't wait for you to experience it for yourself!
Last week the microformats.org community celebrated its 7th birthday at a gathering hosted by Mozilla in San Francisco and recognized accomplishments, challenges, and opportunities. Humans First: Admin Emeriti & New Admins The microformats tagline "humans first, machines second" forms the basis of many of our principles, and in that regard, we'd like to recognize a few people and thank them for their years of volunteer service as community admins: They've each been essential positive community contributors and guides over the years, and as admin emeriti are always welcome back should they decided to become admins again. We're also pleased to announce two new community admins: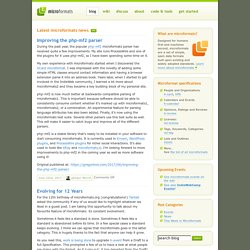 Clickpass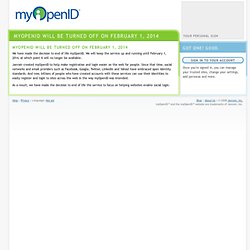 We have made the decision to end of life myOpenID. We will keep the service up and running until February 1, 2014, at which point it will no longer be available. Janrain created myOpenID to help make registration and login easier on the web for people. Since that time, social networks and email providers such as Facebook, Google, Twitter, LinkedIn and Yahoo!
Vidoop