Images/videos
_m1kgrm5ALB1qad4ino1_500.jpg (500×750) 3753502_460s.jpg (460×570) Time Flies - Wall Clock by Igor Vig. EINSHTEIN_1.png (401×301) Photo.jpg (376×301) Gone But Not Forgotten. Mr Chi-City Kicks it with a Friend. Every Lover must watch dis Video_Snehal.mp4. What is that? Sparrow "father and son" (HD).avi. Mathieu Bich Fooled Penn & Teller. 343357_460s.jpg (460×336) 384412_460s.jpg (JPEG Image, 460x347 pixels) 406035_460s_v1.jpg (460×395)
407042_460s.jpg (459×375) 378613_460s.jpg (459×288) 368729_460s_v1.jpg (460×371) 349432_460s_v1.jpg (460×607) 357612_460s.jpg (459×398) 417642_460s.jpg (460×545) 354578_460s_v1.jpg (444×661) 389272_460s.jpg (460×1147) 396848_460s.jpg (460×319) 344807_460s_v1.jpg (460×525) 338198_460s.jpg (460×367) 371970_460s.jpg (460×375) 387074_460s.jpg (460×222) 360353_460s_v1.jpg (460×674) 397803_460s.jpg (460×374) 408974_460s.jpg (459×336) Impossible nail-through-wood trick. 381914_460s_v1.jpg (460×721) 416550_460s.jpg (460×649) 366281_460s.jpg (459×336) 357753_460s.jpg (460×326) 343431_460s.jpg (460×891) 395604_460s.jpg (460×631) 341191_460s_v1.jpg (460×608) 351667_460s_v1.jpg (460×318) 416679_460s.jpg (400×436) 400064_460s.jpg (460×6084) Moroccan Bow Lathe. 390262_460s.jpg (391×375) 381303_460s.jpg (460×971) 355815_460s.jpg (453×1930) Drawing on acid.
411203_460s_v1.jpg (460×259) 338395_460s.jpg (460×425) _lvavl6L8Mm1qzlfumo1_500.jpg (500×333) 374762_460s.jpg (460×867) 342538_460s.jpg (460×355) Spherical Flying Machine Developed by Japan Ministry Of Defense #DigInfo. Aldebaran's New Nao Robot Demo. At the IEEE Humanoids conference early this month, I met the new Nao.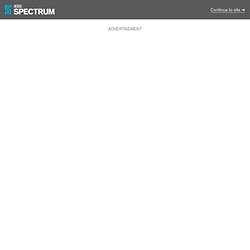 The latest version of the popular humanoid robot, created by Paris-based Aldebaran Robotics, has a more robust body, longer arms, a more advanced motion engine, and a new head with improved temperature control, Wi-Fi communications, and audio input and output. In terms of software, Aldebaran improved whole body motion controls, voice recognition, sound localization, and face and image recognition (Nao can learn to identify objects like photographs and book covers). And the robot has now a "fall manager," which detects a fall is going to happen and positions the arms and legs in a more protective posture. To see a demo, I met with Aldebaran founder and CEO Bruno Maisonnier, who it turns out is a big geek. He told me that he was a computer enthusiast in the 1980s and ended up working in IT. Getting space-saving furniture right: Resource Furniture. Posted by hipstomp / Rain Noe | 20 May 2010 These days people bandy the term "space-saving" about in hopes it will make their product more attractive to us city dwellers, particularly since there are now more of us than there are rural dwellers.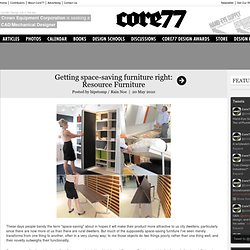 But much of the supposedly space-saving furniture I've seen merely transforms from one thing to another, often in a very clumsy way; to me those objects do two things poorly rather than one thing well, and their novelty outweighs their functionality. One company I've found that truly "gets" space-saving is New-York-based Resource Furniture, which distributes Italian brand Clei and other European furniture manufacturers. (You probably recognize the name Clei from their much-blogged orange couch that transforms into bunk beds.) The products Resource Furniture offers have a high level of design and engineering, with no compromises; there are no lumpy futon mattresses or "Grab lever A while holding switch B, then pull lever C" complications. Re: Visual Multiplication and 48/2(9+3)
Handy things/tips
---