Cloudgirlnotmadeup
Cloudgirl Notmadeup
I mostly just work out all day ad drive my jeep around. It's great having a jeep you know. You can go almost anywhere. With the top down, driving around looking hot. It really is stunning how much you can talk about a jeep before it gets tiring. Jeep.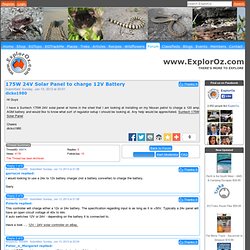 175W 24V Solar Panel to charge 12V Battery @ ExplorOz Forum
FollowupID: 778961 Submitted: Monday, Jan 14, 2013 at 10:53 Member - Frank P (NSW) posted: Agreed. There are traps for the unwary by considering only the open circuit voltage capability of the regulator.
GSL MPPT
Maximum Output 12 Amp / 200 WattsMPPT12-1: • Ideal for charging batteries with new low cost and high efficiency grid type panels • Simple 3 wire "plug and play" connection • Autoselect for 12V and 24V panels and batteries MPPT12-1 Installation Sheet Additional features for the more advanced user:
GSL Electronics : MPPT12-1 / MPPT12-2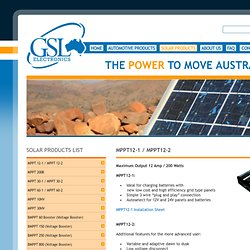 Place bid Review and confirm your bid Bid confirmation d h m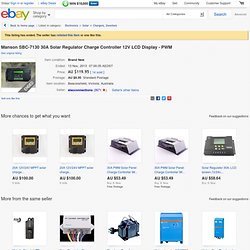 Manson SBC-7130 30A Solar Regulator Charge Controller 12V LCD Display - PWM
eBay Australia Guides - Buying solar panels and alternative energy on eBay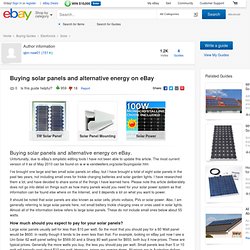 Buying solar panels and alternative energy on eBay.
Solar Brackets, Solar Mounting Kits, Solar Cable (Powered by CubeCart)
Solar Power @ ExplorOz Articles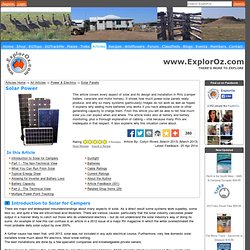 It is usually feasible to run things from solar that do not generate heat over long periods as their main purpose: for that, gas or diesel is a better source of energy. Electric jugs are border-line feasible in big rigs, but not otherwise. Also out are 12 volt incandescent globes (legally banned since 2010 in 230 volt form), older CPAP machines (recent CPAP machines using a heating cycle still need a lot of energy), hair dryers etc. The main electricity draw (typically 70% of the total) is an electric fridge. Late models use less, but their draw is mainly related to how well they are installed – most are done badly, some appallingly so.
Sexual Feelings
install ac in my car
Science Physics and Philosophy
Photography-working with pictures