Wordpress Theme developers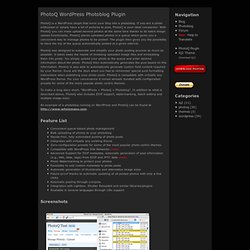 PhotoQ is a WordPress plugin that turns your blog into a photoblog. If you are a photo enthusiast or simply have a lot of pictures to post, PhotoQ is your ideal companion. With PhotoQ you can mass upload several photos at the same time thanks to its batch image upload functionality. PhotoQ places uploaded photos in a queue which gives you a convenient way to manage photos to be posted.
PhotoQ WordPress Photoblog Plugin
The Genesis Framework empowers you to quickly and easily build incredible websites with WordPress. Whether you're a novice or advanced developer, Genesis provides the secure and search-engine-optimized foundation that takes WordPress to places you never thought it could go. one-column, two-columns, three-columns, left-sidebar, right-sidebar, fixed-width, custom-background, custom-header, custom-menu, full-width-template, theme-options
r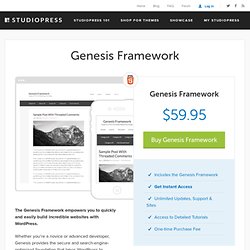 20 Amazing WordPress Portfolio Themes 
WordPress is one of the best means for artists, designers and photographers to present their visual work online, with powerful tools for creating sites with a strong sense of professionalism. There are masses of themes available on the Internet that can be downloaded and tailored to suit any kind of portfolio niche, effectively sharing material with a target audience. This post brings together 20 of the best portfolio themes currently available, both premium and free, to enable any creative practioner to set up an online showcase of their work. Premium WordPress Portfolio Themes: Organic Portfolio This beautiful portfolio from Organic Themes is the perfect platform for showcasing art, design, photography or any type of creative image in a highly professional looking site.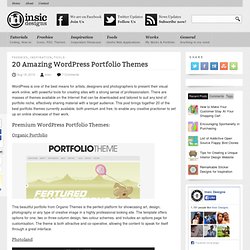 Wordpress Plugins - Aakash Web
Free Premium WordPress Theme Published 3. Februar 2010 at 17:27 - 5 Comments WP Creativix is a free but still premium WordPress Theme. It offers you a elegant Business design, with Javascript dropdown Menu and a lot more features. It comes with a Javascript Slideshow, Lightbox Portfolio and Full Widget Support.
WP Creativix - Free Premium Wordpress Portfolio & Business Theme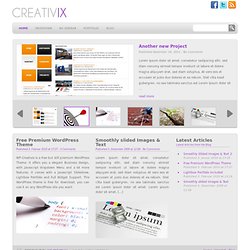 Headway… is remarkable. It's the only WordPress theme that truly lets you design your own website, the way you want it to look and behave. Zero coding required! "All that WYSIWYG drag & drop goodness comes at the cost of poor performance, right?" Nope, it really doesn't.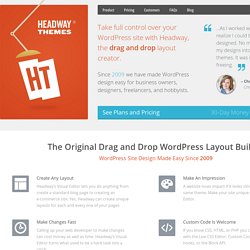 Have a chance to win one of the three license of wpSEO worth $24.99 each. What is wpSEO? wpSEO stands for efficient, fully-automated and affordable SEO in WordPress, the state of the art Weblog-System.
wpSEO – The Ultimate SEO Plugin for WordPress (Winners Update)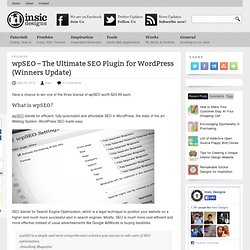 FeaturesInstallationVideosScreenshotsChange LogDownload HTML Javascript Adder allows to insert HTML, javascripts, shortcodes, advertisements, flash embed codes, plain text etc in the sidebar via UNLIMITED widgets with advanced targeting on posts and pages. Current version: 3.7 Features Used for adding HTML, Javascripts, Flash embed codes and other related codes in the sidebar using widgets.Unlimited widget support.Can insert shortcodes also.Advanced settings for targeting widget in Posts and Pages. Seperate settings to Show/Hide a widget in a page eg: Can Show/hide a widget in home page, archive page etc.Available in 11 Languages.AW Quick Tag toolbar for editing codes in widget.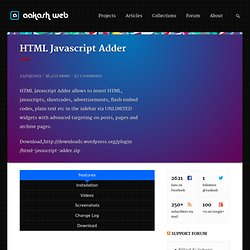 HTML Javascript Adder - Wordpress Plugin
To continue, please decide upon which version of this theme you would like to purchase then click the "purchase" button. $0 Simplista Basic Includes installation tutorials, limited customization techniques and support through our private forum. You will also receive future theme updates at no additional cost.
Simplista Theme by WP Now - A FREE Premium Theme for Wordpress
Bueno
Sketch Ace Wordpress Theme - CamelGraph
Mystique Theme |Digital Nature
Stitchpress : web2feel.com – Free wordpress themes – Tutorials – Tips and tricks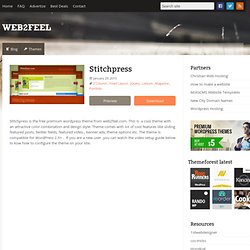 Stitchpress is the free premium wordpress theme from web2feel.com. This is a cool theme with an attractive color combination and design style. Theme comes with lot of cool features like sliding featured posts, twitter feeds, featured video , banner ads, theme options etc. The theme is compatible for WordPress 2.9+ . If you are a new user ,you can watch the video setup guide below to kow how to configure the theme on your site.
Preview Themes
Zexee: A Free Sexy WordPress Theme!
Just Released the Notepad Theme
Feb 11, 2010 104 Comments Tags: UpdatesWordPress It has been a long long time since I released a WordPress Theme.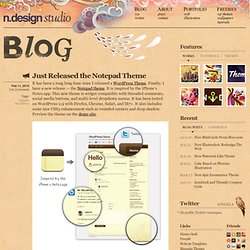 Structure Theme : WordPress Templates | Organic Themes
Structure was created to be versatile. The minimal design lends itself to a variety of industries. Structure is among our most popular of themes, and has been used to create sites for art, design, publications, magazines, schools, sports and much more! Structure features two color variations — a white version and a black version.