Web Development
Home / CSS3 Previews / Box-shadow, one of CSS3′s best new features The box-shadow property allows designers to easily implement multiple drop shadows (outer or inner) on box elements, specifying values for color, size, blur and offset. Browser support is growing of late with Mozilla (Firefox), Webkit (Safari/Chrome/Konqueror), Opera and the IE9 Platform Preview all offering a decent implementation of the spec, although Mozilla and Webkit still require their respective -moz- and -webkit- prefixes (note Mozilla Firefox 4.0+ no longer requires the -moz- prefix). Here's a basic example: Firefox, Safari/Chrome, Opera and IE9 users should see a grey fading shadow under this box.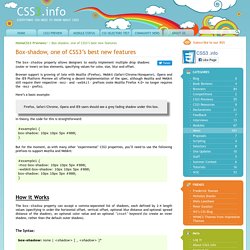 Let's welcome the latest trend in the web design field especially in terms of typography , the new Hand drawn fonts. As the name implies Hand drawn fonts are created using hand sketching techniques. To create hand drawn fonts the designer must have high creativity to make fonts that can make the designs stand out from others. Attractive fonts are very important for any graphic design to present an unique effect in their artwork with a cool appearance to visitors. For your Inspiration, here is a creative showcase of hand drawn fonts for download. I hope you find this collection worth watching.
Hot off the Press: Free High Quality Hand Drawn Fonts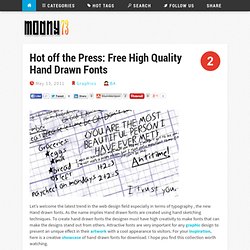 Welcome to Antz Media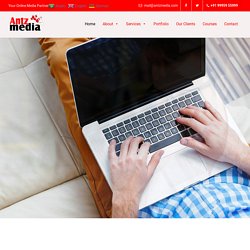 Being the No:1 Online Branding Solution provider in Kerala, we are committed to take your brand to greater levels. Our satisfied clients proves that our mission is successful. We believe that our strength lies in our creative and professional team. Now Antz media focus mainly on Internet based brand management solution.
Hi +Elijah Miti I like your speaking here, but if you wish to improve the background lighting. Try to use the Youtube Enhancement section from your Video Manager. Click "Edit" on these videos that have poor quality lighting, and from there Click 'Enhancements" then click "Autofix". This is what I do to enhance all my videos that have poor lighting, which helps to improve the overall appeal of them.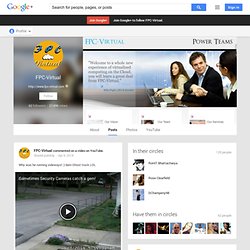 Home page | Wix Arena
Login Community Create and share your digital world Create a gorgeous free website in minutes, bringing together your social media updates, photos, videos and more into a unified web presence. Get started for free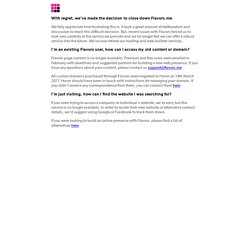 Providing virtual services for the online community, and on the ground in the New York City area. Our one man team specialized skills consist of: Online community development, web development, online business development, professional networking (FB & Google+ Business development), social curation, professional writing tips, blog writing, Youtube Partnership training, Youtube One Channel branding, content management and so much more.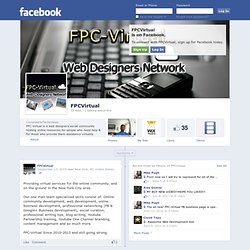 inShare0 HTML5 and CSS3 are really revolutionizing web development and web design, because they are bringing so many new features to work with to the fields. In this article you'll be able to find some great tools, cheat sheets and much more you could need to master these new features. Here we present you, a list HTML5 tutorials and techniques that you can't miss if you are a web developer.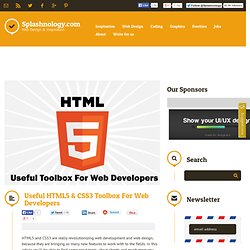 CSS How to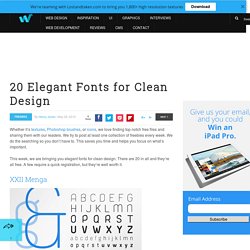 Whether it's textures, Photoshop brushes, or icons, we love finding top notch free files and sharing them with our readers. We try to post at least one collection of freebies every week. We do the searching so you don't have to.
This is pretty basic. It is good though because you'd be suprised how many people are olivious to this type of scripting. There is also a form of HTML that I use of the many. All it really does is take 1 image, and convert it to another when your mouse hovers over it, but if you have 1 picture that is dark, and another of the same picture just lightened a bit, it truly looks like it is highlighted. If you want the code just PM me. It is pretty useful.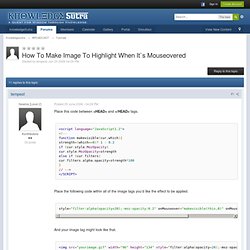 How To Make Image To Highlight When It`s Mouseovered - Discuss Anything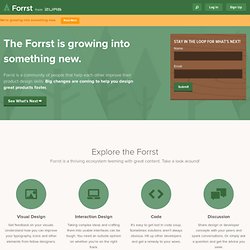 Links from everyone - Forrst
Header re-redesign Laura Moraiti A few new iterations on the mobile navigation, thanks to @Oiseau and @kenil for their input 1.a) Centered logo, with "Top read" and "Search" on the sides as easy access and a 100% width "Menu" button that activates a dropdown. The dropdown features the main categories in a column with associated color and then the other items with their icon (in larger size) 1.b) The same but using all caps.
The OpenTok platform delivers all the global infrastructure, scalability, and featuresyou need to add WebRTC to your website or mobile application. Websites and apps come to life when you build on the OpenTok platform. Powerful Go beyond vanilla WebRTC with our industry-leading API. Faster time-to-market
JavaScript, sending parameters to a web page.
How to pass parameters to a web page? For this purpose a form is created whose values will be transmitted automatically, and in the target page, a script retrieves the values sent. We have seen how to create a form, we will detail here how to extract the transmitted data. 1) Understanding the format of URL's parameters
HTML5 Specs are out and all the leading browsers are making sure that they are compatible with it. As a web developer, we always need a lot of javascript for HTML form validation. I like some of these features that will reduce the javascript functions in the web page and make our page load faster. 1. <input type="number"><input type="tel">
9 HTML5 Features that will make our UI code cleaner by removing lot of Javascript | JournalDev
Web Design & Book Marketing | Author Media
CSS Border Tricks | Pressed, Beveled, Shadows, Intented Borders | CSS Border Tutorial
CSS Border Tricks | Pressed, Beveled, Shadows, Intented Borders | CSS Border Tutorial
Best Flash Websites | Top Flash Designs | Flash Website Inspiration | Design Bombs CSS GALLERY - Web Gallery & Web Design Resources, Tutorials, Online Community, CSS, jQuery, Mootools, Photoshop, Illustrator, and more.
Author Media
Top 10 Most Useful Typography Tools To Save Designers Time And Effort
Typography is one of the most important aspect of design that uses text as their main element. Typography got the power to make any website design or graphic design attractive and lively. If you have noticed from quite a long time, there are many websites running that have great example of typography designs. Most of the times, graphic designers and web designers are pretty overwhelmed by the huge collection of fonts available on the Internet. However, there are many typography tools available freely on the Internet that are useful and make designers life easier.
Html5 Apps
Stitcher releases web app for desktop users - SlashGear Mobile EntertainmentStitcher releases web app for desktop usersSlashGearHowever, the company has expanded to the desktop by introducing their very own web app, complete with HTML5. It also works, and is optimized, for all major web browsers, so there's no restrictions as far as what browser you have to use. Once you log in ...Mobile radio service Stitcher boosts apps with HTML5 supportMobile EntertainmentStitcher Offers Web App, WidgetAll Access Music GroupPodcast aggregator Stitcher makes jump from mobile to the desktopThe VergeThe Herald | HeraldOnline.com -Engadgetall 12 news articles »
30 Professional Free Fonts for Excellent Typography
HTML5: The Basics (1 of 4)
CodeDevelopr