University Of California System
University of California, San Francisco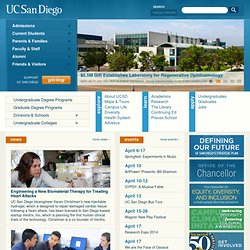 Engineering a New Biomaterial Therapy for Treating Heart Attacks UC San Diego bioengineer Karen Christman's new injectable hydrogel, which is designed to repair damaged cardiac tissue following a heart attack, has been licensed to San Diego-based startup Ventrix, Inc, which is planning the first human clinical trials of the technology. Christman is a co-founder of Ventrix. The Preuss School Launches Campaign for Longer Learning Time The Preuss School UCSD employs a variety of research-based best practices proven to help prepare low-income students to be first-time college attendees.
Read more about Writers Week Set for Feb. 4 to 6 Award-winning novelists, poets and journalists will discuss their craft during the 37th annual Writers Week, the longest-running, free event devoted to writing and writers in Southern California.Preceding Writers Week, veteran journalist Ray Suarez will survey the changing landscape of American journalism at 2 p.m. Sunday, Jan. 26, as part of the 46th Hays Press-Enterprise Lecture.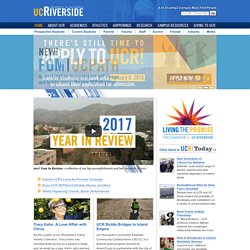 UC Merced
University of California, Irvine
UC Hastings College of the Law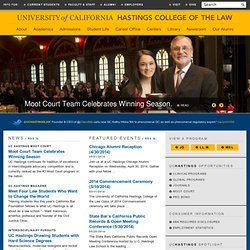 Monday, January 13, 2014 Thinkers & Doers: Jan. 13, 2014 Professors David Faigman, Joel Paul, Robin Feldman, Rory Little, Richard Zitrin, Chancellor & Dean Frank H.
University of California | Office of the President