Scobleizer
Are you a hiker? AllTrails is for you
Topsy: real-time social platform (er, search) adds Google+ to Twitter and more coming soon
Flipboard new version brings Instagram and other goodies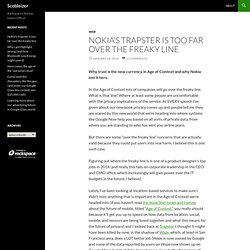 Why trust is the new currency in Age of Context and why Nokia lost it here. In the Age of Context lots of companies will go over the freaky line. What is that line? Where at least some people are uncomfortable with the privacy implications of the service. At EVERY speech I've given about our new book privacy comes up and people tell me they are scared by this new world that we're heading into where systems like Google Now help you based on all sorts of private data, from where you are standing to who has sent you airline plans.
Team inbox with chat: Flowdock
Developers: 30 minutes discovering how New Relic monitors your servers
Why Facebook's new open datacenter plans means better services for all of us
Real technology magic from Marco Tempest
Moby: private location sharing app for families
A new face to entrepreneurship: NewMe accelerator (15 cool new startups)
Talking 2011 Real Estate trends with Zillow's CEO
Pro publishers: simplereach recommends pages and increases views
Addoway has a more trustworthy eBay
panoramic HD for Apple Devices 10 Mbps
Dead simple ecommerce: Kout
Making open source easy for organizations/companies to use
A new kind of cloud-based backup for your hard drives: Bitcasa
Citymaps helps you find businesses in New York
NationalField: Social technology to help you manage organizations
Roamz: personal tour guide to what's going on around you
Wikets simplifies social recommendations on iPhone
Trapster: helping you beat the traffic blues
Keep track of what you've done today with "I done this"
A new iPad app for explorers and photographers: Stuck on Earth
A look inside AngelPad and its 15 companies