Science
Robotics is the branch of technology that deals with the design, construction, operation, and application of robots,[1] as well as computer systems for their control, sensory feedback, and information processing.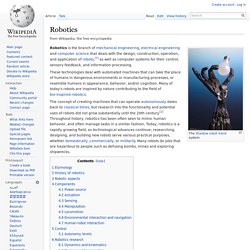 Electron deficiency occurs when a compound has too few valence electrons for the connections between atoms to be described as covalent bonds. Electron deficient bonds are often better described as 3-center-2-electron bonds. Examples of compounds that are electron deficient are the boranes.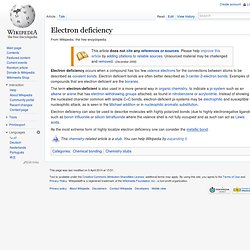 Electron deficiency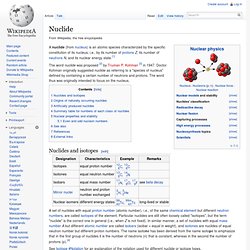 A nuclide (from nucleus) is an atomic species characterized by the specific constitution of its nucleus, i.e., by its number of protons Z, its number of neutrons N, and its nuclear energy state.[1] The word nuclide was proposed [2] by Truman P. Kohman [3] in 1947.
Nuclide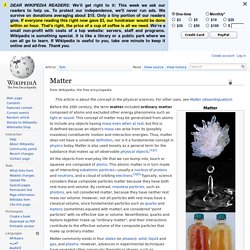 Matter is a poorly defined term in science (see definitions below).
Isotope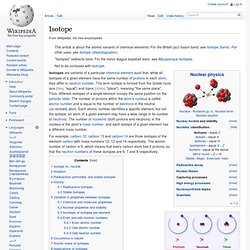 The three naturally-occurring isotopes of hydrogen. The fact that each isotope has one proton makes them all variants of hydrogen: the identity of the isotope is given by the number of neutrons. From left to right, the isotopes are protium (1H) with zero neutrons, deuterium (2H) with one neutron, and tritium (3H) with two neutrons. Isotopes are variants of a particular chemical element such that, while all isotopes of a given element have the same number of protons in each atom, they differ in neutron number. The term isotope is formed from the Greek roots isos (ἴσος "equal") and topos (τόπος "place"), meaning "the same place". Thus, different isotopes of a single element occupy the same position on the periodic table.
Neutron number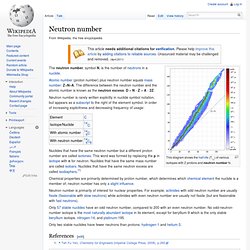 This diagram shows the half-life (T½) of various isotopes with Z protons and neutron number N. The neutron number, symbol N, is the number of neutrons in a nuclide. Atomic number (proton number) plus neutron number equals mass number: Z+N=A. The difference between the neutron number and the atomic number is known as the neutron excess: D = N - Z = A - 2Z.
An explanation of the superscripts and subscripts seen in atomic number notation. Atomic number is the number of protons, and therefore also the total positive charge, in the atomic nucleus. The Rutherford–Bohr model of the hydrogen atom (Z = 1) or a hydrogen-like ion (Z > 1). In this model it is an essential feature that the photon energy (or frequency) of the electromagnetic radiation emitted (shown) when an electron jumps from one orbital to another, be proportional to the mathematical square of atomic charge (Z2).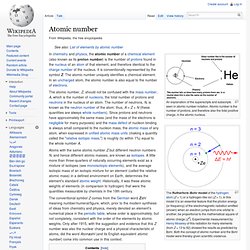 Atomic number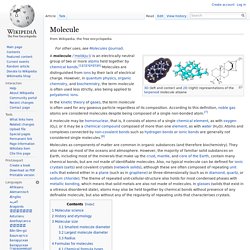 Molecule
3D (left and center) and 2D (right) representations of the terpenoid molecule atisane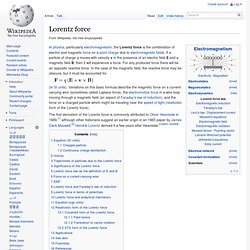 In physics, particularly electromagnetism, the Lorentz force is the combination of electric and magnetic force on a point charge due to electromagnetic fields. If a particle of charge q moves with velocity v in the presence of an electric field E and a magnetic field B, then it will experience a force
Lorentz force
Neutron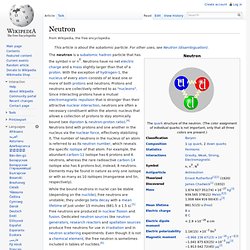 The neutron is a subatomic hadron particle that has the symbol n or n0. Neutrons have no net electric charge and a mass slightly larger than that of a proton.
The proton is a subatomic particle with the symbol p or p+ and a positive electric charge of 1 elementary charge.
Proton
Electron
History[edit] In the early 1700s, Francis Hauksbee and French chemist Charles François de Fay independently discovered what they believed to be two kinds of frictional electricity; one generated from rubbing glass, the other from rubbing resin. From this, Du Fay theorized that electricity consists of two electrical fluids, "vitreous" and "resinous", that are separated by friction and that neutralize each other when combined.[17] A decade later Benjamin Franklin proposed that electricity was not from different types of electrical fluid, but the same electrical fluid under different pressures.
A model of the atomic nucleus showing it as a compact bundle of the two types of nucleons: protons (red) and neutrons (blue).
Atomic nucleus
The atom is a basic unit of matter that consists of a dense central nucleus surrounded by a cloud of negatively charged electrons. The atomic nucleus contains a mix of positively charged protons and electrically neutral neutrons (except in the case of hydrogen-1, which is the only stable nuclide with no neutrons). The electrons of an atom are bound to the nucleus by the electromagnetic force.
Boltzmann's molecules (1896) shown at a "rest position" in a solid In thermodynamics, entropy is commonly associated with the amount of order, disorder, and/or chaos in a thermodynamic system. This stems from Rudolf Clausius' 1862 assertion that any thermodynamic processes always "admits to being reduced to the alteration in some way or another of the arrangement of the constituent parts of the working body" and that internal work associated with these alterations is quantified energetically by a measure of "entropy" change, according to the following differential expression:[1] In the years to follow, Ludwig Boltzmann translated these "alterations" into that of a probabilistic view of order and disorder in gas phase molecular systems. Locally, the entropy can be lowered by external action. This applies to machines, such as a refrigerator, where the entropy in the cold chamber is being reduced, and to living organisms.
Entropy (order and disorder)