Nature's Wrath
Get flash to fully experience Pearltrees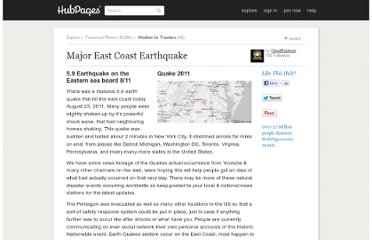 There was a massive 5.9 earth quake that hit the east coast today August 23, 2011.
North Carolina - Was in harms way & more On Aug 26th 2011, The Eastern portion of North Carolina is expected to receive the first land fall of the massive category 3 Hurricane, over 200,000 people were under mandatory evacuations yesterday morning through the afternoon.
This uprooted tree is leaning on the power lines which pretty much saved this house from utter destruction.