Mozilla Firefox
Help Mozilla stop Internet Censorship Legislation. Yesterday, we blacked out the default start page in Firefox and redirected visitors to the Mozilla sites to a special action page.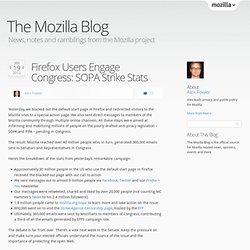 We also sent direct messages to members of the Mozilla community through multiple online channels. All these steps were aimed at informing and mobilizing millions of people on the poorly drafted anti-piracy legislation – SOPA and PIPA – pending in Congress. Firefox | Firefox for Android | Download Firefox to your mobile device. A superior Web experience With high-performance, advanced cross-platform features and the latest in security, our top-rated browser offers an alternative to closed platforms, giving you the flexibility to design, distribute and charge as you see fit.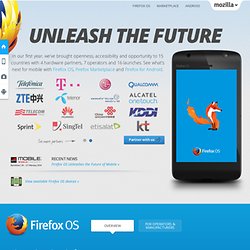 Learn more about partner opportunities. Get More From Your Firefox — Mobile, Add-ons & Other Stuff. Firefox Web Browser — Firefox Features. Return to top Browsing Made Easy Awesome Bar Get to your favorite sites quickly – even if you don't remember the URLs.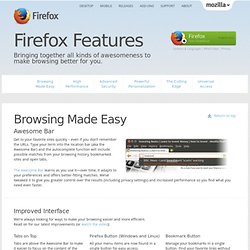 Type your term into the location bar (aka the Awesome Bar) and the autocomplete function will include possible matches from your browsing history, bookmarked sites and open tabs.
---