More Hot Websites
App Engine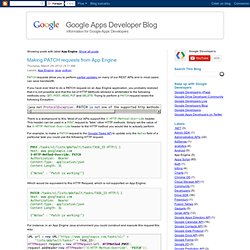 Our development language of choice is Python. To invoke a SOAP web service we chose to use the SUDs library rather than create a web service interface from scratch. We tested it locally and seemed to work fine. When we uploaded it to App Engine with some sample code, we found some errors due to limitations in App Engine for using sockets and accessing the file system.
This May Be the Most Surreal Building Ever Created
Wiki communities for everyone! -- Wikia.com
Software : Twitterrific
Clean Slate Blog | Better Homes and Gardens Real Estate
Stealth
Social Performance Management Platform for Goals, Feedback and Recognition | Rypple
Android Authority - Android News, Phones, Tablets, Apps, Reviews
yfrog — Share, Converse and Connect
The Standard for Influence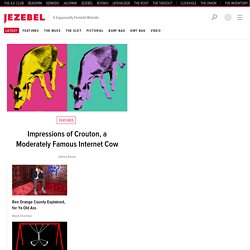 Much to the chagrin of a certain old-timey subset, traditional American masculinity is on its way out. Gone are days of the breadwinning hard hat wearers earning enough to support a wife that stays at home with 2.5 children; in 2014, the Haves wear bowties with short sleeved button down shirts and post pictures of their adopted three legged cat "Atticus" to Instagram while they wait for their daily webinar to start and the Have Nots drive their NOBAMA mudflapped trucks to the unemployment office. Read… 1/11/14 3:30pm Yesterday 3:30pm
Jezebel: Celebrity, Sex, Fashion for Women. Without Airbrushing.
Snow Guardians Documentary On top of the new Freedom Tower in New York City 9/11 Memorial Tribute of Lights in New York City Logan Pass in Glacier National Park, Montana Shooting a jib shot at 11,000 feet for Snow Guardians film Tribal girl in the northern Panjshir Valley, Afghanistan Afghan Military Patrol in Northern Afghanistan From Blog F9photo: Photographer, Robotic Filmmaker, Computer Engineer, Serial Entrepreneur, foodie with extreme wanderlust.
F9photo - Documentary Photographer and Filmmaker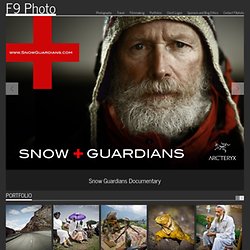 Greetings, loyal readers of me reading other people's mail! I had a weird occurrence the other day — I finally got a letter that I couldn't deliver. I have no idea how this is the first time that this has come up, it being the post-apocalypse and all, but there it was.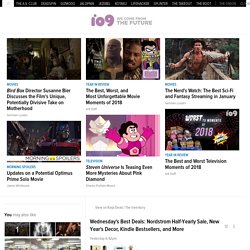 io9. We come from the future.
Logical Paradoxes
Logic is a powerful tool; it can be used to discern and to discover truth. Sometimes, though, this tool falls into the hands of those who would abuse it. Armed with the laws of logic and a few simple, plausible, and apparently harmless assumptions, philosophers can construct proofs of the most absurd conclusions. These proofs can give us pause; should we believe the unbelievable? This is the power of a paradox. This website is a celebration of such proofs.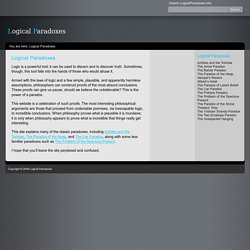 Lifehacker, tips and downloads for getting things done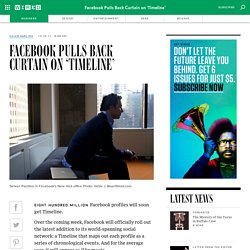 Serkan Piantino in Facebook's New York office Photo: Victor J. Blue/Wired.com Eight hundred million Facebook profiles will soon get Timeline. Over the coming week, Facebook will officially roll out the latest addition to its world-spanning social network: a Timeline that maps out each profile as a series of chronological events. And for the average user, it will appear as if by magic. But Timeline, Facebook's biggest interface change in recent memory, is the end result of a six-month effort not only to create a new piece of software, but to find a way of quickly serving that software to an audience of 800 million.
Facebook Pulls Back Curtain on 'Timeline' | Wired Enterprise
These red lines show how the LHC's Atlas experiment registered the arrival of four particles called muons. They could have been the byproducts of a short-lived Higgs boson--or they could have been more humdrum events. CERN's LHC particle accelerator will continue smashing protons into each other to spot the statistical significance that means the Higgs really has been found.
CERN physicists find hint of Higgs boson | Deep Tech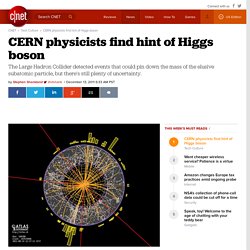 Stamped
Gizmodo, le guide des gadgets High Tech.
io9. We come from the future.
Jalopnik - Drive Free or Die
The workplace is drastically changing. A December survey showed that a whopping 84% of people planned on leaving their job in 2012, up from 60% just two years ago. Some will look for more pay.
Reboot Nation (Brooklyn, NY