Microsoft Cloud
Windows Metro Style Apps Developer Downloads. Newest downloads Ready to increase your reach?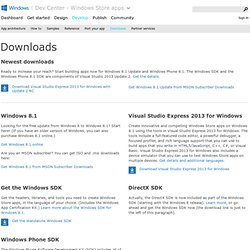 Start building apps now for Windows 8.1 Update and Windows Phone 8.1. The Windows SDK and the Windows Phone 8.1 SDK are components of Visual Studio 2013 Update 2. Get the details. Visual Studio Express 2013 for Windows.
Microsoft Sky Drive
Microsoft Certification. Windows. Windows Essentials. Windows Essentials - Download Windows Live Essentials. Microsoft Products. Windows Compatibility Center: Find Updates, Drivers, & Downloads for Windows 8, Windows RT and Windows 7. See what works Find compatibility information and get Windows compatible device drivers, app updates, and downloads.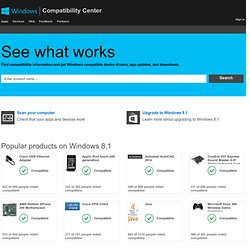 Check that your apps and devices work Popular products on Windows 8.1 Cisco USB Ethernet Adapter Compatible. Windows Performance - Hardware Compat, Device, Driver | TechNet. Find resources and tools to help you install and manage devices, troubleshoot hardware compatibility issues, and monitor and improve performance in your Windows client environment.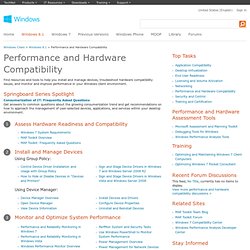 Springboard Series Spotlight Consumerization of IT: Frequently Asked QuestionsGet answers to common questions about the growing consumerization trend and get recommendations on how to approach the management of user-selected devices, applications, and services within your desktop environment. Watch Demonstrations and Tutorials View more demonstrations and tutorials >
The Windows Blog - Microsoft Showcase Videos. Windows 7. The Windows Blog.
---