Google+
Google has done it once again Google+ is Google's new state of the art social network tool, Amazing is all I can say. Oct 9
Google+ Counter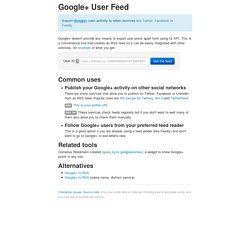 Google+ User Feed
Export Google+ user activity to other services like Twitter, Facebook or Google Reader. Google+ doesn't provide any means to export user posts apart from using its API. This is a convenience tool that creates an RSS feed so it can be easily integrated with other services.
Events - Google+
Politics & Elections - Google+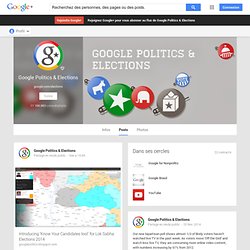 Welcome to the Google Politics & Elections page, the source for news and notes from our Politics & Elections team. Our goal is to bring people closer to politics by making relevant information and resources easier to find and interact with. Our primary focus is the U.S. election process, but we'll also cover global topics and encourage interaction around the world. This page will focus on impartial data and digital trends surrounding the political process. We are non-partisan and don't support or endorse any political candidates.
Google Chrome on G+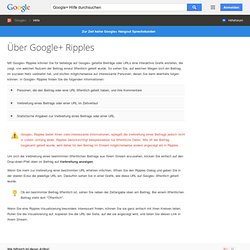 Mit Google+ Ripples können Sie für beliebige auf Google+ geteilte Beiträge oder URLs eine interaktive Grafik erstellen, die zeigt, von welchen Nutzern der Beitrag erneut öffentlich geteilt wurde. So sehen Sie, auf welchen Wegen sich ein Beitrag im sozialen Netz verbreitet hat, und stoßen möglicherweise auf interessante Personen, denen Sie dann ebenfalls folgen können. In Google+ Ripples finden Sie die folgenden Informationen: Jede Person, die den Link erneut geteilt hat, wird mit einem eigenen Kreis angezeigt. In diesem Kreis befinden sich alle, die den Link von der betreffenden Person erhalten und dann selbst wieder geteilt haben. Jede dieser Personen hat wiederum einen eigenen Kreis und so fort.
About Google+ Ripples - Google+ Help
Google Chrome Store has new Google+ apps "Simply Amazing times" below is an link list of all the best apps for Google+ from the Chrome Store Google+ is awesome Extended Share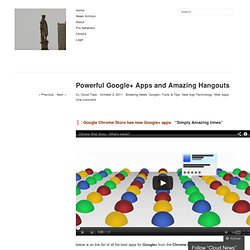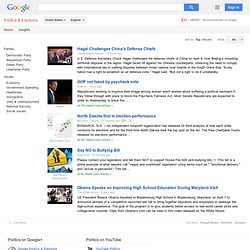 Politics & Elections
U.S. Defense Secretary Chuck Hagel challenged the defense chiefs of China on April 8, over Beijing's mounting territorial disputes in the region. Hagel faced off against his Chinese counterparts, stressing the need to comply with international law in settling disputes between Asian nations over islands in the South China Sea. "Every nation has a right to establish an air defense zone," Hagel said. "But not a right to do it unilaterally.
Youtube is a key player in how Google has figured out smarter ways to leverage their marketing campaigns, and they have a single location, or Google Channel where all the fun and games of their digital business is played. It is known as "The Google Channel", this is where anything and everything gets announced to the public, but not to soon though, the developers at Google make sure to test their online services months, and even years in advance. (Looking to write a tech hub, try their channel for awesome content to review or write about.)
Google Drive & G+ for the iPhone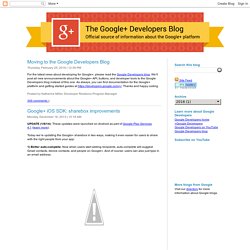 When you create and share content online, you want people to know you're the author— no matter how far that content may travel. Not only do you get the credit, you can also grow your audience over time. Today we're introducing two Google+ platform features that help authors do both — on Google, and across the web. Author attribution
Google Developers
Rencontrez qui vous voulez Qu'il s'agisse de vos proches, des membres votre club de lecture ou de personnes qui partagent vos centres d'intérêt à travers le monde, les communautés offrent un espace de rencontre à chacun de vos groupes. Échangez à volonté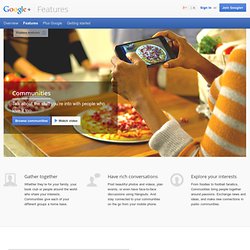 Find your communities - Google+