General
Vs. WordPress.org. WordPress is a publishing platform that makes it easy for anyone to publish online, and proudly powers millions of websites.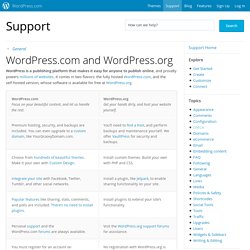 It comes in two flavors: the fully hosted WordPress.com, and the self-hosted version available at WordPress.org. WordPress is a community-driven project that's developed by and for people like you. Many thousands of people from around the world contribute to the project, and many millions of websites are powered by it. From large company websites to personal blogs, and everything in between, everyone can publish with WordPress. There are two ways that you can get started with WordPress. Status. I can't get to my blog!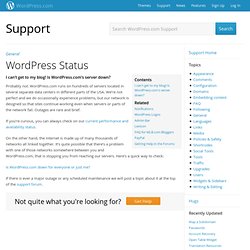 Is WordPress.com's server down? Probably not. WordPress.com runs on hundreds of servers located in several separate data centers in different parts of the USA. Logos. If you would like to show your support for WordPress with a button or image on your blog, the Logos and Graphics page on WordPress.org has a large selection to choose from.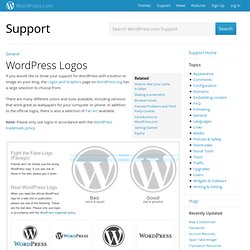 There are many different colors and sizes available, including versions that work great as wallpapers for your computer or phone. In addition to the official logos, there is also a selection of Fan Art available. Note: Please only use logos in accordance with the WordPress trademark policy. Help us improve: Third Party Applications. WordPress.com allows you to connect with third-party applications that extend your WordPress.com site in new and cool ways.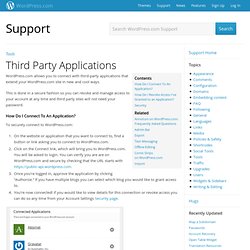 This is done in a secure fashion so you can revoke and manage access to your account at any time and third party sites will not need your password. How Do I Connect To An Application? To securely connect to WordPress.com: On the website or application that you want to connect to, find a button or link asking you to connect to WordPress.com.Click on the Connect link, which will bring you to WordPress.com. You will be asked to login. Accessibility. Accessibility on the web can mean a lot of things.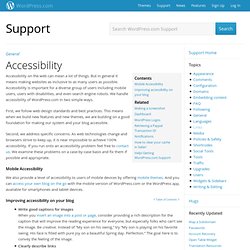 But in general it means making websites as inclusive to as many users as possible. Accessibility is important for a diverse group of users including mobile users, users with disabilities, and even search engine robots. We handle accessibility of WordPress.com in two simple ways. Support Options. WordPress.com offers a number of avenues for reaching helpful, individualized support, but sometimes it can be difficult to determine the best place to ask your question.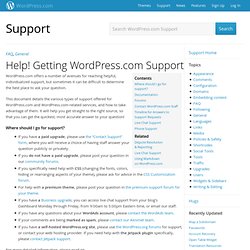 This document details the various types of support offered for WordPress.com and WordPress.com-related services, and how to take advantage of them. It will help you get straight to the right source, so that you can get the quickest, most accurate answer to your question! Where should I go for support? FTP Access. We do not allow FTP (File Transfer Protocol) access to any WordPress.com blogs.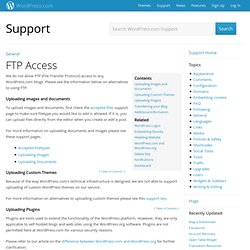 Please see the information below on alternatives to using FTP. Uploading images and documents To upload images and documents, first check the accepted files support page to make sure filetype you would like to add is allowed. Security. Your sites are well-protected on WordPress.com.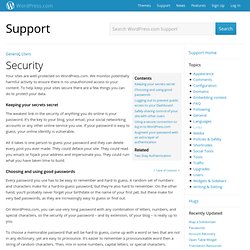 We monitor potentially harmful activity to ensure there is no unauthorized access to your content. To help keep your sites secure there are a few things you can do to protect your data. Keeping your secrets secret The weakest link in the security of anything you do online is your password. Register a Blog. Whether you're starting your first blog, or looking to add another blog to your existing account, registering a blog is easy!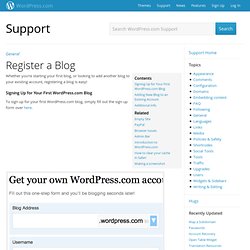 Signing Up for Your First WordPress.com Blog To sign up for your first WordPress.com blog, simply fill out the sign up form over here. PayPal. To add a PayPal button to your sidebar or post, you can follow the steps below.
Note that if you want to add it to your sidebar, you need to copy the code into a Text Widget . First follow these steps: Go to and log in to your PayPal account. To access funds you receive through PayPal buttons, you need a Premier or Business account . My Blogs. The My Blogs section of your Dashboard lists the WordPress.com blogs that you can contribute to and/or edit. Your blogs are also listed in other areas, such as the toolbar at the top of your screen (when you're logged in): And on the WordPress.com homepage under the My Blogs tab: My User Roles Your user role – Contributor, Author, Editor, or Administrator — determines whether or not you can publish posts and manage a site's settings. User roles can only be changed by blog Administrators. Making a screenshot. A screenshot is an image that captures what appears on your computer screen. Screenshots can come in handy when trying to explain something to Support, or if you want to blog about something you've seen on your computer screen.
No matter what operating system you use, you can make a screenshot in just a few steps. Shortcodes. What is a shortcode? A shortcode is a WordPress-specific code that lets you do nifty things with very little effort. Shortcodes can embed files or create objects that would normally require lots of complicated, ugly code in just one line. Shortcode = shortcut. Available shortcodes.
Getting Started. Hello and welcome to WordPress.com! This page is about how to sign up. For a more general overview about WordPress.com and blogging, please visit the Introduction to WordPress.com page too. Sign Up & Activate To get started, you need to sign up for an account. On the first screen, you will be asked for a username, password, and email address.
Introduction to WordPress.com. Welcome to WordPress.com! If you haven't signed up for an account yet, check out the Getting Started support page first. What is a blog? A blog is a collection of commentary posted on the internet. There are all different types of blogs including personal, corporate, political, podcasts, photographic, and more. Browser Issues. Delete Site. Admin Bar. Dashboard.
---