Disaster Preparedness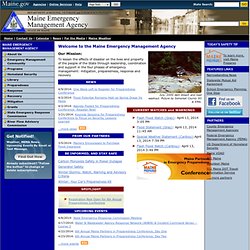 July, 2000 dam breach and road washout. Picture by Somerset County SO & EMA. To lessen the effects of disaster on the lives and property of the people of the State through leadership, coordination and support in the four phases of emergency management: mitigation, preparedness, response and recovery
Maine Emergency Management Agency
Welcome to New Hampshire's Homeland Security and Emergency Management operations. As Director of Homeland Security and Emergency Management, I oversee the function as part of the Office of the Commissioner and have a direct line reporting authority to the Governor of New Hampshire. I oversee the Bureau of Emergency Management. Emergency Management is responsible for coordinating the State's response to major disasters. This includes natural disasters such as hurricanes, floods and severe winter storms, and human-caused disasters, such as nuclear power plant accidents or chemical spills.
Welcome - Homeland Security & Emergency Management, NH DOS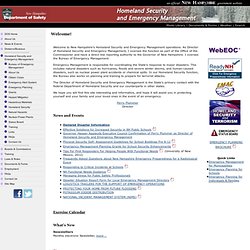 Netowaku Meshbox Develop a device allowing the setup of an emergency mesh network. We are currently developing a small and efficient battery powered router that allow the easy setup of a mesh based network. We call it Netowaku, Japanese for network.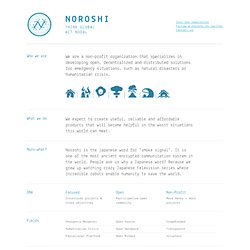 Hi Noroshi
State of Rhode Island: Emergency Management Agency: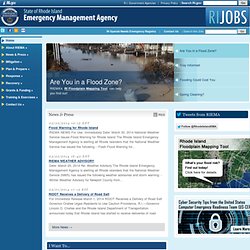 RIEMA NEWS For Use: Immediately Date: March 30, 2014 National Weather Service Issues Flood Warning for Rhode Island The Rhode Island Emergency Management Agency is alerting all Rhode Islanders that the National Weather Service has issued the following: - Flash Flood Warning for... Date: March 25, 2014 Re: Weather Advisory The Rhode Island Emergency Management Agency is alerting all Rhode Islanders that the National Weather Service (NWS) has issued the following weather advisories and storm warning: - Winter Weather Advisory for Newport County from... For Immediate Release March 1, 2014 RIDOT Receives a Delivery of Road Salt Governor Chafee Urges Residents to Use Caution Providence, R.I.—Governor Lincoln D. Chafee and the Rhode Island Department of Transportation announced today that Rhode Island has started to receive deliveries of road
Welcome to FloridaDisaster.org
S.C. Gets Federal Assistance After 2014 Winter Storm COLUMBIA, S.C. (Wednesday, March 12, 2014, 1:15 p.m.) – In response to Governor Nikki Haley's request, President Barrack Obama has declared a major disaster area for parts of South Carolina. Read more... COLUMBIA, S.C.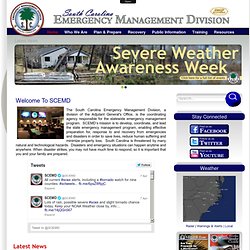 South Carolina Emergency Management Division - Home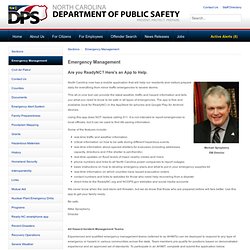 NC Department of Crime Control and Public Safety
Are you ReadyNC? Here's an App to Help. North Carolina now has a mobile application that will help our residents and visitors prepare daily for everything from minor traffic emergencies to severe storms.
pema.state.pa
Welcome to the Maryland Emergency Management Agency Portal - HOMEPAGE
Severe Weather Preparedness Recent events in Colorado have highlighted the impact of severe weather on a community resulting in: flash-flooding; debris flows off recently fire damaged areas and wide-spread flooding from creeks/streams and rivers. A severe weather event like this could occur in Idaho. Now is the time to review your jurisdictional and personal emergency operation plans to ensure that they are current and comprehensive.
BHS Home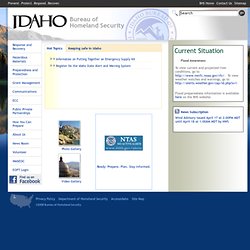 Welcome to Vermont Emergency Management | Vermont Emergency Management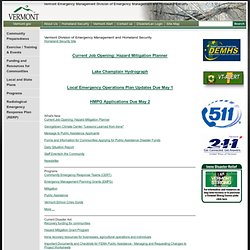 Vermont Emergency Management Division of Emergency Management and Homeland Security Vermont Division of Emergency Management and Homeland Security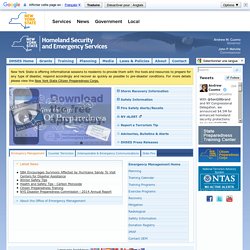 For more than 50 years, the New York State Office of Emergency Management and its predecessor agencies have been responsible for coordinating the activities of all State agencies to protect New York's communities, the State's economic well-being, and the environment from natural and man-made disasters and emergencies. NYS OEM routinely assists local governments, voluntary organizations, and private industry through a variety of emergency management programs including hazard identification, loss prevention, planning, training, operational response to emergencies, technical support, and disaster recovery assistance.
NYS Division of Homeland Security & Emergency Services
NY-Alert:
Press Releases & Publications (To view the full text of a press release, click on its headline) 01/17/14 5:29 PM: Lewiston: Sheriff James R. Voutour announces the arrest of Robert J. Elder, 34, of the Town of Lewiston after an investigation by the Niagara County Sheriff's Office Criminal Investigation Bureau.