Disaster Preparedness
Maine Emergency Management Agency. July, 2000 dam breach and road washout.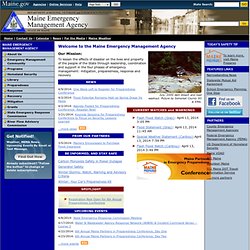 Picture by Somerset County SO & EMA. To lessen the effects of disaster on the lives and property of the people of the State through leadership, coordination and support in the four phases of emergency management: mitigation, preparedness, response and recovery. Welcome - Homeland Security & Emergency Management, NH DOS. Welcome to New Hampshire's Homeland Security and Emergency Management operations.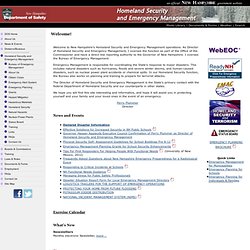 As Director of Homeland Security and Emergency Management, I oversee the function as part of the Office of the Commissioner and have a direct line reporting authority to the Governor of New Hampshire. I oversee the Bureau of Emergency Management. Emergency Management is responsible for coordinating the State's response to major disasters. This includes natural disasters such as hurricanes, floods and severe winter storms, and human-caused disasters, such as nuclear power plant accidents or chemical spills. Hi Noroshi. State of Rhode Island: Emergency Management Agency: Welcome to FloridaDisaster.org. South Carolina Emergency Management Division - Home. NC Department of Crime Control and Public Safety. Are you ReadyNC?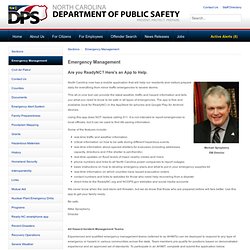 Here's an App to Help. North Carolina now has a mobile application that will help our residents and visitors prepare daily for everything from minor traffic emergencies to severe storms. Pema.state.pa. Welcome to the Maryland Emergency Management Agency Portal - HOMEPAGE. BHS Home. Welcome to Vermont Emergency Management | Vermont Emergency Management. NYS Division of Homeland Security & Emergency Services. NY-Alert:
---