Disaster Preparedness
Maine Emergency Management Agency
Welcome to New Hampshire's Homeland Security and Emergency Management operations. As Director of Homeland Security and Emergency Management, I oversee the function as part of the Office of the Commissioner and have a direct line reporting authority to the Governor of New Hampshire. I oversee the Bureau of Emergency Management. Emergency Management is responsible for coordinating the State's response to major disasters. This includes natural disasters such as hurricanes, floods and severe winter storms, and human-caused disasters, such as nuclear power plant accidents or chemical spills.
Welcome - Homeland Security & Emergency Management, NH DOS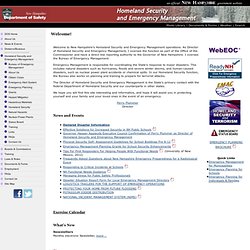 We're sorry, but the page you were trying to view is not available at this address. We redesigned Mass.Gov in December 2011; in the process, we moved or updated several pages in order to serve you better. The following pages on our site may be able to help you find what you are looking for: • State Agencies : A list of state agencies, with links to their website and contact information. • A-Z topic list : A list of topics based on the most frequently searched terms on the Mass.Gov site.
achusetts Emergency Management Agency - Executive Office of Public Safety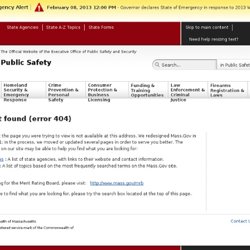 Hi Noroshi
State of Rhode Island: Emergency Management Agency:
Welcome to FloridaDisaster.org
South Carolina Emergency Management Division - Home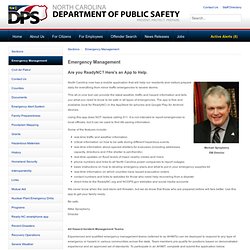 NC Department of Crime Control and Public Safety
Be Prepared for Severe Weather Gov. McCrory declared March 3-9 as Severe Weather Awareness Week and urged all families to have safety plans for home, work and school so they can respond quickly when tornadoes or severe storms threaten.
pema.state.pa
Welcome to the Maryland Emergency Management Agency Portal - HOMEPAGE
BHS Home
Welcome to Vermont Emergency Management | Vermont Emergency Management
New Jersey Emergency Managment
NYS Division of Homeland Security & Emergency Services
NY-Alert: