Creative Sites discovered using Google+
I majored in Agricultural Communications at Texas Tech University. For my curriculum, I needed to take a film black and white photography class at South Plains, in Levelland, Texas. From the moment my father-in-law allowed me to borrow his old, completely manual, Minolta, I fell in love with the art. Join me for my journey to find "me" again. Look at the world from a different perspective.
Tamara Pruessner
Top "Creative" Graphic Designers on G+
HDR Photography of Elia Locardi :: Blamethemonkey.com
Italy Photo Tour | May 2014 January 16, 2014 By Elia Locardi I'm very excited to announce our next Italy Photo Tour in collaboration with my good friend Ken Kaminesky!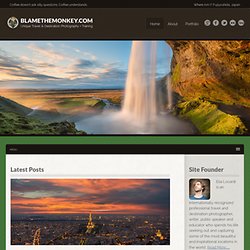 Romain Guy
Shoot Tokyo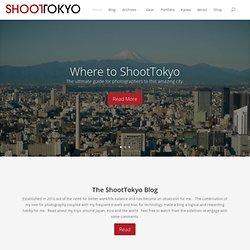 I'm Dave. I am the photographer and blogger behind ShootTokyo. I am originally from Boston, Massachusetts but my professional life has lead me from Boston to New York City, Singapore finally landing me in Tokyo, Japan in 2001. I live in the heart of Tokyo with my beautiful wife Mayumi, our 8 year old son Kai and his growing collection of insects.
Fabio Sasso - Graphic and Web Designer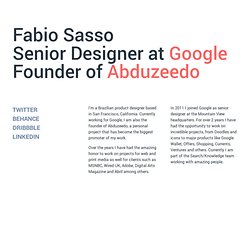 I'm a Brazilian product designer based in San Francisco, California. Currently working for Google, I am also the founder of Abduzeedo, a personal project that has become the biggest promoter of my work. Over the years I have had the amazing honor to work on projects for web and print media as well for clients such as MSNBC, Wired UK, Adobe, Digital Arts Magazine and Abril among others. In 2011 I joined Google as senior designer at the Mountain View headquarters. For over 2 years I have had the opportunity to work on incredible projects, from Doodles and icons to major products like Google Wallet, Offers, Shopping, Currents, Ventures and others.