Creative Sites discovered using Google+
I majored in Agricultural Communications at Texas Tech University.
Tamara Pruessner
Top "Creative" Graphic Designers on G+
HDR Photography of Elia Locardi :: Blamethemonkey.com
Romain Guy
Turning the world into GLITTER, one gun at a time. A company who laughs and enjoys each other's time together as much as team Elevendy was unheard of before I was taken under their wing. I've never met such a company so dedicated to pleasing and blowing the minds of their clients.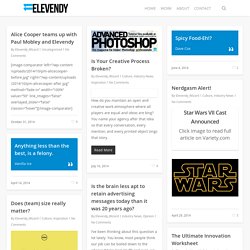 Blog - Elevendy
Shoot Tokyo
Dean Bradshaw Photography
Fabio Sasso - Graphic and Web Designer