Comments
Discussion Settings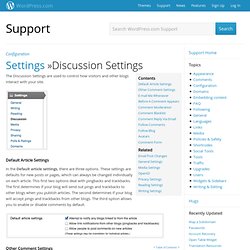 The Discussion Settings are used to control how visitors and other blogs interact with your site. Default Article Settings In the Default article settings , there are three options.
Comment Embeds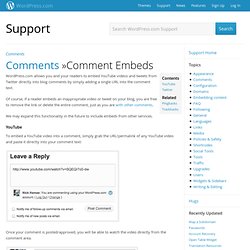 WordPress.com allows you and your readers to embed YouTube videos and tweets from Twitter directly into blog comments by simply adding a single URL into the comment text. Of course, if a reader embeds an inappropriate video or tweet on your blog, you are free to remove the link or delete the entire comment, just as you are with other comments . We may expand this functionality in the future to include embeds from other services. YouTube
Comments are enabled on WordPress.com blogs by default. You can enable and disable comments . Each blog owner has full control to approve, delete, or edit comments left on their blog. You can allow only registered WordPress.com users to comment, or you can allow anyone to comment. If you allow anyone to comment, you can choose whether the name and email fields are required or not.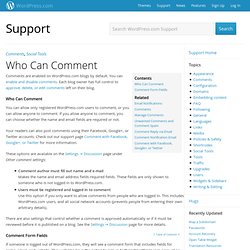 Who Can Comment
There are many ways to protect your WordPress.com blogs from unwanted comments: WordPress.com blogs are protected by the Akismet comment spam filter. You can control whether comments are automatically approved or if they need to be reviewed before they are published.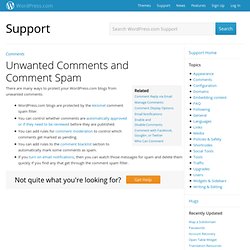 Unwanted Comments and Comment Spam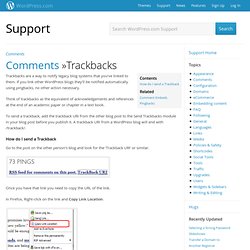 Trackbacks
Trackbacks are a way to notify legacy blog systems that you've linked to them. If you link other WordPress blogs they'll be notified automatically using pingbacks , no other action necessary. Think of trackbacks as the equivalent of acknowledgements and references at the end of an academic paper or chapter in a text book.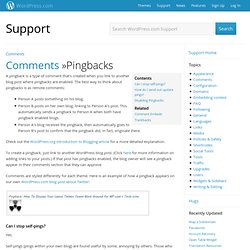 Pingbacks
A pingback is a type of comment that's created when you link to another blog post where pingbacks are enabled. The best way to think about pingbacks is as remote comments: Person A posts something on his blog. Person B posts on her own blog, linking to Person A's post. This automatically sends a pingback to Person A when both have pingback enabled blogs.
My Comments
The Dashboard -> Comments I've Made page tracks comments you've made across WordPress.com so you can see when people reply to you. It will show your comment, one before yours, and replies after yours. The thread with the latest replies will be at top. Can I edit comments I left on someone else's blog?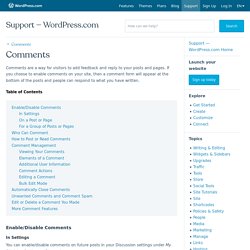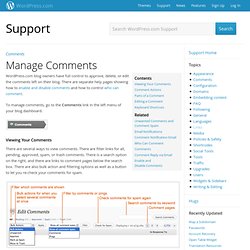 WordPress.com blog owners have full control to approve, delete, or edit the comments left on their blog. There are separate help pages showing how to enable and disable comments and how to control who can comment . To manage comments, go to the Comments link in the left menu of your blog dashboard. There are several ways to view comments. There are filter links for all, pending, approved, spam, or trash comments.
Manage Comments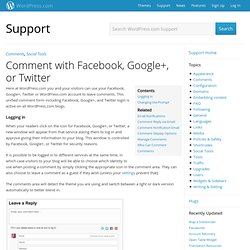 Here at WordPress.com you and your visitors can use your Facebook, Twitter or WordPress.com account to leave comments. This unified comment form including Facebook and Twitter login is active on all WordPress.com blogs. Logging in When your readers click on the Facebook or Twitter icon a new window will appear from that service asking them to log in and approve giving their information to your blog.
Facebook and Twitter Comments
Comments are enabled on new WordPress.com posts and pages by default. You can change the default for new posts or pages, as well as enable/disable comments on posts or pages you've already published. You can change the defaults for new posts or pages on the Settings -> Discussion screen.
Enable and Disable Comments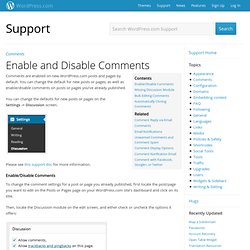 There are two main types of email notifications that you'll receive from WordPress.com. You may want to designate a different email addresses for each of these. The email address you used when registering your WordPress.com account is listed in: the Settings tab on the WordPress.com home page, or Users -> Personal Settings in your dashboard
Email Notifications
Comments are a way for visitors to add feedback to your posts and pages. If you choose to enable comments for your posts , then a comment form will appear at the bottom of the posts and people can respond to what you have written. Approved comments are displayed on the individual posts, not on the blog home page. Click on a post title to see comments. You can show the latest comments on the home page by adding the recent comments widget to the sidebar if you wish.
Comments
Comment Search
Comment Reply via Email
Comment reply by email allows you to send a reply to a comment directly from the comment notification email . No need for an extra trip from your email client to your WordPress blog just to reply to a comment. Requirements
If comment notifications are enabled, the post author will receive an email when a new comment is left on a post they wrote. Comment notification emails are sent to the post author using the email address listed in Users -> Personal Settings in the dashboard. You can choose to receive an email for every comment or just for comments that are held for moderation. You can change these options from the Settings > Discussion page: E-mail me whenever : Anyone posts a comment A comment is held for moderation
Comment Notification Email
Comment Display Options