Cloud Apps
Cacoo - Create diagrams online Real time collaboration. Pinterest / Home. Help Desk Software | Support Ticket System | Zendesk.com. Wibiya Web Toolbar Blog. Grow Your Twitter Network - Twitter Followers, Users & Apps Directory.
Wibiya Developer Platform. Apps helps groups build communities – Google Apps. 4shared.com - free file sharing and storage. Social Media Monitoring, Analytics and Alerts Dashboard. WordPress for iOS.
Business Apps. Cloud Computing Applications. Apps-Android,Ipad,Social. Welcome to Google Apps. Spaz: A Twitter, Identi.ca and StatusNet client for Palm® Pre™, Windows, Mac OS X and Linux. Welcome to Windows Live. How To Pinterest. Fancy. Web.AppStorm | Web Applications Reviewed, Rounded Up & Explained. Emotional Equations by Chip Conley on Prezi. Dropbox. Foursquare. FlashCards. Foursquare. Welcome to Pinterest, the world's biggest collection of everybody's favorite things.Join Pinterest to discover ideas for all your projects and interests, hand-picked by people like you.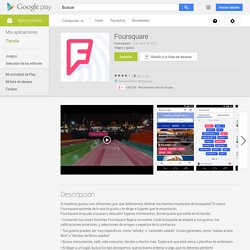 Compare Top Free Ways to Build a website. Full Text RSS Feed // Get the whole feed and nothing but the feed. Thumb. Shareaholic - Share, Discover and Connect with the Best of the Web. Create a Toolbar | Community Toolbar by Conduit. VUVOX - slideshows, photo, video and music sharing, Myspace codes. How To Videos on Howcast | The best how to videos on the web. More Than 5 Million Users Work Online With Zoho.
Picasa. WordPress for WebOS. By Twitter.
Cloud Apps Transporter. CloudShare -The Only Cloud-Based Dev/Test Solution for SharePoint. Dear Instagram - With Love, Alice. Social Media Apps. Business Software Directory, SaaS & Cloud Applications - Reviews. MarsEdit 3 - Desktop blog editing for the Mac. Rich And HTML Text Editing Whether you love HTML or can't bear the sight of it, MarsEdit's editor will thrill you.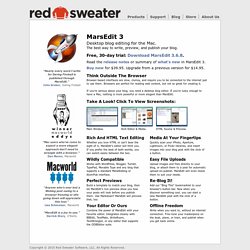 If you prefer the best of both worlds, you can switch easily between the two. Wildly Compatible Works with WordPress, Blogger, Tumblr, TypePad, Squarespace 5, Movable Type and dozens more through standard MetaWeblog and AtomPub interfaces. Perfect Previews. HootSuite - Social Media Dashboard for Teams using Twitter, Facebook, Linkedin. Social Media Services Directory - Shareaholic. Free Web Toolbar. Automated Submission to Social Media Sites | OnlyWire. New Features | eyeOS – Cloud Computing – Web Desktop – Cloud Desktop. That said, this is not a new application or add-on: once you are in eyeOS, you have already joined the conversation.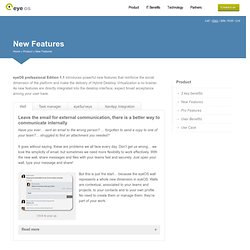 The wall made it to the top menu and now it has a spot next to the projects menu. You will find two options: Feed and My Wall. The feed gathers all the activity from the groups you belong to in one place. Use it to stay informed about events within your reach. On your wall, you'll see all the activity and posts between you and your contacts, as well as your status updates. Home « UberSocial UberSocial. Instagr.am. Foodspotting - Find and recommend dishes, not just restaurants.
---