Chemistry
Standard form of the periodic table. The colors represent different categories of elements explained below.
A chemical element is a pure chemical substance consisting of one type of atom distinguished by its atomic number , which is the number of protons in its nucleus . Elements are divided into metals , metalloids , and non-metals . Familiar examples of elements include carbon , oxygen ( non-metals ), silicon , arsenic ( metalloids ), aluminium , iron , copper , gold , mercury , and lead ( metals ).
Chemical element
Chemical bond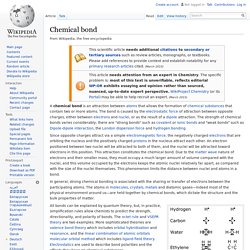 A chemical bond is an attraction between atoms that allows the formation of chemical substances that contain two or more atoms.
Steam and liquid water are two different forms of the same chemical substance, water. In chemistry , a chemical substance is a form of matter that has constant chemical composition and characteristic properties. [ 1 ] It cannot be separated into components by physical separation methods, i.e. without breaking chemical bonds.
Chemical substance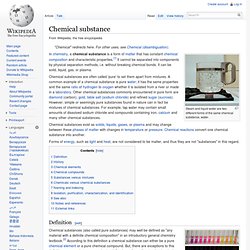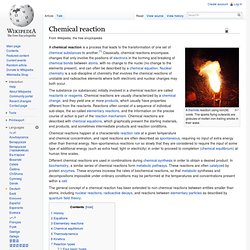 A thermite reaction using iron(III) oxide. The sparks flying outwards are globules of molten iron trailing smoke in their wake.
Chemical reaction
Chemistry , a branch of physical science , is the study of the composition, properties and behavior of matter . [ 1 ] [ 2 ] Chemistry is concerned with atoms and their interactions with other atoms, and particularly with the properties of chemical bonds .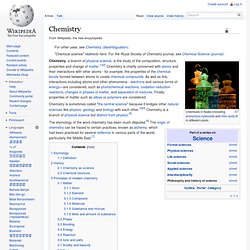 Chemistry