Chemistry
Standard 18-column form of the periodic table. The colors used in the version of the table shown here signify different categories of elements, as listed below in the Layout section, under the larger table.
The lightest chemical elements, including hydrogen, helium (and smaller amounts of lithium, beryllium and boron), are thought to have been produced by various cosmic processes during the Big Bang and cosmic-ray spallation. Production of heavier elements, from carbon to the very heaviest elements, proceeded by stellar nucleosynthesis, and these were made available for later solar system and planetary formation by planetary nebulae and supernovae, which blast these elements into space.[1] The high abundance of oxygen, silicon, and iron on Earth reflects their common production in such stars, after the lighter gaseous elements and their compounds have been subtracted. While most elements are generally viewed as stable, a small amount of natural transformation of one element to another also occurs at the present time through decay of radioactive elements as well as other natural nuclear processes.
Chemical element
Chemical bond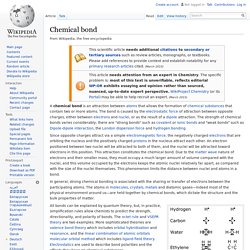 A chemical bond is an attraction between atoms that allows the formation of chemical substances that contain two or more atoms.
Steam and liquid water are two different forms of the same chemical substance, water. In chemistry, a chemical substance is a form of matter that has constant chemical composition and characteristic properties.[1] It cannot be separated into components by physical separation methods, i.e. without breaking chemical bonds.
Chemical substance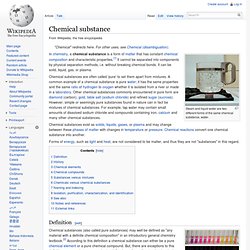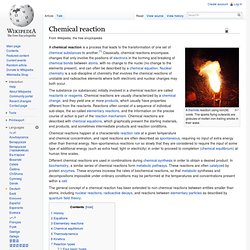 A thermite reaction using iron(III) oxide. The sparks flying outwards are globules of molten iron trailing smoke in their wake.
Chemical reaction
Chemistry, a branch of physical science, is the study of the composition, structure, properties and change of matter.[1][2] Chemistry is chiefly concerned with atoms and their interactions with other atoms - for example, the properties of the chemical bonds formed between atoms to create chemical compounds.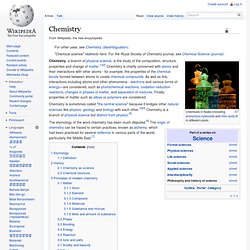 Chemistry