Info
Jet-Society (Since 2006)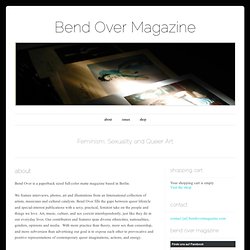 Bend Over Magazine
Bend Over is a paperback sized full-color matte magazine based in Berlin. We feature interviews, photos, art and illustrations from an International collection of artists, musicians and cultural catalysts. Bend Over fills the gaps between queer lifestyle and special-interest publications with a sexy, practical, feminist take on the people and things we love. Art, music, culture, and sex coexist interdependently, just like they do in our everyday lives. Our contributors and features span diverse ethnicities, nationalities, genders, opinions and media. With more practice than theory, more sex than censorship, and more subversion than advertising our goal is to expose each other to provocative and positive representations of contemporary queer imaginations, actions, and energy.
Rue69
Sexe : actu, chroniques et dossiers
Le magazine SecondSexe - La culture du plaisir f?minin
L'imparfaite
Reportages, Témoignages et Bruits pas sages
ZoneZeroGene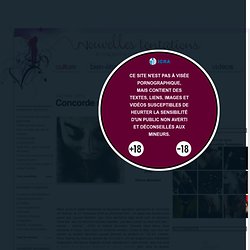 27 novembre201029 janvier 2011 Exposition Laurent Benaïm Nous avons le plaisir d'annoncer la deuxième exposition parisienne de Concorde Art Gallery, du 27 novembre 2010 au 29 janvier 2011. Le plaisir est d'autant plus grand que Laurent Benaïm, que nous admirions déjà avant qu'il ne devienne notre ami, est l'un des trois artistes exposés. Les deux autres ne nous sont pas – encore – connus : JYPC et Patrice Murciano.
Nouvelles Tentations : Concorde art gallery, acte II