API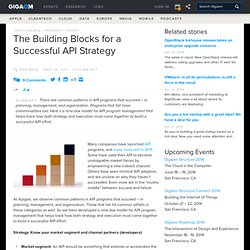 Many companies have launched API programs, and many more will in 2011. Some have used their API to become unstoppable market forces by empowering a new indirect channel. Others have seen minimal API adoption, and are unclear on why they haven't succeeded.
The Building Blocks for a Successful API Strategy
sites/default/files/Is_your_API_naked_by_Apigee_8.27.10.pdf
How to design an API: best practises, concepts, technical aspects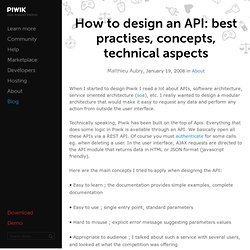 When I started to design Piwik I read a lot about APIs, software architecture, service oriented architecture (soa), etc. I really wanted to design a modular architecture that would make it easy to request any data and perform any action from outside the user interface. Technically speaking, Piwik has been built on the top of Apis. Everything that does some logic in Piwik is available through an API. We basically open all these APIs via a REST API. Of course you must authenticate for some calls eg. when deleting a user.