Clothes and girlie items
Girlprops - Accessories. Urban Outfitters. 1246 rue Sainte-Catherine O.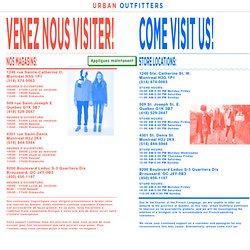 Montréal H3G 1P1 (514) 874-0063 HEURES D'OUVERTURE: 10h00 - 21h00 Lundi au vendredi 10h00 - 19h00 Samedi 11h00 - 18h00 Dimanche 509 rue Saint-Joseph E. Plasticland - Retro Clothing. EyesLipsFace (Maquillage, produits de beauté) PacSun : Guys and Girls Clothing. Brooklyn Industries.
---