Knowledge Management
Get flash to fully experience Pearltrees
CIO [US] CIO.com is a website for CIOs (Chief Information Officers) and other information executives. In addition to providing access to all of the articles that appear in our print publication (back to 1994), we provide a great deal of original online-only content.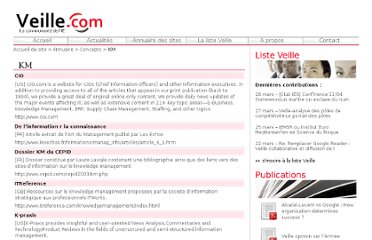 Nous préparons avec vous la publication d'un « guide 21ème siècle du Knowledge Management ». Il s'agit de présenter un état de l'art , dans un domaine très jeune, qui a conquis maintenant ses lettres de noblesse. Le KM a évolué beaucoup de manière exogène, avec le contexte des technologies et des pratiques qui leurs sont liées, mais il a aussi muri à partir de toute une pédagogie et par la mise en œuvre de projets.
Comme toute discipline, le Knowledge Management connaît des limites, d'autant que le concept est nouveau, et peu clair.
Le e-learning (ou formation en ligne) existe aujourd'hui depuis 10 ans. L' e-learning est l'utilisation des nouvelles technologies multimédias de l'Internet pour améliorer la qualité de l'apprentissage en facilitant d'une part l'accès à des ressources et à des services, d'autre part les échanges et la collaboration à distance.
Par PKM, on entend Personal Knowledge Management qui peut être traduit en français par la « gestion des connaissances personnelles ».
Luis Suarez office
Posted in knowledge management on mar 16th, 2011
What knowledge management trends did we see develop last year, and what predictions can we make for the future? Yesterday morning, Carla O'Dell and I hosted APQC's January KM community call to share our thoughts and find out about your top priorities for 2013. As part of prepping for the call, I did some analysis of the top-downloaded content from 2012.
I have written about eXo, the user experience platform-as-a-service (UXPaaS) company that supports developers, several times before (for example see: Benjamin Mestrallet, eXo CEO, Looks at the Social Enterprise and eXo Expands its Cloud IDE Cloud-based Development Platform ). Recently I spoke with Patrice, Lamarque, VP of Products, to catch up on their latest moves. We discussed two main things: the release of Codenvy and eXo 4.0.