Comments
Interview with Stanford Libraries Curator Henry Lowood. Welcome to the Age of Curation. Forrester Research analyst Sarah Rotman Epps coined a phrase Friday for something many have been talking about since Apple launched the iPad about six weeks ago.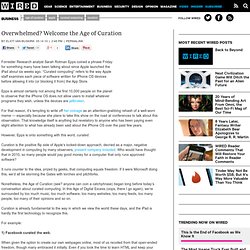 "Curated computing" refers to the way Apple staff examines each piece of software written for iPhone OS devices before allowing it into (or blocking it from) the App Store. Epps is almost certainly not among the first 10,000 people on the planet to observe that the iPhone OS does not allow users to install whatever programs they wish, unless the devices are jailbroken.
For that reason, it's tempting to write off her coinage as an attention-grabbing rehash of a well-worn meme — especially because she plans to take this show on the road at conferences to talk about this observation. That knowledge itself is anything but revelatory to anyone who has been paying even slight attention to what has already been said about the iPhone OS over the past few years. Use content curation to keep your team on the same page — Online Collaboration. As Georgina discussed, web content curation is nothing new, although if you go by the current frenzy surrounding the concept you'd think it was.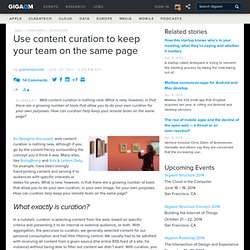 Many sites, like BoingBoing and Arts & Letters Daily, for example, have been lovingly hand-picking content and serving it to audiences with specific interests or tastes for years. What is new, however, is that there are a growing number of tools that allow you to do your own curation, in your own image, for your own purposes. Content Curation for Twitter: How To Be a "Thought Leader DJ" The Seven Needs of Real-Time Curators. I keep hearing people throw around the word "curation" at various conferences, most recently at SXSW.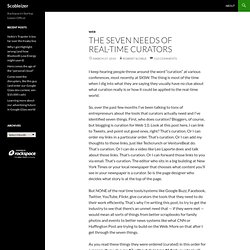 The thing is most of the time when I dig into what they are saying they usually have no clue about what curation really is or how it could be applied to the real-time world. So, over the past few months I've been talking to tons of entrepreneurs about the tools that curators actually need and I've identified seven things. First, who does curation? Content Curation.
The Curation Buzz... And PearlTrees. Posted by Tom Foremski - April 12, 2010 My buddy Dave Galbraith is the first person I remember to first start talking about curation and the Internet, several years ago.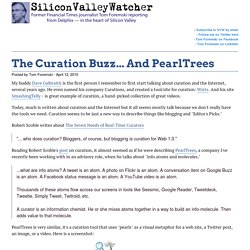 He even named his company Curations, and created a tool/site for curation: Wists. And his site SmashingTelly - is great example of curation, a hand-picked collection of great videos. Today, much is written about curation and the Internet but it all seems mostly talk because we don't really have the tools we need. The Internet Is Full. Thanks For Surfing. Are you freaking out about creating new content all the time?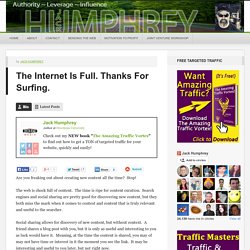 Stop! The web is chock full of content. The time is ripe for content curation. (13) Content Curation. Can 'Curation' Save Media? Micro Persuasion: The Digital Curator in Your Future. The Clip Report: An eBook on the Future of Media In the early 1990s when I began my career in PR there were clip reports.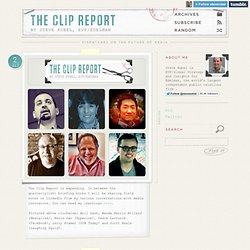 These were physical books that contained press clips. The new billion-dollar opportunity: real-time-web curation - sco. Manifesto For The Content Curator: The Next Big Social Media Job Of The Future ? Every hour thousands of new videos are uploaded online.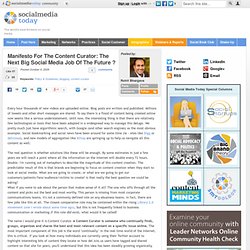 Blog posts are written and published. Millions of tweets and other short messages are shared. To say there is a flood of content being created online now seems like a serious understatement. What Is Newsmastering And What Are Newsradars? RSS News Aggregation And Re-Publishing For Beginners. What Is NewsMastering Newsmastering is the process by which a human being identifies, aggregates, hand-picks, edits and republishes a highly-focused, thematic news via RSS.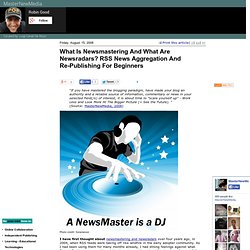 Newsmastering allows dedicated news editors (newsmasters) to remix and contextualize the existing tsunami of breaking news for very specific audiences in one thousand and more ways. Can you be more specific? Content Curation: It's Going to Be HUGE. It's counter-intuitive--especially to Americans.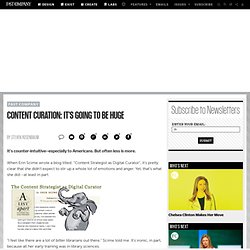 But often less is more. When Erin Scime wrote a blog titled: "Content Strategist as Digital Curator", it's pretty clear that she didn't expect to stir up a whole lot of emotions and anger. Yet, that's what she did--at least in part. "I feel like there are a lot of bitter librarians out there," Scime told me. Curation - The Third Web Frontier. Posted by Guest Writer - January 8, 2011 Here is a guest article by Partice Lamothe - CEO of Pearltrees (Pearltrees is a consulting client of SVW.)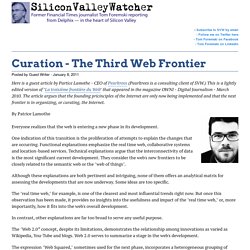 This is a lightly edited version of "La troisième frontière du Web" that appeared in the magazine OWNI - Digital Journalism - March 2010. The article argues that the founding pricinciples of the Internet are only now being implemented and that the next frontier is in organizing, or curating, the Internet. By Patrice Lamothe. Bringing Order to Information Overload. By Christy Barksdale | Posted | 16 Comments | Filed in: Content Marketing Content marketing, the publishing of relevant, link-worthy content, has been all the rage for marketing professionals for several years.
A recent survey conducted by content marketing authority Junta42 shows that companies, especially small businesses, are continuing to spend more on content marketing each year because it is more effective than traditional marketing for differentiation in the marketplace. Leads, sales and client retention are better achieved when companies are resources for their customers and help solve their pain points. Now, the new wave of content marketing has arrived: content curation. What is content curation?
---