Design and HTML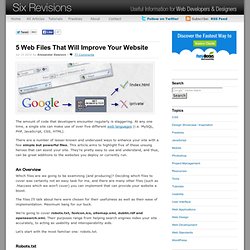 The amount of code that developers encounter regularly is staggering. At any one time, a single site can make use of over five different web languages (i.e. MySQL, PHP, JavaScript, CSS, HTML). There are a number of lesser-known and underused ways to enhance your site with a few simple but powerful files.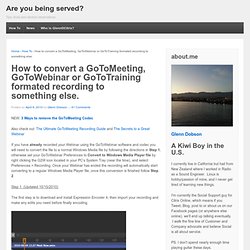 NEW: 3 Ways to remove the GoToMeeting Codec Also check out: The Ultimate GoToMeeting Recording Guide and The Secrets to a Great Webinar If you have already recorded your Webinar using the GoToWebinar software and codec you will need to convert the file to a normal Windows Media file by following the directions in Step 1, otherwise set your GoToWebinar Preferences to Convert to Windows Media Player file by right clicking the G2W icon located in your PC's System Tray (near the time), and select Preferences > Recording. Once your Webinar has ended the recording will automatically start converting to a regular Windows Media Player file, once this conversion is finished follow Step 2. Step 1 (Updated 10/15/2010) The first step is to download and install Expression Encoder 4, then import your recording and make any edits you need before finally encoding.
How to convert a GoToMeeting, GoToWebinar or GoToTraining formated recording to something else. « Are you being served?
Eamil Marketing Resources
http://www.minifyjavascript.com/
Graphic tools and resources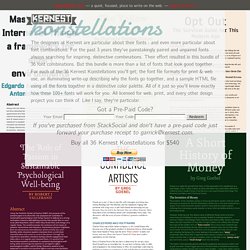 The designers at Kernest are particular about their fonts - and even more particular about font combinations. For the past 3 years they've painstakingly paired and unpaired fonts always searching for inspiring, distinctive combinations. Their effort resulted in this bundle of 36 font combinations. But this bundle is more than a list of fonts that look good together. For each of the 36 Kernest Konstellations you'll get; the font file formats for print & web use, an illuminating write-up describing why the fonts go together, and a sample HTML file using all the fonts together in a distinctive color palette. All of it just so you'll know exactly how these 100+ fonts will work for you.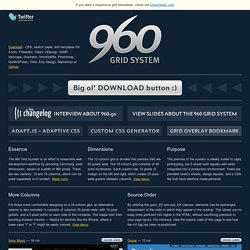 Download - CSS, sketch paper, and templates for: Acorn, Fireworks, Flash, InDesign, GIMP, Inkscape, Illustrator, OmniGraffle, Photoshop, QuarkXPress, Visio, Exp Design. Repository at GitHub. Essence The 960 Grid System is an effort to streamline web development workflow by providing commonly used dimensions, based on a width of 960 pixels.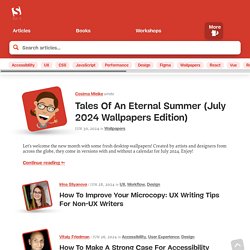 Interview With Khajag Apelian"Type Design Is Not Only About Drawing Letters" Having started his career studying under some of the best typographic minds in the world, Khajag Apelian not only is a talented type and graphic designer, unsurprisingly, but also counts Disney as a client, as well as a number of local and not-for-profit organizations throughout the Middle East. Even more impressive is Khajag's willingness to take on work that most people would find too challenging. Designing a quality typeface is a daunting task when it's only in the Latin alphabet.
10 Free Blank WordPress Themes This is a review of the top blank WordPress theme choices. continue reading »