USA
Get flash to fully experience Pearltrees
På to måneder er to anklagere i det samme amt i Texas blevet likvideret. Først blev vicedistriktsanklageren dræbt foran retsbygningen i Kaufman, og lørdag blev hans chef og chefens kone dræbt i deres hjem. Det kan være et tilfælde, og det er slemt nok, men ifølge Dallas Morning News arbejder politiet med en teori, som løfter hele sagen op på et andet og endnu værre niveau, nemlig at en nynazistisk bande har udsendt en drabsordre på medlemmer af anklagemyndigheden i Texas, og at de to anklagere i Kaufman blot er begyndelsen. Politikilder siger til flere medier, at efterforskningen kredser om Aryan Brotherhood of Texas, en bande som har udvokset sine rødder i statens fængsler, og som nu gør i mafiavirksomhed i stor stil, især handel med metamfetamin og kokain.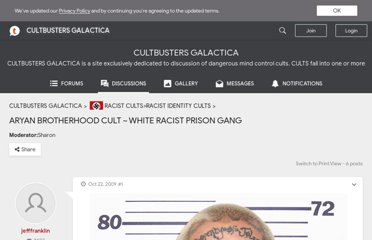 Meet Curtis Allgier. The 27-year-old felon, who is affiliated with the Aryan Brotherhood, is a parole fugitive was arrested today for allegedly murdering a corrections officer who accompanied him to a medical appointment at the University of Utah's hospital. Allgier somehow wrestled the officer's gun away and then shot him. After carjacking a vehicle, he led police on a high-speed chase that end ed at an Arby's restaurant, where Allgier was apprehended.
Sådan må kaptajn Willard have følt det, da han endelig i »Dommedag nu« mødte ondskaben selv. Jeg har ikke sejlet op af Mekong-floden, jeg har ikke skullet undvige tigere og fjendesoldater, bomber og napalm, og jeg har ikke i et ildevarslende mørke stået ansigt til ansigt med oberst Kurtz. Der er ingen blod, ingen sved, ingen krudtsværtede hænder her - men metaforisk: Jeg har i årevis hørt om dem, som en kendsgerning eller en myte, jeg har læst bøger, artikler og afhandlinger om dem, og jeg har netop et 110 siders anklageskrift, som inkluderede 32 mordforsøg, 16 fuldbyrdede mord og en labyrint af andre forbrydelser alle begået i mørkets hjerte, det amerikanske fængselsvæsen, og nu sidder jeg så nogle få meter fra dem: Ondskaben selv. De fire anklagede sidder som ved Nürnberg-processen, i etager, og øjnene skal på arbejde for at finde dem.
Hidden in Plain View During WW II Lockheed (unbelievable 1940s pictures). This is a version of special effects during the 1940's.