Recipes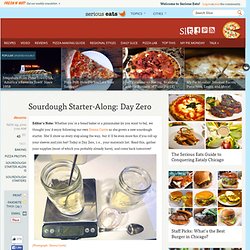 Sourdough Starter-Along: Day Zero
Editor's Note: Whether you're a bread baker or a pizzamaker (or you want to be), we thought you'd enjoy following our own Donna Currie as she grows a new sourdough starter. She'll show us every step along the way, but it'll be even more fun if you roll up your sleeves and join her! Today is Day Zero, i.e., your materials list. Read this, gather your supplies (most of which you probably already have), and come back tomorrow!
Sweet Thai Chili SauceWith some KICK
I'm not some nutjob you know. I do, on occasion, buy preprepared foods. Frozen stuff. And stuff in bottles. That kind of thing.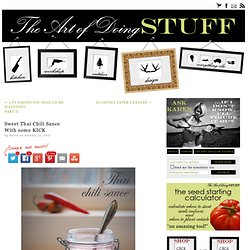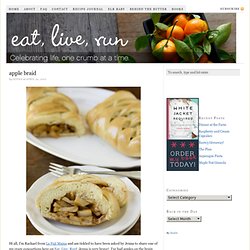 apple braid
Hi all, I'm Rachael from La Fuji Mama and am tickled to have been asked by Jenna to share one of my crazy concoctions here on Eat, Live, Run! Jenna is very brave! I've had apples on the brain lately, partially due to these three handsome little fellas sitting on my counter top waiting for me to decide what they would become.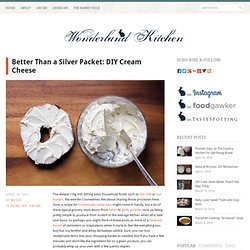 Better Than a Silver Packet: DIY Cream Cheese » Wonderland Kitchen
The deeper I dig into DIYing basic household foods such as rice milk or nut butters, the weirder I sometimes feel about sharing those processes here. Sure, a recipe for homemade cereal bars might come in handy, but a lot of these typical grocery store items–from tahini to garlic powder–end up being pretty simple to produce from scratch in the average kitchen when all is said and done. So perhaps you might think of these posts as more of a Pinterest board of reminders or inspirations when it starts to feel like everything you buy has soy lecithin and whey derivatives added.
Umeboshi | The Shop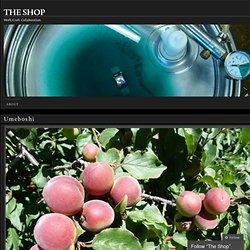 Ume On The Tree Every year in early June, after the last of the spring rains have fallen and the fruit of Prunus mume have begun to blush, we head over to the North side of town where a long time customer has a tree. Ume, the fruit of the Prunus mume tree, is commonly referred to as a plum. However once you hold the fruit in your hand and feel the soft fuzz and take in the strong sweet fragrance you might sense that this is much more closely related to an apricot, which it is. The tree is small and sturdy. It is planted up against a backyard tool shed and with one of us on the shed roof and one on the ground we strip the tree of fruit, in one short hour filling two 5 gallon buckets.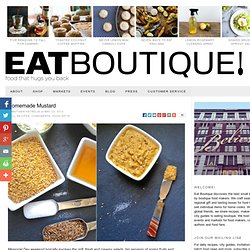 Memorial Day weekend typically involves the grill, fresh and creamy salads, big servings of spring fruits and cocktails in the yard. Sometimes I don't want to mess with the old standbys like a good burger or smoky grilled sausages, but the add-ins are fair game. Matthew shares a homemade mustard that will elevate my dinner party dishes. And gosh, it's so easy. Happy weekend! -Maggie
Homemade Mustard
Homemade Ghee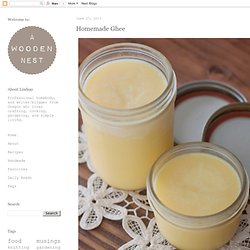 A few weeks ago, Matt and I dove headfirst into something called the Whole30 program. For those of you who are unfamiliar with this program, it is, in very basic terms, a highly restricted paleo-based diet that eliminates foods behind auto-immune issues and inflammation in the body. Because I, like so many other members of my family, suffer from a whole slew of autoimmune disorders, asthma included, I wanted to see if I had the power to alleviate my symptoms just by altering the foods I eat. For those of you who are curious, Matt and I are 18 days into the program, and we've already noticed a whole load of encouraging positive changes. If you're interested in hearing an update about this once we're done (though we might extend our Whole30 to a Whole60+), I'll be happy to tell you how it's worked for me, but for now, lets get to the ghee! Although fat consumption is encouraged in this program, it is very specific about the types of fats you can and cannot use.
Ana Patty's Chocolate Guinness Cake
A version of this post first appeared on the Gathering Together Farm blog here. Every Tuesday, I go in to Gathering Together Farm to hang around the restaurant kitchen, taking photos of the week's new menu. When I rolled in this week, one of the kitchen staff quickly escorted me to the back, insisting that he had something that he urgently needed me to photograph. That's when I first saw this lovely, dark cake. Two members of the kitchen crew had birthdays this week, so the GTF pastry chef decided to bring in a chocolate Guinness cake to celebrate.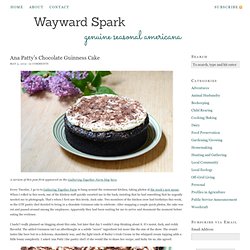 Guest Post: Habenero Hot Sauce from Scott Lindenhurst | Food in Jars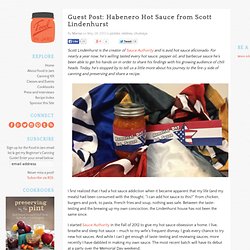 Scott Lindenhurst is the creator of Sauce Authority and is avid hot sauce aficionado. For nearly a year now, he's willing tasted every hot sauce, pepper oil, and barbecue sauce he's been able to get his hands on in order to share his findings with his growing audience of chili heads. Today, he's stopped by to tell us a little more about his journey to the fire-y side of canning and preserving and share a recipe. I first realized that I had a hot sauce addiction when it became apparent that my life (and my meals) had been consumed with the thought, "I can add hot sauce to this?" From chicken, burgers and pork, to pasta, French fries and soup, nothing was safe.
We're having a lazy snow day at home. It's just me and the kids hunkered down indoors while the storm outside dumps large quantities of wet, slushy snow/hail/rain. It's not nice weather. BUT I did make crêpes, and boy, do I love crêpes. I like crêpes plain, with jam or honey, or rolled up with savory filling. Today's crêpe-based brunch was inspired by a recent recipe for egg sandwiches that Deb of Smitten Kitchen posted over on A CUP OF JO.
Cheddar Crêpe Packets
Guest Post: Pickled Beets with Honey from Camille Storch | Food in Jars
Oh friends, do I have a treat in store for you today! It's a guest post from writer, woodworker, avid canner, and mom of two, Camille Storch. She writes about ecology, agriculture, community, and the reality of her family's joyful, off-the-grid life in rural Western Oregon on her blog, Wayward Spark. She also designs and crafts natural edge cutting and serving boards and sells them in her Etsy shop, Red Onion Woodworks. I recently added one of her boards to my kitchen and it's quickly become one of my most loved and used tools. Enjoy!
I spend a lot of time with my mom. I'm probably at her house at least five days a week this time of year. For the most part, we get along pretty well, but I'm always trying to get her to change her inefficient ways of doing things (because of course I know how to do everything far better than she does). She just yells at me (in a good way) and rolls her eyes and threatens to revoke my unlimited babysitting credits. Our relationship is pleasant but not quiet. Anyone that knows me or her will attest to the fact that we're both pretty stubborn and opinionated, and because we're so comfortable with each other, we argue constantly.
Classic Dill Pickles
Food Preservation Week Post #4: Hot Peppers, Jellied and Dried
Hot peppers are just beginning to change from green to fiery red around here. There will be plenty more ripening up in the coming weeks if the frost holds off, but I thought I'd get a headstart by preserving a big pile. I had hot pepper jelly for the first time over at my neighbor Jane's house. (By "neighbor," I mean she only lives 2 1/2 miles away.) She brought out a plate of appetizers that included crackers topped with cream cheese and a dollop of this sweet-hot oozy jelly. It was such a great combo that I've been thinking about it ever since.
Hot Pepper Jam
I made hot pepper jelly for the first time last year. The problem was that I didn't put up nearly enough, and it was gone way too fast. This year, I (sort of) used the hot pepper jelly recipe from the Pomona's Universal Pectin* directions, and I subbed our own honey for sugar. The resulting jam is spicy but not crazy hot. It did separate out a bit when set, so that the seeds and pulp floated up to the top, but that hasn't bothered me, and this method was way easier than straining the mixture.
Grilled Cheese with Pesto
Grilled cheese with pesto. Do it, and you won't regret it. Even my 84-year-old grandma who literally wrote a cookbook about delicious appetizers thinks this combo is the bee's knees.
Rhubarb Sauce
Roasted Apricot-Glazed Rosemary Chicken & An Apricot Habanero Jam
Baklava Cake
Mustards: Rosemary Grapefruit and Spicy Indian
Apple Sauce Mac & Cheese with Apple Sausage
Yeasted Carrot-Ginger Bread
Popovers Hot Off the Grill
Yeasted Buckwheat Pancakes
Homestead Pancakes
Easy Mozzarella
Challah (Baked in a Barbecue)
Home Cultured Buttermilk
Aged, Fermented Hot Pepper Sauce | Phickle - Fermenting Food For Fun
Baked Beans Recipe
30 Pounds of Apples » Classic Stovetop Mac & Cheese
Orecchiette Pasta with Chicken in a Creamy Rosemary Lemon Sauce
Jalapeno Cornbread with Caramelized Onions
Classic Croissants
Cencioni Pasta with Caramelized Shallots in a Creamy Mushroom Sauce
An Afternoon on the Barbie: Grilled Jalepeno Poppers with Cheddar Cheese & Garlic Mashed Potatoes, Grilled Brown Sugar Peaches with Cinnamon & Vanilla Ice Cream, Plus a Giveaway!
Grilled Cheese with Pesto
Greek Macaroni & Cheese with Roast Garlic, Caramelized Leeks, & a Side of Greek Coffee, Plus a Giveaway!
Lefse (Norwegian Potato Crepes)
Roasted Hazelnut Nutella Roulade
Deep Dish Cinnamon Streusel Dessert Pizza
Treacle Tart
Nougat with Pistachios & Dried Cranberries
Roasted Beet Balsamic Mustard & Honey Chipotle Dippin' Mustard
Orecchiette Pasta with Chicken in a Creamy Rosemary Lemon Sauce
Homemade Mustard (and a Honey Balsamic variation)
Gold potatoes with meat stuffing
Homemade Naan
Chèvre
Avgolemono Soup (Greek Chicken Noodle Soup With Eggs & Lemon)
Naan
Paprika Chicken Soup Recipe | Crunchy Creamy Sweet
Homemade Grainy Mustard - Yes, Really - Attainable Sustainable | Attainable Sustainable
Garlic Confit | A Sage Amalgam
Green Tomato Jam | Sizzle and Drizzle
Chocolate Almond Roll-Ups {Plus a Hershey's Spreads Giveaway}
Chocolate Hazelnut Black-Bottom Pie
Chocolate Tart - Jessie Boo - Jessie Boo
Weekly Mix: Coffee Cakes
New York Crumb Cake
Coffee Swirl Coffee Cake : Brittany's Pantry
Honey Sriracha Chicken Wings - Chew Out Loud
Eight Ways to Preserve Meyer Lemons
Quick Pickled Jalapeno Rings Recipe
How to Make Pesto like an Italian Grandmother Recipe
breakfast slab pie
cheese blintz
spinach and egg pizzette
Goat Cheese and Prosciutto Mini Crustless Quiches » The Table
Arepas for Breakfast | Alyssa and Carla
Ham and Cheese Frittata | deliciously declassified
Peanut Butter Chocolate Chip Oat Bites
Toast with egg
sweet potato (vegan) alfredo
Seared Scallops with Garlic Beurre Blanc - Everyday Home Cook
Sea Scallops in a Bourbon Jalapeno Cream Sauce | The Blond Cook
Chipotle Sweet Potato Soup #SundaySupper - Alida's Kitchen
French Onion Soup - Cuisineous
pancetta, white bean and chard pot pies
Easy Chicken & Cheese Enchiladas Recipe
Grilled Chicken with Lemon Basil Pasta
Chicken and Bacon Casserole Recipe
Pepperoni & 5 Cheese "Calzonies" w/ Quick Basil Marinara Dipping Sauce
Martabak (Javanese Beef Rolls) | Tara's Multicultural Table
Greek Hand Pies - Lemons for Lulu
sauces, spreads, and dips
Homemade Cultured Buttermilk « Foodie With Family
Leftover Parmesan Mashed Potato Patties
40 Creative Food Hacks That Will Change The Way You Cook
5 Kitchen Staples You Can Make Yourself