Philosophy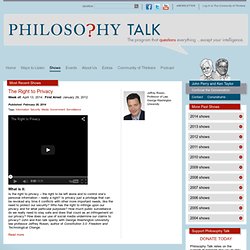 A new year offers an opportunity to reflect on the significant events of the previous year. But what ideas and events took shape over the past twelve months that have prompted us to question our assumptions and to think about things in new ways? Join John, Ken, and their special guests as they celebrate the examined year with a philosophical look back at 2013. • The Year in Philosophy and Gender: Linda Alcoff from City University of New York looks at events in 2013 that have higlighted the evolving but still-fraught nature of gender in academia.• The Year in Whistleblowing and Hacktivism: Peter Ludlow from Northwestern University examines the ethics of leakers like Edward Snowden and Pvt. Manning (sentenced in 2013) who have claimed the moral high ground in their actions.• The Year in Dysfunctional Democracy: Jon Elster from Columbia University explores the breakdown of democratic process in the US, including the work of political scientist Juan Linz, who passed away in 2013.
Philosophy Talk
Seneca: All Life is Slavery | Thrivenotes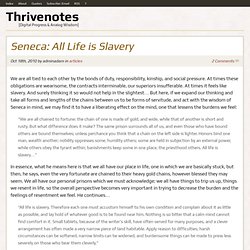 We are all tied to each other by the bonds of duty, responsibility, kinship, and social pressure. At times these obligations are wearisome, the contracts interminable, our superiors insufferable. At times it feels like slavery. And surely thinking it so would not help in the slightest… But here, if we expand our thinking and take all forms and lengths of the chains between us to be forms of servitude, and act with the wisdom of Seneca in mind, we may find it to have a liberating effect on the mind, one that lessens the burdens we feel:
Buddha (The Awakened One) | The Essence of Buddha's Teaching
The Four Noble Truths: 1. All things and experiences are marked by suffering/ disharmony/ frustration (dukkha). 2.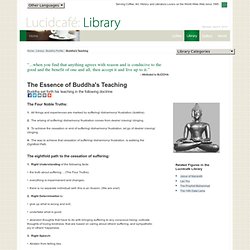 Anders Transhuman Page
'What is a human being, then?' 'A seed.' 'A... seed?' 'An acorn that is unafraid to destroy itself in growing into a tree'David Zindell, The Broken God Transhumanism is a philosophy that humanity can, and should, strive to higher levels, both physically, mentally and socially. It encourages research into such areas as life extension, cryonics, nanotechnology, physical and mental enhancements, uploading human consciousness into computers and megascale engineering.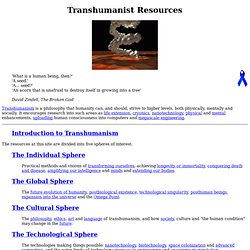 Miscellaneous Through history, various forms of philosophy have developed. Many have fallen by the wayside but a number have stuck. This is a list of the top 10 schools of philosophy.