To be filed
if you choose to live on your own as a young person (and i say this assuming that you don't earn major bucks or perhaps you live in an expensive city – or both) you will probably be faced with the reality of renting a studio apartment. unless you're an investment banker, or you won the lotto, or your granddad left you a sweet inner city pad the size of an ark that he bought back in 1950 for R500, or you've found some 3 bedroom palace with wooden floors and a working fireplace that's being rented out for tuppence. if you're one of those people, please don't pity me. for i might be jumping on the studio flat bandwagon one of these days, and of course in lieu of that, the first thing i consider is HOW TO DECORATE. zach motl lives in a 178 ft² studio apartment in brooklyn. that's 16m² folks… he's an interior decorator, which explains why his flat looks the way it does. "the more stuff you put in a room, the bigger it seems"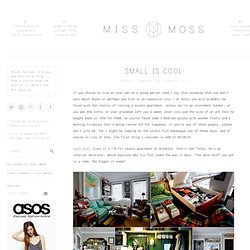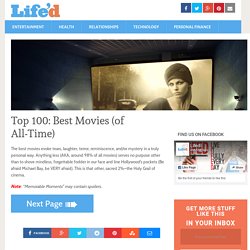 The best movies evoke tears, laughter, terror, reminiscence, and/or mystery in a truly personal way. Anything less (AKA, around 98% of all movies) serves no purpose other than to shove mindless, forgettable fodder in our face and line Hollywood's pockets (Be afraid Michael Bay, be VERY afraid). This is that other, sacred 2%—the Holy Grail of cinema. Note: "Memorable Moments" may contain spoilers. 100. Pirates of the Caribbean: The Curse of the Black Pearl (2003)
The Thomas Jefferson Center For the Protection of Free Expression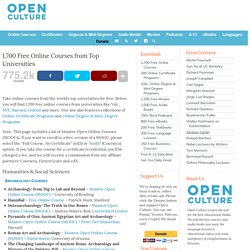 Get free online courses from the world's leading universities – Stanford, Yale, MIT, Harvard, Berkeley, Oxford and more. This collection includes over 875 free courses in the liberal arts and sciences. You can download these audio & video courses (often from iTunes, YouTube, or university web sites) straight to your computer or mp3 player. Over 30,000 hours of free audio & video lectures, await you now.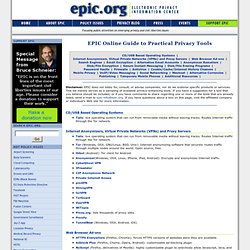 Disclaimer: EPIC does not lobby for, consult, or advise companies, nor do we endorse specific products or services. This list merely serves as a sampling of available privacy-enhancing tools. If you have a suggestion for a tool that you believe should be included, or if you have comments to share regarding one or more of the tools that are already listed, send e-mail to epic-info@epic.org. If you have questions about a tool on this page, visit the affiliated company or individual's Web site for more information. CD/USB Based Operating Systems
dancing around all alone
By Olivia Coleman Everyone has those days at school or work when your brain is moving just a little slower than usual. If you find yourself up against a lazy day, give one of these tricks a try to get your brain going.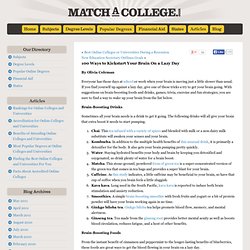 My research also took me to a different sort of hotbed: the laboratories and research centres around the country investigating the new science of talent development. For centuries, people have instinctively assumed that talent is largely innate, a gift given out at birth. But now, thanks to the work of a wide-ranging team of scientists, including Dr K Anders Ericsson, Dr Douglas Fields, and Dr Robert Bjork, the old beliefs about talent are being overturned.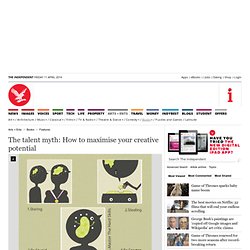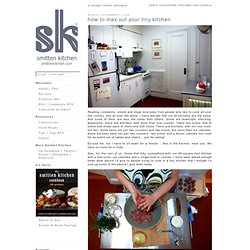 Monday, November 3, 2008 Reading comments, emails and blogs everyday from people who like to cook all over the country, and all over the world, I have learned that not all kitchens are the same. And some of them are less the same than others. Some are downright shocking. Apparently, there are kitchens with more than one counter.
how to max out your tiny kitchen
marta writes: hostess with the mostess 15 tips
hello monday + hello everyone. since you've all made it to my new domain, i welcome you with open arms. i'll be blogging some feel good tidbits this week as i prepare for the annual vacay with my sisters this coming weekend. since i'm in the partying mood, lets start with a list of hostessing tips. amy preps in her kitchen with her daughters, lucy and sophie. the littlest guest wanders the house and makes fast friends with puppy, scout.last week dan's sister, amy hosted a little impromptu shindig while we were in town. we were delighted to be invited. our lives used to be full of regularly scheduled fanciness, but to be honest, most of our dinner parties these days end up with bite-sized soggy vegetables on the linoleum and a clapping little boy ready to be scrubbed in the tub. eating is messy business. the amounts of general washing and wiping we do as parents is astounding. suffice it to say, it was nice to get out; to mix and to mingle.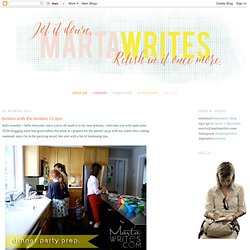 10 Social Skills Everyone Can Master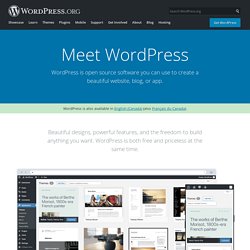 WordPress is web software you can use to create a beautiful website or blog. We like to say that WordPress is both free and priceless at the same time. The core software is built by hundreds of community volunteers, and when you're ready for more there are thousands of plugins and themes available to transform your site into almost anything you can imagine.
The web is a powerful resource that can easily help you learn new skills. You just have to know where to look. Sure, you can use Google, Yahoo, or Bing to search for sites where you can learn new skills , but I figured I'd save you some time. Here are the top 40 sites I have personally used over the last few years when I want to learn something new.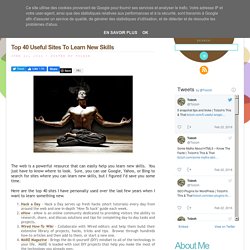 jesus this takes a lot of pearls