Design
3d Planner : Design your home in realistic 3d. Modern rustic barn | 1 Kind Design. 20 Cool Home Library Design Ideas. Cozy book nook. 10 Amazing Floors Ever Created | Energy Dimension. Most flooring is pretty unimaginative and boring.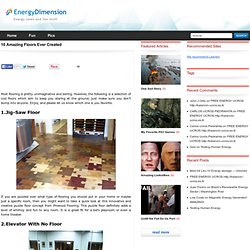 However, the following is a selection of cool floors which aim to keep you staring at the ground; just make sure you don't bump into anyone. Enjoy, and please let us know which one is you favorite. 1.Jig-Saw Floor If you are puzzled over what type of flooring you should put in your home or maybe just a specific room, then you might want to take a quick look at this innovative and creative puzzle floor concept from Prowood Flooring. This puzzle floor definitely adds a level of whimsy and fun to any room. Outdoor style. [...] miss, miss design, miss-design, missdesign, design, illustration, interior, interior design, style interior, interior old style, workspace, workplace, creative workspace, veranda, garden, balcony, exterior, photography, studio, 3d, typography, blog, person, architecture, arts, creative, layout, design studio, inspire, inspiration, technology, resources, tools, internet tools, discussions, bridal bouquet, font, free font, digital art, logo, logotype, typographic design, tutorial, tutorials, icon, icon tutorial, how to, industrial design, camera lens, canon, nikon, pentax, olympus, books, bookshelves, cupboard, chair, unique style, unique design, unique interior, before and after, benchmark Outdoor style | Miss Design – StumbleUpon [...]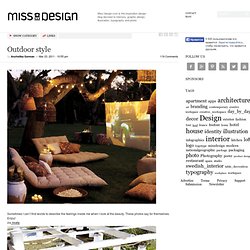 Moss carpet for your bathroom. More Design Please - MoreDesignPlease. Bottled Brilliance: DIY Plastic Bulbs for Hanging LED Lights. Hand-crafted takes on a whole new meaning in these creative table lamp and pendant lighting designs.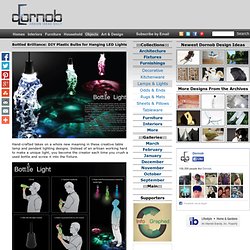 Instead of an artisan working hard to make a unique light, you become the creator each time you crush a used bottle and screw it into the fixture. The resulting 'bulb' then reflects and refracts light according to the way it is bent and twisted, filtered through clear or colored plastic and/or obscured by labels or markings. In short: each one is original and different from the next. 5 of the Coolest Staircases Ever. Hanging Planter/Room Divider » Curbly | DIY Design Community « Keywords: planter, hanging, room-divider. The paris apartment. Gregs Gypsy Bowtop Caravans - Home. Yard Sale Treasure Map - A Yard Sale Planning Tool.
THOUGHT PATTERNS: It's as simple as that.
---