Blacklight party
Glow-in-the-Dark Drinks. I saw something new (to me) at a spring break celebration in Myrtle Beach this weekend -- glow-in-the-dark Jell-O™ shots.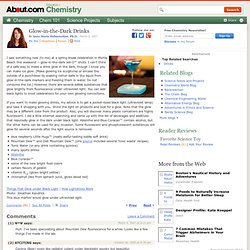 I can't think of a safe way to make a drink glow in the dark, though I know you can make ice glow. (Make glowing ice sculptures or encase the outside of a punchbowl by soaking cotton balls in the liquid from glow-in-the-dark markers and freezing them in water. Do not consume the ice.) However, there are several edible substances that glow brightly from fluorescence under ultraviolet light. Materials That Glow Under Black Light. Question: What Materials Glow Under a Black or Ultraviolet Light?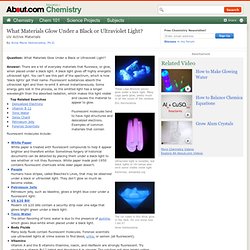 Answer: There are a lot of everyday materials that fluoresce, or glow, when placed under a black light. A black light gives off highly energetic ultraviolet light. You can't see this part of the spectrum, which is how 'black lights' got their name. Fluorescent substances absorb the ultraviolet light and then re-emit it almost instantaneously. Glow Products.com: Glow Sticks, Glow Necklaces, Light Up Ice Cubes, Glow in the Dark Golf Balls, Night Golf, Light Up Glasses, LED Candles and Wholesale GlowSticks. Glow In The Dark (And Under Blacklight) Body Paint Kit.
Glow In The Dark ( And Under Blacklight) Body Paint Kit.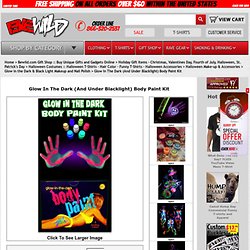 Great for Clubs and Under Black Lights too! What will you do when the lights go out? With this glow in the dark body paint kit you will know exactly what to do! How to Make Glowing Bottles for a Blacklight: 6 steps. Edit Article Edited by Ichmagwikihow, Flickety, Tom Viren, Filigree Peahen and 12 others In a few simple steps you can make an amazing collection of bottles that glow under any basic blacklight.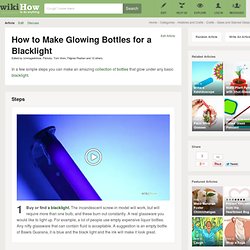 Ad Steps. How to decorate for a black light party - arts and crafts - Mookychick. Throwing a themed party?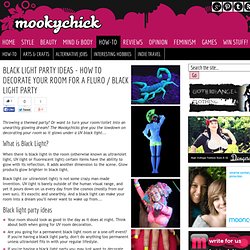 Or want to turn your room/toilet into an unearthly glowing dream? The Mookychicks give you the lowdown on decorating your room so it glows under a UV black light... Graduation Blacklight Party Ideas in Lighting, Decor, Fashion, Special Effects, and more! Congratulations from Blacklight.com. Blacklight Gear > Black Light Party Goods and Supplies [Blacklight Bulbs, Blacklight Fixtures, Blacklight Flashlights, Blacklight Bubbles, Cosmetics, Ink, Paint, Posters, Tape] Skittles vodka. Tekno Bubbles - Blacklight Bubbles with an Attitude!
---