Concepts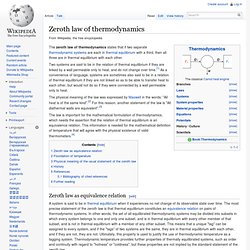 The zeroth law states that if two systems are each in thermal equilibrium with a third system, they are also in thermal equilibrium with each other. Two systems are said to be in the relation of thermal equilibrium if they are linked by a wall permeable only to heat, and do not change over time. [ 1 ] (As a convenience of language, systems are sometimes also said to be in a relation of thermal equilibrium if they are not linked so as to be able to transfer heat to each other, but would not do so if they were connected by a wall permeable only to heat.)
Zeroth law of thermodynamics
The viscosity of a fluid is a measure of its resistance to gradual deformation by shear stress or tensile stress .
Viscosity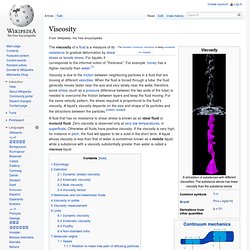 Third law of thermodynamics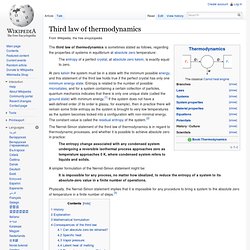 The third law of thermodynamics is sometimes stated as follows:
A thermodynamic system is a precisely specified macroscopic region of the universe, defined by boundaries or walls of particular natures, together with the physical surroundings of that region, which determine processes that are allowed to affect the interior of the region, studied using the principles of thermodynamics .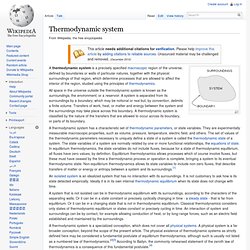 Thermodynamic system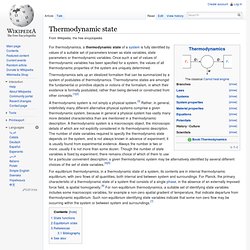 A thermodynamic state is a set of values of properties of a thermodynamic system that must be specified to reproduce the system.
Thermodynamic state
A thermodynamic process is the energetic development of a thermodynamic system proceeding from an initial state to a final state.
Thermodynamic process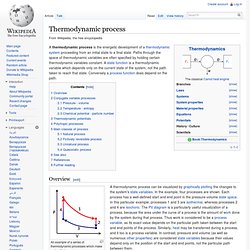 Thermodynamic potential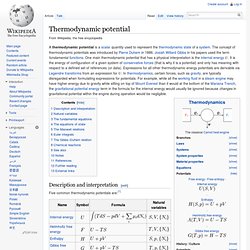 A thermodynamic potential is a scalar quantity used to represent the thermodynamic state of a system . The concept of thermodynamic potentials was introduced by Pierre Duhem in 1886. Josiah Willard Gibbs in his papers used the term fundamental functions .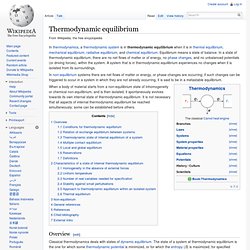 In thermodynamics , a thermodynamic system is in thermodynamic equilibrium when it is in thermal equilibrium , mechanical equilibrium , radiative equilibrium , and chemical equilibrium .
Thermodynamic equilibrium
A map of global long term monthly average surface air temperatures in Mollweide projection.
Temperature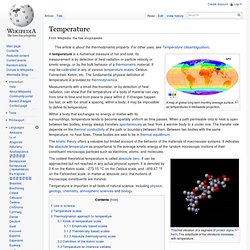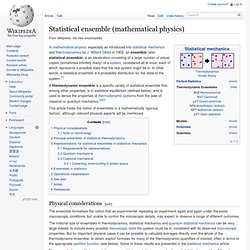 Statistical ensemble (mathematical physics)
In mathematical physics , especially as introduced into statistical mechanics and thermodynamics by J. Willard Gibbs in 1878, an ensemble (also statistical ensemble or thermodynamic ensemble ) [ 1 ] [ 2 ] is an idealization consisting of a large number of virtual copies (sometimes infinitely many) of a system , considered all at once, each of which represents a possible state that the real system might be in. This article treats the notion of ensembles in a mathematically rigorous fashion, although relevant physical aspects will be mentioned.
State function
In thermodynamics , a state function , function of state , state quantity , or state variable is a property of a system that depends only on the current state of the system , not on the way in which the system acquired that state (independent of path).
Spontaneous process
A spontaneous process is the time-evolution of a system in which it releases free energy (usually as heat) and moves to a lower, more thermodynamically stable energy state. [ 1 ] [ 2 ] The sign convention of changes in free energy follows the general convention for thermodynamic measurements, in which a release of free energy from the system corresponds to a negative change in free energy, but a positive change for the surroundings.
Second law of thermodynamics
The second law of thermodynamics states that the entropy of an isolated system never decreases, because isolated systems spontaneously evolve towards thermodynamic equilibrium —the state of maximum entropy.
Reversible process (thermodynamics)
In thermodynamics , a reversible process , or reversible cycle if the process is cyclic, is a process that can be "reversed" by means of infinitesimal changes in some property of the system without entropy production or dissipation of energy. [ 1 ] Due to these infinitesimal changes, the system is in thermodynamic equilibrium throughout the entire process. Since it would take an infinite amount of time for the reversible process to finish, perfectly reversible processes are impossible.
Pressure as exerted by particle collisions inside a closed container.
Pressure
Partition function (statistical mechanics)
Non-equilibrium thermodynamics
Internal energy
Ideal gas law
Heat
Thermodynamic free energy
First law of thermodynamics
Equipartition theorem
Equation of state
Entropy
Enthalpy
Conjugate variables (thermodynamics)
Boltzmann constant