FLORESTA
Rapé DaMata. O Grupo Conexão Natural está realizando, regularmente, o R itual de Feitio do Rapé DaMata – uma sagrada Medicina da Floresta que muito tem colaborado para a harmonização daqueles que decidiram trilhar o caminho das práticas ancestrais de cura.
O grupo desenvolveu uma fórmula muito equilibrada, que permite uma experiência única de bem estar físico, psíquico e metafísico, como a supressão do estresse psicológico, além de diminuição acentuada da ansiedade, da angustia e da depressão. Tem ajudado, inclusive, muitos a superar a dependência gerada pelas drogas psiquiátricas e outras – lícitas e ilícitas. O Rapé DaMata é preparado da forma tradicional, como realizam milenarmente os índios e caboclos do Acre. A sua formulação inclui tabaco e cinza de pau-pereira.
MEIO AMBIENTE E ECOLOGIA
Natural Homes, a window to the world of natural living. O a água reflete nossos sentimentos. A água tem uma mensagem muito importante para nós.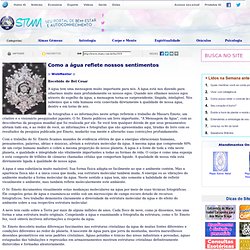 A água está nos dizendo para olharmos muito mais profundamente os nossos egos. Quando nós olhamos nossos egos através do espelho da água, a mensagem torna-se surpreendente, límpida, inteligível. Nós sabemos que a vida humana está conectada diretamente à qualidade de nossa água, dentro e em torno de nós. As fotografias e as informações neste artigo refletem o trabalho de Masaru Emoto, um criativo e o visionário pesquisador japonês. Adital. NATIONAL PARKS. Slacker Canadian Music Week 2012. Cryptozoology and Strange Beasties. Forests. ENH-531/ST372: Magnolia grandiflora'Bracken's Brown Beauty': 'Bracken's Brown Beauty' Southern Magnolia. Edward F.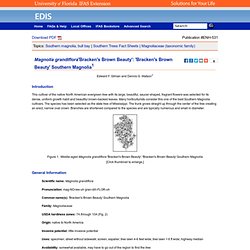 Gilman and Dennis G. Watson2 Introduction This cultivar of the native North American evergreen tree with its large, beautiful, saucer-shaped, fragrant flowers was selected for its dense, uniform growth habit and beautiful brown-backed leaves. PlantFacts. Botany.com: Plant Encyclopedia to Identify Plants, Flowers, Trees & More. Landscaping | Walter Reeves: The Georgia Gardener. Clematis – Best Ones for Georgia When you want the best plant, it's great to have a local expert.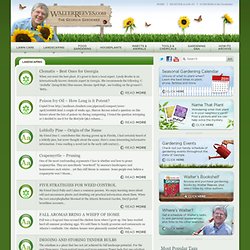 Lyndy Broder is an internationally known clematis expert in Georgia. She recommends the following: C. PLANTS.
---