Informatique
GeoPlugin, Géo Localiser un internaute en 2 lignes de javascript ! Si vous souhaitez géolocaliser les internautes vistant votre site internet, vous aurez probablement recours à la base de données Maxmind : bdd gratuite, exactitude de la géolocalisation proche de 100%.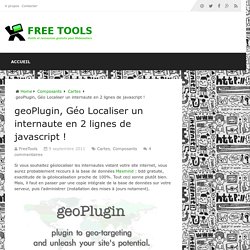 Tout ceci sonne plutôt bien. Mais, il faut en passer par une copie intégrale de la base de données sur votre serveur, puis l'administrer (installation des mises à jours notament). geoPlugin a choisit une approche radicalement différente et se présente sous la forme d'un service web. Plus d'installation ni d'administration requises. E-commerce. Guide des bonnes pratiques juridiques à l'usage du manager de site Internet et E-commerce.
La Chambre de Commerce de d'Industrie Bayonne Pays Basque a récemment publié le Guide des bonnes pratiques juridiques à l'usage du manager de site Internet et E-commerce (cf. ci-dessous).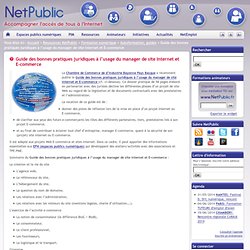 Ce dossier pratique de 58 pages élaboré en partenariat avec des juristes décline les différentes phases d'un projet de site Web au regard de la législation et de documents contractuels avec des prestataires et l'administration. La vocation de ce guide est de : donner des pistes de réflexion lors de la mise en place d'un projet Internet ou E-commerce,de clarifier aux yeux des futurs e-commerçants les rôles des différents partenaires, tiers, prestataires liés à son projet E-commerce,et au final de contribuer à éclairer tout chef d'entreprise, manager E-commerce, quant à la sécurité de son (projet) site Internet ou E-commerce. Facebook tracks you even after logging out. Facebook cookie collection 'could be dangerous' A cyberlaw expert says third parties and advertisers could abuse Facebook's practice - as claimed by a blogger - of tracking online activity even after users log out of the social network 26, 2011 An Australian technologist has caused a global stir after discovering Facebook tracks the websites its users visit even when they are logged out of the social networking site.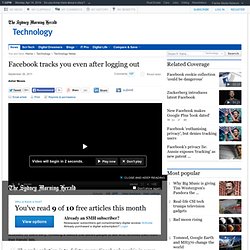 Google... Google achète un clone européen de Groupon. L'entreprise basée à Berlin fondée en 2009 par les frères Fabian et Ferry Heilemann, aurait rapporté lors du premier trimestre avoir vendue plus de 252 000 coupons.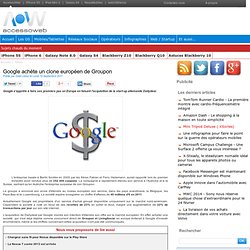 La compagnie a rapidement étendu son service à l'Autriche et à la Suisse, sachant qu'en Autriche l'entreprise surpasse de loin Groupon. Le groupe a annoncé son envie d'étendre au niveau européen son service, dans les pays scandinave, la Belgique, les Pays-Bas et le Luxembourg. La société espère enregistrer un chiffre d'affaires de 40 millions d'€ en 2011. Google launches into online travel. In a major challenge to the travel industry's leading websites, search engine giant Google launched today a new service allowing users to shop for plane tickets as easily as typing a Google search.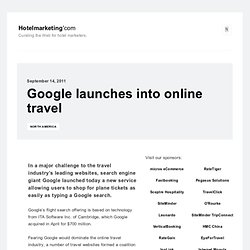 Google's flight search offering is based on technology from ITA Software Inc. of Cambridge, which Google acquired in April for $700 million. Fearing Google would dominate the online travel industry, a number of travel websites formed a coalition in October to oppose Google's acquisition of ITA. Federal antitrust officials approved the deal only after Google agreed to a number of restrictions aimed at preventing the giant search company from seizing total dominance of the online travel market. Google Birthday Tweets: Twitter Reacts To Google Turning 13. 70 Things Every Computer Geek Should Know. The term 'geek', once used to label a circus freak, has morphed in meaning over the years.
What was once an unusual profession transferred into a word indicating social awkwardness. As time has gone on, the word has yet again morphed to indicate a new type of individual: someone who is obsessive over one (or more) particular subjects, whether it be science, photography, electronics, computers, media, or any other field. A geek is one who isn't satisfied knowing only the surface facts, but instead has a visceral desire to learn everything possible about a particular subject. A techie geek is usually one who knows a little about everything, and is thus the person family and friends turn to whenever they have a question. If you're that type of person and are looking for a few extra skills to pick up, or if you're a newbie aiming to get a handhold on the honor that is geekhood, read on to find out what skills you need to know.
Banques d'images gratuites / libres de droit. Slideshow.
---