Blogs musique
Chauvisme | Gil Trythall & Khana Rung Thawi. Figue Molle, La playlist de Xavier Chezleprêtre. DARKROOM: la rivista online interamente dedicata al mondo della musica oscura. Aggiornamenti su pubblicazioni e attività della rivista "Horus Calling" Time: (12:17) Rating : 7.5 Pubblicato in una tiratura limitatissima di sole 31 copie, il maxiCDr "Horus Calling" è stato messo in vendita alla performance live di Green Man ed Egida Aurea avvenuta lo scorso 12 febbraio a Genova, oltre che tramite il sito della HR!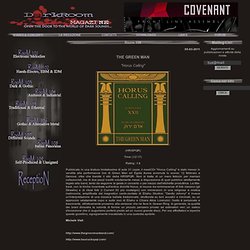 SPQR. Billet tolkien music @ peur bleue. Photo : Derek Henderson Intrigué par son blog, qu'il a fondé avec son acolyte Julien, cela fait maintenant plusieurs mois que l'on suit scrupuleusement ce que fait l'un, l'autre.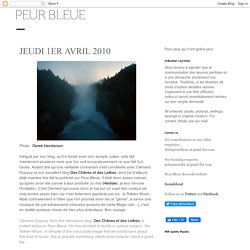 Autant dire qu'une véritable connexion s'est constituée avec Clément Dupouy et son excellent blog Des Chibres et des Lettres, dont j'ai d'ailleurs déjà maintes fois fait la publicité sur Peur Bleue. Il était donc assez naturel, qu'après avoir été convié à leur produire un mix (Hérésie), je leur renvoie l'invitation. The Inferno Music Vault. Bienvenue sur Musique-militaire.fr. Clan Destine Records. Michael Mayer (Kompakt, Cologne) - Main Stage - Live at Movement 2010 - Pt 2. Born and raised in the Black Forest area of southwestern Germany, Michael Mayer had his first encounter with music via his mother's kitchen radio from day one.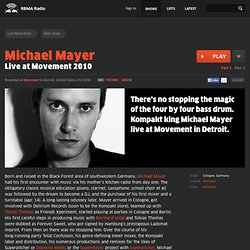 The obligatory classic musical education (piano, clarinet, saxophone, school choir et al) was followed by the dream to become a DJ, and the purchase of his first mixer and a turntable (age: 14). A long-lasting odyssey later, Mayer arrived in Cologne, got involved with Delirium Records (soon to be the Kompakt store), teamed up with Tobias Thomas as Friends Xperiment, started playing at parties in Cologne and Berlin. His first careful steps in producing music with Reinhard Voigt and Tobias Thomas were dubbed as Forever Sweet, who got signed by Hamburg's prestigeous Ladomat imprint. From then on there was no stopping him. ЈĬӇѦĐ ΔЏԎĬŞӍӖ ӺДЙҬӪӍҾ.
---