Blogs musique
Je défendrai corps et âmes la country music des attaques électroniques. Sir Brown CaveDeux écoutes récentes me font dire que contre toute attente, l'histoire de la musique électronique est peut être intimement liée à celle des musiques rurales. En 1968, Gil Trythall utilise les nouveaux Moog Modular pour réaliser des albums de country et c'est peut être ici une étape oubliée du développement de la musique électronique.
chauvisme | Gil Trythall & Khana Rung Thawi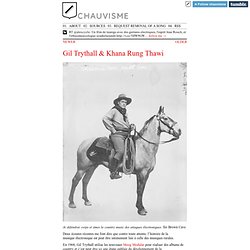 Figue Molle, La playlist de Xavier Chezleprêtre
DARKROOM: la rivista online interamente dedicata al mondo della musica oscura
Aggiornamenti su pubblicazioni e attività della rivista "Horus Calling" Time: (12:17) Rating : 7.5 Pubblicato in una tiratura limitatissima di sole 31 copie, il maxiCDr "Horus Calling" è stato messo in vendita alla performance live di Green Man ed Egida Aurea avvenuta lo scorso 12 febbraio a Genova, oltre che tramite il sito della HR!SPQR.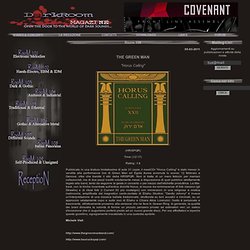 billet tolkien music @ peur bleue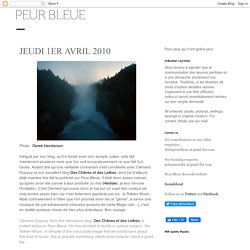 Photo : Derek Henderson Intrigué par son blog, qu'il a fondé avec son acolyte Julien, cela fait maintenant plusieurs mois que l'on suit scrupuleusement ce que fait l'un, l'autre. Autant dire qu'une véritable connexion s'est constituée avec Clément Dupouy et son excellent blog Des Chibres et des Lettres, dont j'ai d'ailleurs déjà maintes fois fait la publicité sur Peur Bleue. Il était donc assez naturel, qu'après avoir été convié à leur produire un mix (Hérésie), je leur renvoie l'invitation.
The Inferno Music Vault
Front Inlay V2 by Bugz Back Cover by Javier (AKA: Pagemaster) Front Cover ALT2 by Scorehunter Click on the pictures for a closer look. Be sure to check out Javier's blog for other artwork he created for this by clicking here. Also do check out Bugz's blog for custom artwork for soundtracks by clicking here.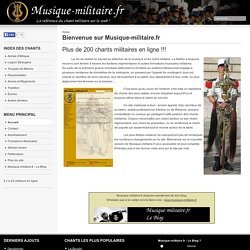 La vie du soldat ne saurait se détacher de la musique et du chant militaire. La Nation a toujours reconnu son Armée à travers les fanfares régimentaires et autres formations musicales militaires.Du poilu de la première guerre mondiale défendant la frontière au soldat professionnel engagé à plusieurs centaines de kilomètres de la métropole, en passant par l'appelé du contingent, tous ont chanté le sacrifice de leurs anciens, leur dévouement à la patrie, leur attachement à leur unité, ou plus légèrement les femmes ou la boisson … C'est ainsi qu'au cours de l'histoire s'est créé un répertoire de chants des plus vastes, encore actualisé aujourd'hui et toujours utilisé dans le cadre du service. Ce site s'adresse à tous : ancien appelé, futur serviteur de la nation, soldat professionnel d'Active ou de Réserve, anciens combattants ou curieux qui partagent cette passion des chants militaires.
Bienvenue sur Musique-militaire.fr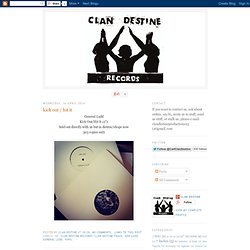 Clan Destine Records
We have hooked up a bunch of artists to remix Bestial Mouths last LP Bestial Mouths Remix LP Limited 250 copies PRE ORDER Arriving at the beginning of May GET IT HERE Vinyl
Born and raised in the Black Forest area of southwestern Germany, Michael Mayer had his first encounter with music via his mother's kitchen radio from day one. The obligatory classic musical education (piano, clarinet, saxophone, school choir et al) was followed by the dream to become a DJ, and the purchase of his first mixer and a turntable (age: 14). A long-lasting odyssey later, Mayer arrived in Cologne, got involved with Delirium Records (soon to be the Kompakt store), teamed up with Tobias Thomas as Friends Xperiment, started playing at parties in Cologne and Berlin. His first careful steps in producing music with Reinhard Voigt and Tobias Thomas were dubbed as Forever Sweet, who got signed by Hamburg's prestigeous Ladomat imprint. From then on there was no stopping him.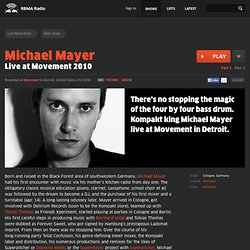 Michael Mayer (Kompakt, Cologne) - Main Stage - Live at Movement 2010 - Pt 2
DCDL XXXI | Jihad Autisme Fantome by Cosmic Jihad Mixtape DCDL XXXIDes chibres & des lettres Intro · Robag Whrume Als Rolf Olksen - Original Jahreswechsel Von 06 In 07I · Ego Death - Binominal Nomenclature (the black burner)II · Ghédalia Tazartès - La fin du prologueIII · David Fulton - Don't Ask Part 2 - Semi-Trilogy (Side B)IV · Scott Tuma & Mike Weis - EnearthdV · Älgarnas Trädgård - There is a time for everything, there is a time when even time will meetVI · Zelienople - AgingVII · Xela - A corpse hangs in the house of the lordVIII · Fondation - DivertissementIX · Black To Comm - JonathanX · Headdress - Moon of shedding poniesXI · Sylvain Chauveau - Je suis vivant et vous êtes morts
ЈĬӇѦĐ ΔЏԎĬŞӍӖ ӺДЙҬӪӍҾ