BPM-Tools
Designed around the open source Eclipse BPMN Modeler, Apache ODE BPEL engine, and Tempo WS-Human Task service developed by Intalio, it can support any processes, small or large. Intalio built the first and leading Open Source Business Process Management System (BPMS). Our enterprise BPMS embraces open standards and is independent of any proprietary technologies. Intalio|bpms provides all the components required to design, deploy and manage the most complex business processes, including business activity monitoring, business rules management, document and content management, system integration, business-to-business protocols and web portal tools.
Business Process Management System (BPMS)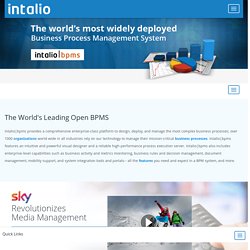 ARIS
ARIS-Konzept Das ARIS -Konzept ( Ar chitektur integrierter I nformations s ysteme) von August-Wilhelm Scheer (ehem. Institut für Wirtschaftsinformatik an der Universität des Saarlandes ) soll erreichen, dass ein betriebliches Informationssystem vollständig seinen Anforderungen gerecht werden kann.