Clem.ollivier
Clément Ollivier
Freelance / Communication print et web / Curieux / Enthousiaste !
Industrial-Strength Types. Advertisement The Industrial Revolution gave us a new iron age, one of cast iron, which a devotee of Vulcan told me he thought was the highest achievement of man — or, as he put it, "the hairless ape."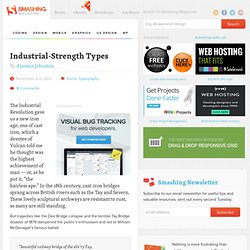 In the 18th century, cast-iron bridges sprang across British rivers such as the Tay and Severn. These lovely sculptural archways are resistant to rust, so many are still standing. But tragedies like the Dee Bridge collapse and the terrible Tay Bridge disaster of 1879 dampened the public's enthusiasm and led to William McGonagall's famous ballad: "Beautiful railway bridge of the silv'ry Tay, Alas!
Social. Webdesign. Friends. Internet, Web & économie numérique. Blogs. Communication. Best of 2009/2010. Pearltrees.
---